Netgate Internet Security offers a great solution to prevent and protect security threats to your Home computer, Laptops and corporate networks. Netgate is one of the perfect way to secure your data and privacy when you connected to the Internet. You dont have to worry about Data theft, Internet Thieves, Identity Lost or any Malicious software infection at all. Get Bitdefender Coupon (latest 2012) can be found here.
Netgate is there in the business of protecting people privacy and identity online for long time. This is not at all new to them. Here i have listed some great software titles they have to offer you complete security from the moment you turn on your computer, connect to internet and surf your favorite websites.
We are so happy to recommend you one of the worlds top selling Security Softwares.
Netgate Internet Security
NETGATE Internet Security is a complete security protection solution against all of the most serious Internet Threats, Trojans, Worms, Spywares, Phishing attacks, Spams and Hacker attacks. It also has in built Anti Spyware, Anti Trojan, Anti Spam, Anti Rootkit and Anti Phishing tools with Firewall integrated very well. With built in proactive resident shield component which has dynamic heuristic engine it can even detect new and unknown internet threats that it suspects malicious or harmful to the user.
Firewall is one outstanding feature that Netgate comes with. Compare to other security software for your windows computer, NETGATE Internet Security offers excellent security at one best low price.
I here have some more essential utilities of NETGATE, where you can try buying one if you dont require the entire Netgate Internet Security package.
NETGATE Spy Emergency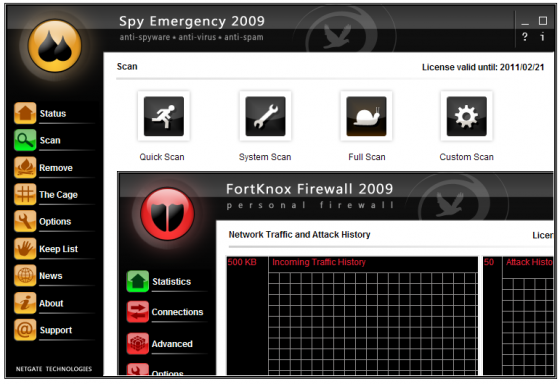 Spy Emergency is anti-spyware, anti-trojan and anti-spam software that fast and secure removes spyware and other internet infections from your computer. With  its intuitive user interface, spyware removal is very simple for every user.
Check out other great softwares of Netgate at Netgate Official Website. Netgate do have other security softwares.
Thanks for reading and please do share this article in Facebook, Twitter and Google+ to let your friends and followers also make use of this great utility.