Online Assessment Tools help any Teachers or Educators to know whether the student have understood the concepts clearly and their training went effective or not. Among other training and mentoring tools, assessment tools are essential and it can be used in the middle of a course program or at the end of it to assess the level of expertise that the student have gained. We hand picked few best screen recording and editing softwares for windows, if you are searching for creating video tutorials.
Based on the marks and scores, the teacher can provide certification to the student.
In this article, i will not just be suggesting tools that are specific to conducting assessments, also to help teachers and online educators to host and provide complete Training with latest technology, tools and web applications.
Google has plenty of Free tools, apps and web services to host successful online training classes and assessments. As they are not organized at one place, you have to do some Google Search to find what specifically you want for you. Creating a website to host all your Online Courses is the first step, but the third party web services available today simplifies that task and lets you focus just on the content.
Also Read, Best Screen Recording Apps for Mac OS X
The main advantage of hosting your course content on third party web services that offers online training and certification solution is, they have all the tools ready for a successful online course including content portal, video tutorial tools, presentation section, pdf integration, messaging feature to keep in touch with student, and above all, Marketing which is done by them for all the courses hosted in their platform.
Alright, without any further delay, lets explore the list of Apps, Tools and Web Services that helps you Create Online Assessment for your Training and Certification purposes. Some of these are free and some are Premium tools which lets you try the Quiz / Assessment tool for Free. They may charge you based on the number of Students you enroll and allow to take assessments.
ExamTime
ExamTime is a web service that allows you to Create Online Assessments/Tests and share it with your students. Along with their Quiz tool, examtime offers Mind Maps, Flashcards, Notes Software, Groups and Study Planner as separate tools to let Teachers create and host the complete online courses.
GoConqr Quiz tool lets you,
Practice different exam questions, types and styles
Quickly test your understanding of a topic
Be more confident that you know your study notes
Refresh your memory before your exams
It is very easy to operate this online assessment tool, and create your first test or quiz and in few minutes you can let your students from any part of the world to complete it. You will be able to create tests with true/false, checkboxes, multiple choices type of questions and do more.
Test GoConqr's ExamTime Quiz Tool for Free.
iGiveTest v2
One of the popular Online Test / Assessment Script that comes with two options for Teachers. Either you can download iGiveTest v2 script and host it on your website or use their Hosted platform by paying monthly subscription and get unlimited access to their examination software. You don't have to worry about Web Hosting or Server Technologies if you opt for Hosted solution with iGiveTest.
Also Read, Knownhost VPS Review and 15% Lifetime Coupon Code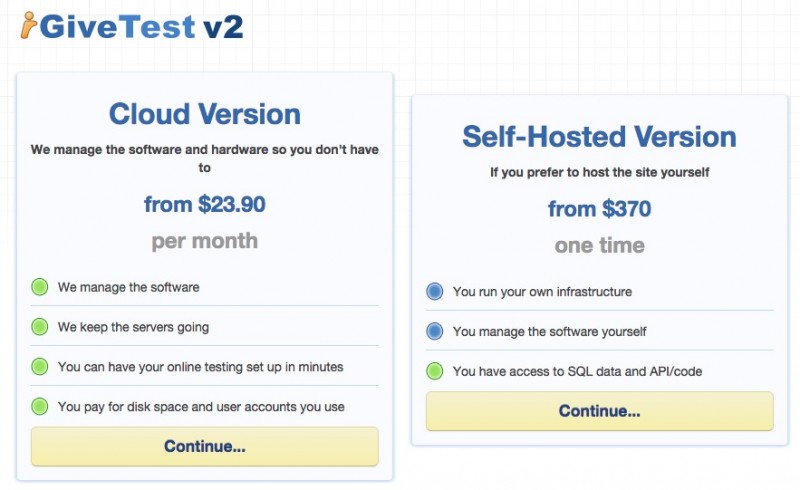 The features of iGiveTest v2 script is enormous and i like their clean, clear design layout which lets the Teacher to easily create Quizzes or Online Assessments / Tests and gather the Reports and Final Scores.
iGiveTest is an amazing online assessment tool that offers tons of features and very flexible as well. You can set a timer for each test you create and let the student complete it or it will be automatically submitted to your dashboard. This is a very best test software for both the Teachers and Student.
They have Demo's and Flash based Tutorials ready to let anyone learn and understand how to create a test, see the reports and do more with this brilliant web app.
See how iGiveTest v2 can help for your Online Assessment.
Also Read, Best Podcast Applications for Mac, Windows and Linux
ProProfs Quiz Maker
Another simple looking and very easy to use online assessment tool with tons of easy to access features kept right in front for Teachers in their Dashboard. You can create Employee Assessments, Educational Exams, Personality Quizzes, Online Tests, Surveys and Polls to fill out by your Students, Community Groups, Facebook or Twitter friends.
Sharing the quiz or test you create is made simple with ProProfs Quiz Maker web app.
Create Tests, Exams and Quizzes in minutes.
Supports over 6 types of Quiz and Questions.
Add Videos, Images and Media to your Questions.
Brand your Online Assessment with Logo and Colors that matches your website.
Share on Facebook, Twitter or Embed it on your Website / Blogs.
Analyze the Quiz Statistics, Results and Reports with a Clean Dashboard and tools.
Download Results and Track Quiz Trackers, Students easily.
Create and Send Certificates to Students based on Grades.
ProProfs Quiz Maker is another brilliant online assessment / online test software that fits perfect for Teachers and Online Educators. You can try this web app for Free by visiting their website.
See how ProProfs Quiz Maker tool will help your Students.
Edmodo
Online Assessment tool created by Teachers for Teachers, the impressive catch phrase that gives a confidence to try this tool atleast once to see what it has got inside. Edmodo Snapshot is one cool new feature for School Teachers who want to implement this Online Assessment and Grade tool in their classrooms. It has well categorized and readily available question sets for Maths and few other subjects from 3rd to 12th Grade students.
Partnered with KhanAcademy and LearnZillion, this flexible online assessment tool has plenty of Quiz or Test creation tools readily available for Teachers. Edmodo App is available for iPhone, iPad, Android and Windows Mobiles and Tablets.
Which means, you can create tests and let students participate from anywhere, anytime using their mobile or tablet.
See how Edmodo Online Assessment Tool can help you in your classroom.
Moodle
Moodle needs no big introduction if you have attended few online courses and certification in your Schools, Colleges or with any open source community programs. Moodle is a very powerful and the best open source LMS (learning management system) available for long time.
Due to its flexibility, programmers and web developers find Moodle as the Best LMS that fits for small, medium and even on Enterprise level requirements.
You can let Teachers create courses, enroll students, track their learning process, multimedia content support and conduct online exams as well. Moodle is a combination of multiple tools that are essential for an Online Learning Portal. It includes the Online Assessment / Test feature as an extension and you can use it as a standalone feature or with your course content, if you want to setup a learning management system on your website.
See how Moodle Learning Management System can help you in your Classroom.
ATutor
Another powerful and Open Source Learning Management funded by Government and open source supporting community and people across the world. I have used both Moodle and Atutor for my trainings and assessment purposes. Moodle has tons of extensions, themes, customization options and features.
Atutor has less number of those extensions and themes, but works as the best learning management system with the features kept right in front for use.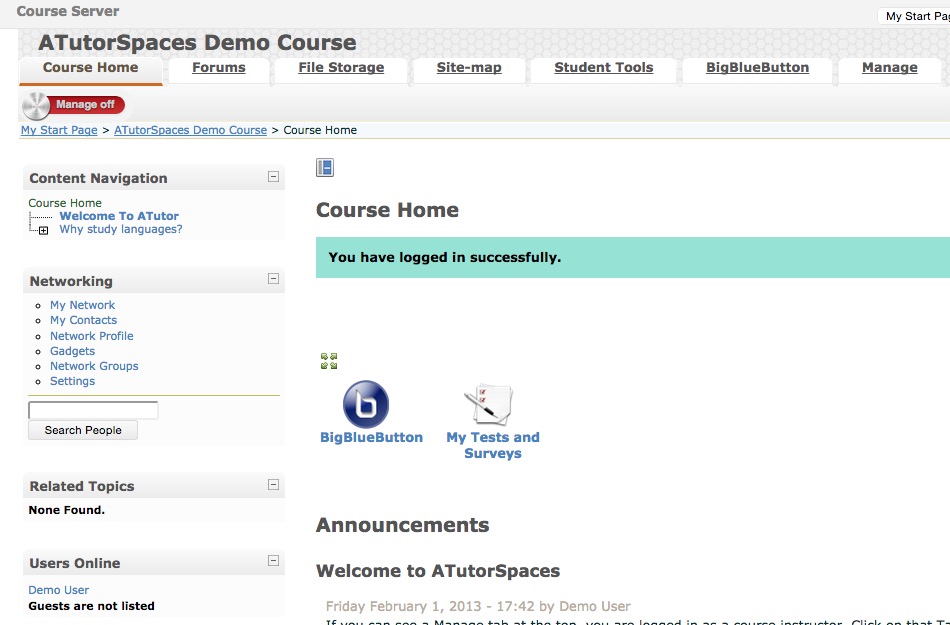 Looks simple, easy to setup and use on your own Web hosting environment or in a local server setup. You can upload your own course contents with Texts, Images, Youtube, Vimeo Video links and include any multimedia contents including PDFs, PPTs and more. Atutor Modules section gives you several useful plugins to connect with popular third party services like Userplane Web Chat, SCORM Packages Player, Openmeetings, Payment Processing Plugins and more.
Students individual performance can be tracked from Teachers Dashboard, New students can be enrolled easily by Administrator or Course Trainer.
Online Assessment or Exam Software is built in as one of the feature that blends well with the course contents you have setup and uploaded with Atutor platform. You can download atutor web script from their official website and install it like any other web app (ex: joomla, wordpress) on your Web Server or in a local server as well.
See how Atutor.ca can help you in your Classroom and Training.
Socrative
Socrative is a Real time Online Assessment or Exam Tool that collects student answers and creates a very easy to understand Graph and Reports in Teachers Dashboard. You can create questions in real time and send it to the student who is participating from any part of the world.
This powerful online assessment or exam tool that works in real time will be very useful for Interviews, Surveys and many other real time questioning applications.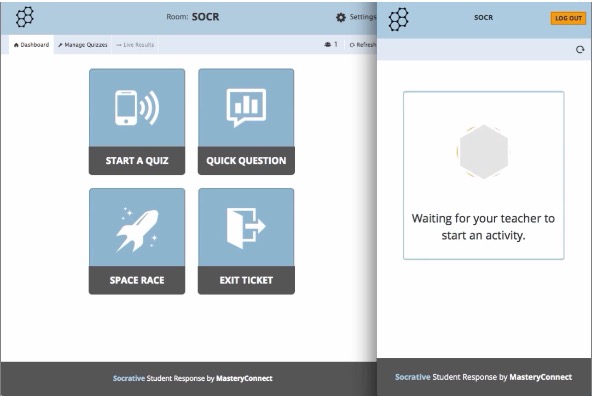 Socrative lets you collect instant feedback and teachers can create assessments in one place and gather all the reports and generate, evaluate the answers to allocate grades and marks easily. All it requires is a Web Browser to run, so there is no problem with the compatibility. Socrative runs excellent on iPhone, iPad, Android Mobiles and Tablets. Windows, Linux or Mac, Socrative will run smoothly on users web browser and uploads answers in real time.
See how Socrative will be helpful in your Classroom and Assessment Area.
ClassDojo
Not an online assessment or exam software, but i thought to include ClassDojo here in this list to add another useful tool for Teachers. This messaging app connects Teachers, Students and Parents to send announcements, home works, queries and all other communication purposes.
ClassDojo is compatible and readily available for iPhone, iPad, Android Mobile or Tablets. Teachers will be able to send students reports to Parents directly with this messaging app and keep them up to date about students progress in classroom.
Teachers can Reward points and grades to students and share those scores to students and parents with a single tap.
See how ClassDojo App can help you in your Classroom.
I believe, the list of online assessment, online exam software and web apps useful for your Teaching and Classroom Training. Feel free to share your views and any other tools that i have missed here and you are using it with your online training and evaluation purposes.
Thanks for reading and have a wonderful productive day.