Udemy Online Courses
One of my favorite online courses portal that offers thousands of online courses under various categories and the best part is, these courses are created by Authors, Trainers, Faculties and Experts from around the globe. Udemy is an open portal that allows any one with advanced level of skill set on any specific topic to become an Author or Mentor and Create Courses with Rich Texts, Media, Video Tutorials, Photos and other Powerpoint Presentations.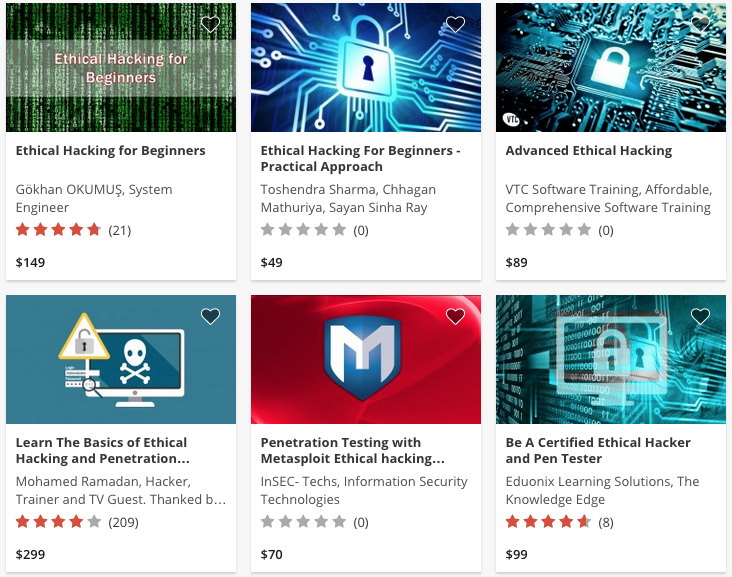 Students can subscribe or purchase the course with Lifetime Validity and learn anytime, anywhere at their own convenience. Udemy iPhone App, iPad App and Android Application allows students to pickup the lessons on the go.
If you want to learn Yoga Lessons, Udemy has it.
If you want to take Guitar Lessons, Udemy has it.
If you want to learn PHP or Complete Website Development, Udemy has it.
Udemy Ethical Hacking Courses are created by Security Experts from various countries and delivers excellent clarity about Security concepts and gives excellent Hacking practices. You can learn all the terms and techniques with this ultimate online courses platform from your smartphone or computer at your convenient timings.
Some of the Courses do offer Certification on Course completion, which you can mention on your Resume. This value added course will be a great Career Booster if you are trying jobs in future on most of the IT sectors.
Tips: Make sure you read the existing student reviews and ratings before purchasing any courses on Udemy.