Google Drive, the most awaited free cloud storage service by Google officially launched today and looks like, google has released it in a hurry without completing it and forgot to mention it as BETA. Google Drive is not enabled for all the accounts by default, also there are no Google Drive Invite required to access your cloud storage. You have to request to Notify, when the service is enabled to your account, so that you can use Google Drive in Mac, Windows and Linux.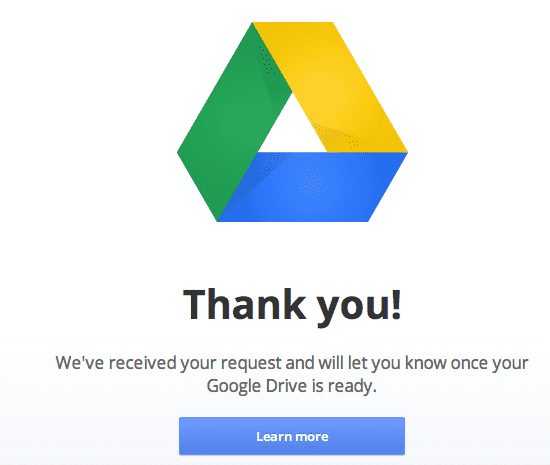 Google Drive got integrated with Google Docs perfectly right now. It is yet to support Picasa and other features mentioned in the Intro video.
Google Drive Waiting List
Once you clicked on "Notify Me" button at the top right corner in Google Drive Homepage, you have to wait for the confirmation which you will receive anytime from Google. Your email address will be added to the waiting list queue and it may take some hours or even days for people to get the confirmation to begin using their 5GB Free storage.
You will see a blue color "Get Started with 5 GB Free" button at the top right corner, if your google account got enabled for Google Drive.
Google Drive itself is in waiting list when we compare it with other Free Cloud storage services like Dropbox, Microsoft Skydrive and so on. This is really too soon to launch this service officially without letting the users to experience it to see what is so special about it and how it can be useful for them. What we feel is, Google may considered waiting for some more days to launch a complete product than releasing something in a hurry that just makes no sense for the Strongbuzz went around the web from the past week.
Facebook has no cloud storage feature or service offered to its users till date. So there are chances that Dropbox may be acquired by Facebook, as we can see people using Dropbox are little hesitating to jump to Google Drive right away.
Where is Google Drive for Linux ?
We cannot use a cloud service just for a documents. People need a freedom to store all type of data they have on their Mobiles and Computers. There is not even a mention about when Google Drive will be available for Linux users in the official page. This is very disappointing as they mentioned it to be available soon for iPhone and iPad. Linux users may give it a try through Nautilus by following up a simple tutorial we have to use Google Drive in Ubuntu.
If you feel like we have missed some important points here, feel free to add them in the comment. Thanks for reading and you may now share this post with your friends and others in Facebook, Twitter and Google+.