Google Account can be created only after verifying your mobile number. Few months back google have added an option to add your mobile number with the profile information and that will help the account holders to receive their new password to their mobile phone. Even though gmail account got hacked, its now so easy to recover due to this implementation. So far its observed that this has been implemented only in india.
After several months of waiting time google made this profile data a mandatory and only people who can verify their account with mobile number are allowed to create new accounts.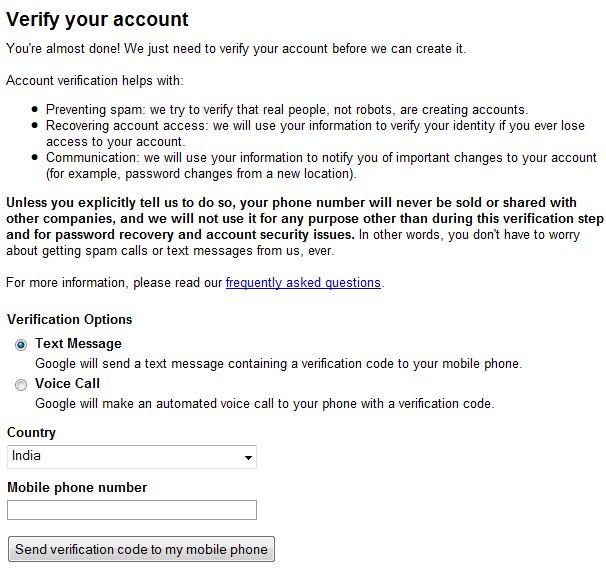 You can choose the verification by receiving a text message – confirmation code or through voice call. Its completely an automated voice call that pronounces the verification code that you can enter in the next step.
Update:
Que: I'm getting the notification that I've created the maximum number of accounts. Now what?
If you see the error message, "This phone number has already created the maximum number of accounts," you will have to use a different number to verify. In an effort to protect our users and combat abuse of our systems, we limit the number of accounts each phone number can create.
Google FAQ to help with your doubts about this feature.
Possible Problem can be : Delay in getting messages due to Career Providers or Google SMS Servers very often. So what do you feel about this new one ? Write it in the comment.