Do you Hate Twitter? after the new acquisition by Elon Musk and all the Drama's? Have a look at these twitter alternatives. You may find it interesting and all new place to spend your time with. New Twitter under Elon Musk is definitely not going to be the same.
Elon Musk outlined his goals for acquiring control of the social media site, saying that he has purchased Twitter to "benefit mankind." Mr. Musk said in a tweet that he didn't purchase the business "to increase my wealth. I did it to attempt to benefit mankind, whom I love".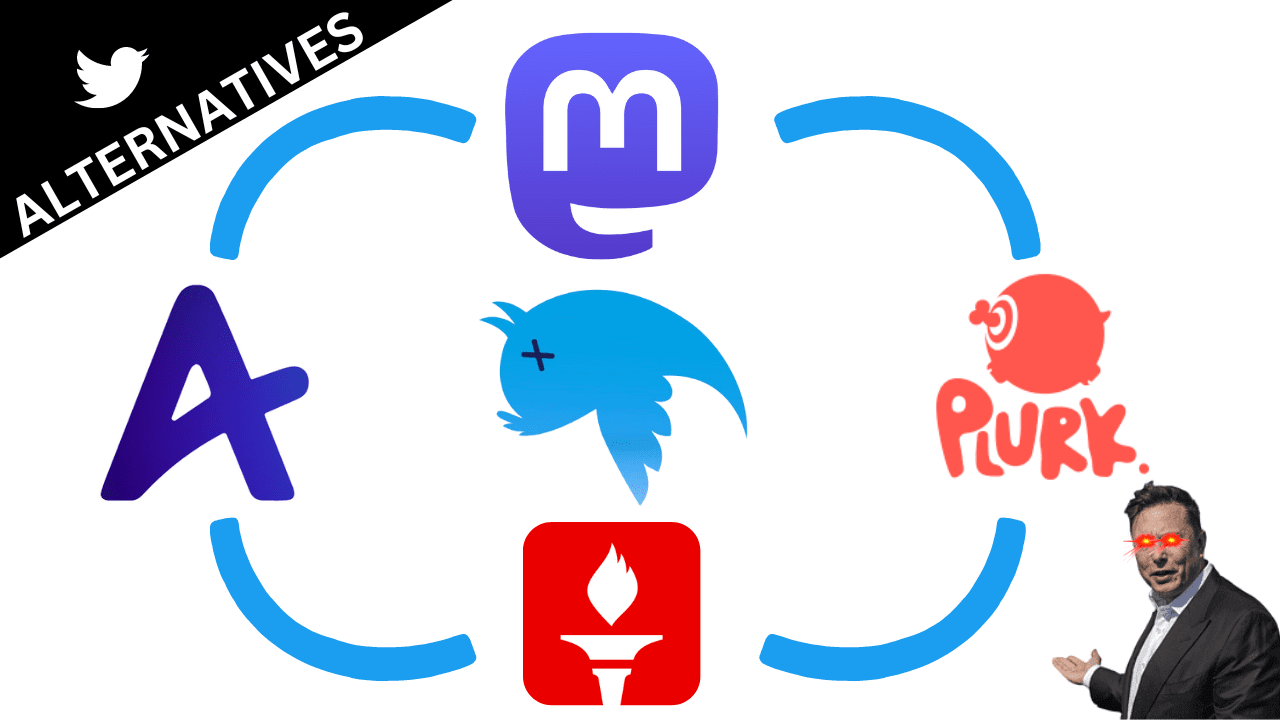 But his recent move made a bad impression at Twitter, since he planned to make the free social media platform completely subscription-based, as a result, a verified tick mark on Twitter costs $8, but it is only the start. Elon has several ideas for making Twitter an S-tier site that would directly compete with YouTube. 
But as a result of his crude ideas, most businesses quit using Twitter Advertising. According to an estimate, Twitter loses $ 4 million every day, making it currently a non profitable organization.
Also Read, Download Youtube, Facebook, Twitter Videos and Instagram Reels in iPhone and iPad
And on the other side, there are several reasons why Twitter alternatives are growing in popularity every day. The future of Twitter is questionable. On his first day as CEO, Musk sacked Twitter's CEO, CFO, and general counsel and almost 4000 Twitter employees overnight. Gosh! A major layoff has happened this week.
He is now considering charging for the verification symbol. Changes are happening quickly, and I realise that many of you are concerned about what Twitter may develop into. I also know that many of you won't be sticking around, so I've compiled a list of the top Twitter alternatives in case you decide to do all of your social networking on another platform.
#1 Mastodon
At first appearance, Mastodon could be like a Twitter clone, but the microblogging platform's underlying structure is much more intricate. The service describes itself as a federated network that functions in a similar fashion to email and is decentralised.
If you have to question who controls your preferred social network, then something is wrong. The fact that no one owns Mastodon makes it unique. Mastodon can be considered a decentralised Twitter alternative. Through servers, which you can choose between at will, people control it. Additionally, there is no advertising and you have control over what appears on your newsfeed rather than an algorithm and a company.
Also Read, iPhone 4K 60FPS Disabled or Not Working? How to Fix?
Posts on Mastodon are known as "toots." The term is strangely reminiscent of "tweets" on Twitter and sounds extremely similar. The user interface really resembles Twitter quite a bit. Even hashtags are present. Additionally, there is a specific space for news posts if that is your thing. If so, it's probably the finest Twitter alternative right now.
Get Mastodon for iPhone | Android
#2 GETTR
GETTR is a microblogging and alternative social networking website geared for American conservatives. On July 4, 2021, it was formally established. Jason Miller, a former Trump assistant, formed it. Its features and user interface have been compared favourably to those of Twitter.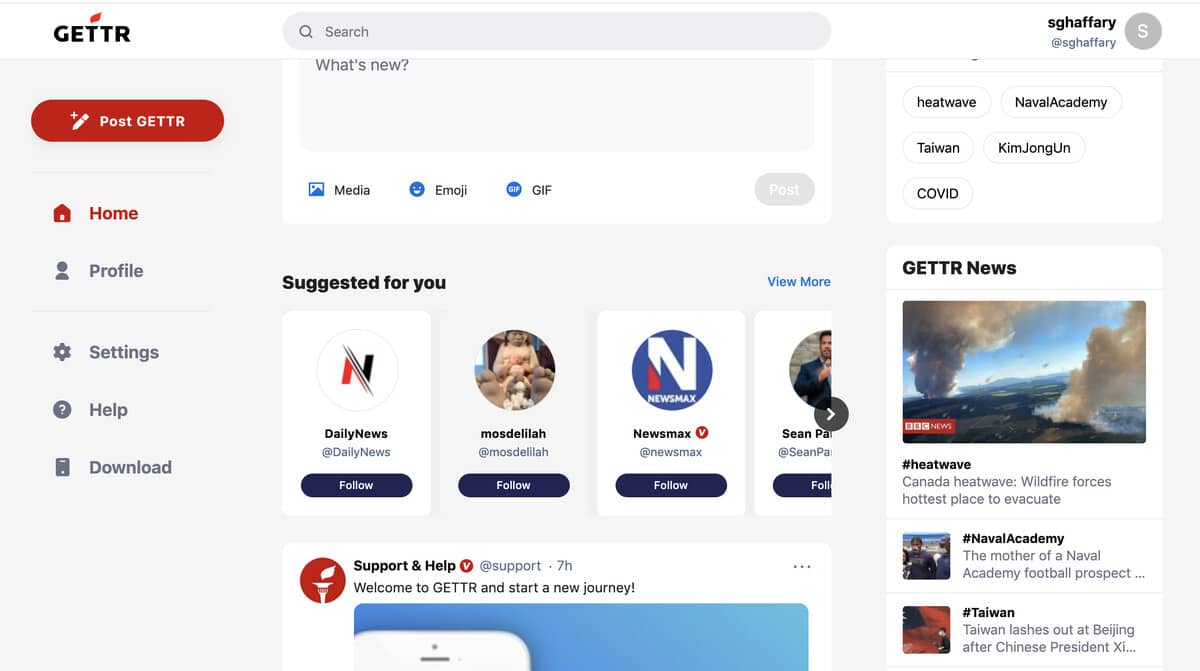 social media application GETTR has a pleasing aesthetic quality and is well-kept. Although your posts have a consistent format and are visually appealing, those who disagree with you and outright trolls who seek to harm the reputation of the app continually spam your feed.
It is very simple to begin using a social network "based on the values of free expression, independent thought, and opposing political censorship" thanks to the variety of ways to sign up with GETTR, including phone and email. 
Get GETTR for your iPhone | Android
#3 CounterSocial
The first social network platform, CounterSocial, has a zero-tolerance policy for hostile countries, bot accounts, trolls, and disinformation networks that use social media platforms and freedoms to conduct influence operations against the US. Also Read, Fix "Screen Recording Not Available When AirPlay…" Error on your iPhone?
For people who enjoy being on the cutting edge of new technology and social media platforms, CounterSocial is particularly unique. It provides a never-ending stream of stuff selected from your watchlist. Every transaction is end-to-end encrypted, and privacy is given top importance.
But leaving the technicalities aside, CounterSocial is a rather remarkable social network. It is accessible on PC, mobile devices, and VR. Even a VR environment that you may explore with eyewear is included. Could be one of the Best Twitter Alternatives available for you to Try.
CounterSocial is quite explicit about its stringent rules and claims to be plagued by "No Trolls. Zero Abuse. No advertising, no fake news No Ops for Foreign Influence Ideal for anyone concerned about Twitter turning into a free-for-all.
Get CounterSocial for your iPhone | Android
#4 Gab
Musk frequently makes reference to "freedom of expression" on Twitter, but this site, which is quite similar to Twitter, provides freedom of speech without charge. With the goal of putting "people and free speech first," Gab has established a solid reputation as one of the top Twitter alternatives. 
2016 saw the removal of Gab from the Apple App Store, which may not seem odd for a company that values freedom of expression. Since Gab's app did not "display an acceptable degree of moderation, especially for information that promotes violence and advocates hate against groups," Google removed it from the Play Store in 2017. So it is not accessible as a mobile application. 
Use the Gab SocialMedia web application.
#5 Cohost
The purpose of Cohost is to let you share anything. The user interface is free of advertisements and resembles both Facebook and Tumblr. Better access to the website with bigger uploads and more customisability possibilities is available with an annual or monthly subscription.
Also Read, "Charging was on hold due to iPhone Temperature" Error, Any Fix?
Cohost's registration procedure is complicated because the platform is still new. You may signup and browse the website, but you can't publish anything until your account has completed the whole verification procedure. The good news is that you have more time to research conversations and topics, save hashtags, and make a profile today. But as of right now, I can't locate a mobile application. This can only be used as a web application.
Use the Cohost web application
Another best Twitter alternative is,
#6 Bluesky
The co-founder and the former CEO of Twitter Mr. Jack Dorsey resigned from Twitter and started his own new social networking venture BlueSky, still, the application is in a developing state. Now anyone can join the beta program by signing up with the email ID. I hope this application would be a direct competition with Twitter. Let's see. Fingers crossed. 
Also Read, Remove "CLICK SUBSCRIBE" Calendar Events Virus from iPhone?
These are the 5 best Twitter alternatives I have listed for you, if you find this blog useful then share the article with your friends on Twitter and Facebook they will also be aware of these Twitter alternatives. Have a wonderful day