Microsoft has revealed its next generation XBOX and was named Xbox ONE. The technology additions and features are just stunning and no doubt that the xbox team at microsoft has really worked hard to bring some thing best this time to the world of Gaming. The all new Microsoft XBox One now accepts more voice commands and faster than its earlier version in navigating to different features it offers. Let me highlight few features here along with some pictures of the xbox one console, improved kinect sensor and controller.
New Gesture additions let you Grab and take control of applications installed on your Xbox One. Now you can use your hands to maximize the video currently playing on the television and simply reduce the screen size similarly. Attend a Skype video call or group call in the same screen. Improved voice commands system will let you attend and end skype calls and all you have to do is, say it. Skype group calling will let you do a web conferencing call in your television.
Microsoft XBox One Availability
Microsoft has said that XBox One will hit stores by the end of this 2013 with 15 game titles and 8 of them are totally fresh and new additions. EA Games will bring Fifa exclusively for XBox One and Activision to bring Call of Duty with Character Customization and improved Graphics overall to make the characters look so real.
XBox One Kinect Improved Kinect Sensor
Now XBox One can detect your presence much better with its new and improved kinect sensor.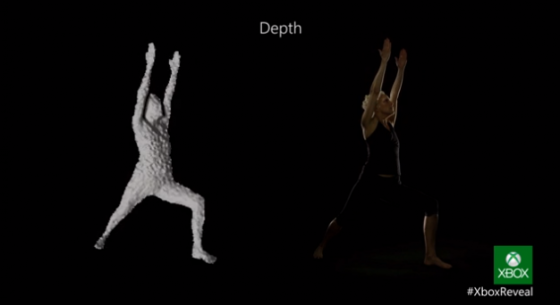 Kinect is the core of XBox that adds more fun and gives its users best gaming experience, and it is really good to see this new technology advancements that Kinect has got with upcoming XBox One.
New XBox One Controller
Have a look at the all new improved and well designed XBox One Controller that comes with the gaming console.
This all-new design by gamers for gamers, as microsoft says, will give rich look and feel when you hold this in your hand.
Microsoft wants to improve your television, and we can see that clearly with their feature additions in this all-new XBox One. They want XBox in every home, so they connected the gaming console so well with your television this time. You don't need a remote or move from your couch to switch between the television and the game screen. Just say "Xbox TV" to switch from Xbox screen. It will be really fun and much better to control your gaming console by giving voice commands.
The Apps and new gaming titles will improve the Xbox One in the coming days. When Sony is yet to reveal their Device, they explored the Gaming Titles and technologies in place to become your favorite gaming console for the next few years. This game machine war is quite interesting, and it is up to you now to choose the one you want at your television desk.
The Live Xbox One Reveal event suddenly ended after a trailer, which was quite disappointing. They also mentioned that the rest of the reveal will happen during E3. No information was given about Pricing.
What do you think about Microsoft XBox One ? Will you go for one? Share your views in the comments below. Thanks for reading, and have a wonderful day.