TeamViewer Mac App
Brilliant, third party app that is favorite for most of the users, who use remote desktop on Windows, Linux and Mac. It has excellent platform compatibility, so that you can connect remotely with computers without worrying about the Operating System Installed.
Just make sure the remote computer has the same version of TeamViewer that your computer has got. You can use TeamViewer Mac App for instant remote support and the client don't need to install the app on remote system. Simply downloading the team viewer client app and it opens without installation for accepting remote connection. If required, you can ask the client to delete the app if it is an one time support and the client don't want to install any app in their computer.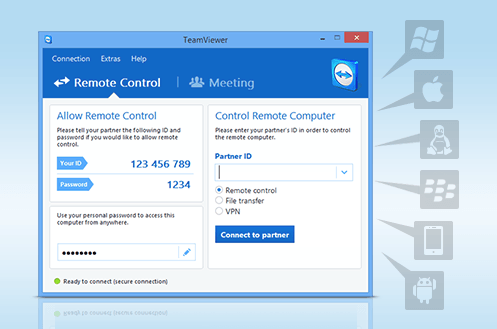 Teamviewer is a very easy to use remote desktop app and requires no advanced computer skills to operate. It is loaded with various tools that allows you to text, audio chat and do more during the remote support. Anyone with basic computer knowledge can use Teamviewer and thats the beauty of it to be very popular than most of the built-in Remote Desktop clients that come with Operating systems.
Above all, Teamviewer is a free remote desktop app to download from its official website. It is free for individual use, but if you wanted to use it regularly for providing tech support and if you are business or organization then you can purchase a license only from teamviewer website licensing page.
Compatibility: Windows, Mac, Linux, iOS, Android, Windows Phone 8 and Blackberry
Download: Teamviewer Mac App