All of us spend a great amount of time looking at our computer. It is therefore necessary that we keep it the way we like it. This is possible by creating your own customized themes for your systems. It is really easy and simple to create and share your own themes in Windows 7. We can change the desktop background, window border color, sounds, and screen saver to suit our own style by creating your own themes.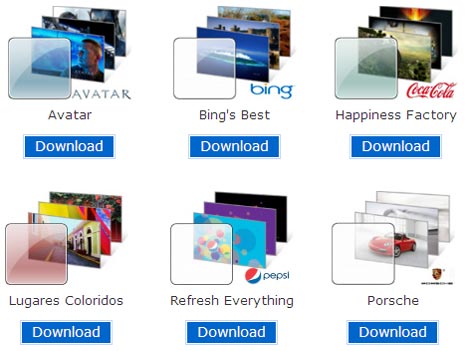 To customize your themes, right-click on your desktop and click on "Personalize" or open Personalization in Control Panel.Click a theme to apply it to your desktop.
To change your desktop background
Click on the link "Desktop Background" button on your Personalization. Browse to the folder containing the pictures you want to use as your desktop background. We can have a single picture or a slide show (a rotating series of pictures).We can use our own pictures & set the time limit for changing the desktop background.

After browsing the pictures you want to use, select the check boxes for the pictures that you want to include in your slide show, and then click Save changes. It is also possible to define a picture position. It is best to select "Fill" from the dropdown field, because it will adjust the wallpapers to fit my entire screen.
Note: If you have upgraded to Windows 7 from Windows XP or Windows Vista, be aware that themes work a little differently in Windows 7. Anytime you change the desktop background, window color, sounds, or screen saver, you're creating a new unsaved theme, not making changes to an existing theme.
The window border color
To change the color of your window borders, taskbar, and Start menu, click Window Color, click the color that you want to use, adjust the color intensity, and then click-Save changes.
The feature of color transparency can be enabled. It creates a glassy effect on your windows desktop. By adjusting the colour intensity level, the transparency effect can be adjusted. A color mixer option to adjust the hue, saturation and brightness levels (to create a color of your taste) is available.
Windows 7 Sounds
Most of the themes come with new sound themes, which can be changed and customized by us. If we want to apply a new sound file for any event (operation), we simply click on "Browse" and locate the sound file that you want to assign for the event. The sound files should be only of the ".Wav" format. They can be a replacement for the sounds present in the sound schemes already, for e.g. the start up sound.
Tip: You can find, search and download sound files for Windows 7 here:
www.wavcentral.com
www.ilovewavs.com
www.moviewavs.com
You should also be looking for sound files that are SHORT, because it would be pretty annoying to hear a 12 minute long sound every time you receive an error message.
Windows 7 Screen Saver
We select the screen saver by selecting the screen saver we like from the dropdown field from the screen saver and also set the "Wait" time for the screen saver to take action and work on the Computer. The power management facilities are also available to conserve energy and maximize the performance of the system. Once you're happy with the way a new theme looks and sounds, you can save it and come back to it again and again.
Saving a theme:
After performing all the customizations n editing that u like on the themes, right-click on the unsaved theme and click on "Save theme" and enter a name for your theme.
An unsaved theme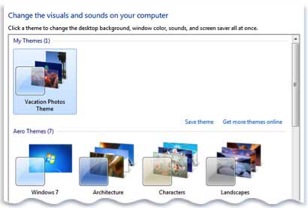 A saved theme.
That's it guys!!! Finally your own theme for your Windows 7 has been created and is ready for use by simply clicking on it. Have fun using windows 7 & your own themes. What more is waiting for us in windows 8 ? Let's wait and see..
Sharing:
Windows 7 Theme Sharing
You can share themes you've created with family and friends who have Windows 7. To send a theme to others, you'll need to save it in a .themepack file that can be shared. Right-click on the Unsaved theme and select- Save theme for sharing and select the folder for saving the file.
Then you can share the theme using an e-mail account, a network, or an external hard disk.
Tip:
Themes are available in only some editions of Windows 7. So if your friends and family have Windows 7 Starter or Home Basic edition (or a different version of Windows), they won't be able to open or use your theme.
Delete a theme: A theme can be deleted from your PC by right clicking and selecting – Delete theme.
Ad:
Looking for Best Windows 7 Netbooks ? You will find the best one here for sure.
You may also like to see:
You may follow DailyTUT on Twitter or like us at Facebook to get more Windows News and updates.