Of late there have been serious talks about the Trojans that affects Android users. The Latest of such Android Trojan is Android Walkinwat, interesting thing about this app is what it does once it infects the device. If you are using a pirated version of Android application then you people are the targets of this application. This malware, discovered by Symantec, is a free version of the Android application "Walk and Text".
Most pirated software downloading websites help this application to enter your mobile and initially it'll deceive you as if it was a original application. Later it starts its business, and makes you suffer for what you have done. This application is designed not to disturb legitimate application users. "Android.Walkinwat is like the Batman of mobile malware" writes Pcworld.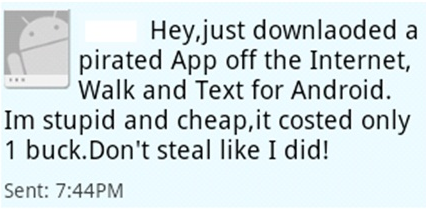 On running this application without the knowledge of the user it sends sensitive data like name, phone number, IMEI information to an external server. Then it sends a text message saying "Hey, just downlaoded a pirated App off Internet, Walk and Text for Android. I'm stupid and cheap, it costed only 1 buck. Don't steal like I did!", to all the members in the user's contacts list.
If you try to enter the application it will display "Application Not Licensed" and warns: "We really hope you learned something from this. Check your phone bill;) Oh and don't forget to buy the App from the Market." Then it pops up an anti-piracy warning message and prompts you with an option to buy the application from the Android market.
via [Symantec]