Auslogics Disk Defrag Pro is another great product that got some good updates this time than its earlier version. Auslogics Boostspeed 5 is one top selling software for windows to boost your computer performance instantly and maintain it as well. Auslogics Disk Defrag Professional edition becomes as your favorite defragment software right after your first use. You may try the Auslogics Disk Defrag Pro Trial before purchasing it too. Let me list out some important highlights of this disk defragment software for windows xp, vista and windows 7.
Update: We have updated this article with 50% Auslogics Discount Coupon Code. You can save flat 50% with your purchase of auslogics Disk Defrag Pro now.
Auslogics Disk Defrag Pro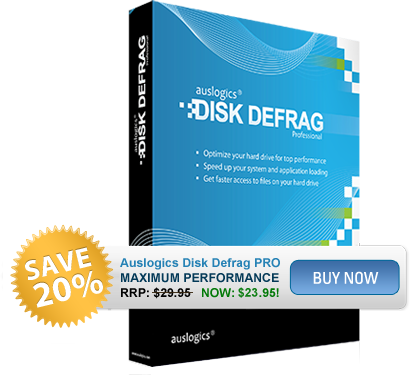 You can defragment system files like MFT, Pagefile, Hiberfil and so on.
It gives you 4 Disk Optimization Algorithms as well.
It just not Defragment your harddrive, it also prevents further fragmentation problems.
Auslogics Disk Defrag uses special algorithms for SSD and VSS Enabled drives.
It also shows detailed reports and performance charts to help you understand the tasks performed in better way.
Ultra Fast and Performance Booster
Auslogics Disk Defrag Pro, is an ultra fast disk defragmentation software for windows os that gives complete graph and necessary reports to help you understand how the performance boosted overall in your windows 7.
As it prevents further fragmentation problem, you can be sure that your system performance will be great like when you bought it newly. Disk Defrag Software also gives you the status of your disk and its condition after the defragmenting completed. You can schedule the defragmentation using the built-in scheduler utility as well.
Auslogics Disk Defrag Algorithms
Auslogics Disk Defrag Pro has some advanced algorithms to protect your computer against further fragmentation issues. The 4 different algorithms make sure to keep the performance in top level always. The intelligent file placement technology in it, gives assurance of running your computer at top speed all the time. The VVS and SSD Disk Defrag Algorithms helps to achieve the most out of your windows.
Optimize by Access Time
Optimize by Prefetch Layout
Optimize by Change Time
Optimize by Disk Zone
Your booting time also gets improved a lot and now you can defrag every single system file which are normally locked by windows. This boosts the speed of your system booting as well. Faster and safer defragmentation here after to remove temporary files and check disks for errors automatically. This also effectively fixes the errors found in your hard disk drive. Windows system based temporary files and user generated temporary files are cleared during the process and automatically fixes any errors that possibly occurs when you use the system regularly.
Very Comprehensive Reports
Reports are another highlights of Auslogics Disk Defrag pro software. You get comprehensive reports in the professional version of disk defrag software and not in the free auslogics disk defrag software. This helps you to track all of the operations performed by the program. You can also view the degree of file and free space fargmentation size of largest contiguous free space blocks available on your windows installed hard drive.
During every operation you get the number of complete files processed by the Disk Defrag Pro software. This helps you further track the general condition of your disk and performance improvements through Graphic Charts. You can also view every single reports and further you may take a print out of them for your convenience.
You may now purchase this software with 20% Auslogics Discount Coupon and save your cash.
Auslogics Disk Defrag Pro Coupon
This is official, the auslogics is running a 20% exclusive auslogics disk defrag pro discount coupon available for you to save some cash while purchasing this software to boost your computer performance overall.
Auslogics Disk Defrag Pro
Original Price: 29.95 USD
Discounted Price: 23.96 USD
Auslogics Disk Defrag Pro 50% OFF
Thanks for reading and do share this post to tell your friends about this Best Disk Defragment Software for Windows, Auslogics Disk Defrag Pro software.