AntiSec the hacking group has released 1 million UDIDs of Apple Devices recently which they claim, that they have hacked into an FBI laptop and collected 12 million UDIDs in total. They have leaked just 1 million of them to prove their statement and FBI has declined to comment on this issue. Apple has started rejecting Apps that collect UDID of iPad, iPod Touch and iPad for any purpose.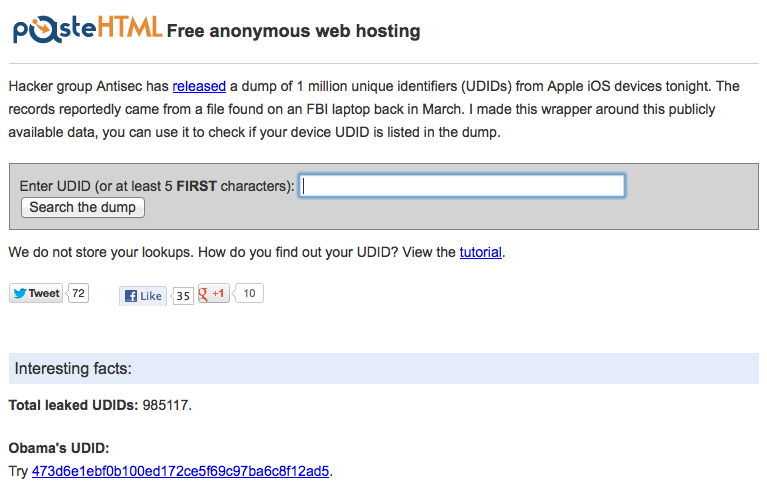 It is not a big security risk when someone has your UDID, but when they have it with other details like Billing Address, Payment Info and iTunes Passwords, then it is a high security risk. As we know that Apple account requires Credit Card as a basic one to download even a free apps from App Store, Credit Card details are so common with any user accounts.
Check UDID Status
Based on the leaked UDID data via Pastebin, here we have a website to check whether your UDID is compromised and present in the hacked UDID list or not. Kimosabe is a website that has setup a database with the 1 million leaked UDIDs. Getting your UDID of your Apple Device is pretty easy.
Step 1: Plug Your iPhone, iPod touch or iPad to the computer.
Step 2: Under Devices list, select your device to let iTunes display the device info and summary.
Step 3: Click on the "Serial Number" to get your 40 digit UDID.
You can trust, that the given website is not a trap to collect more device identifier data. If you dont want to give the full UDID on this website, then try this PasteHTML website and enter the first 5 digits of your UDID to check and verify whether your iPhone UDID or Apple device identifier is one among the millions of hacked identifiers. Thanks to Mashable for the easy solution. Thanks for reading and you may now share this post to let your friends and followers across social networking websites also to aware and take necessary step on this. Have a great day !