This happens very rare in the software world. Techsmith Camtasia Discount Offers for new or existing users. Techsmith has announced 25% Discount Offer on Camtasia 2019 license key purchase. This is valid for Single license purchase and suitable for individuals.
Create stunning video tutorials, youtube videos and presentations with Camtasia – all in one screen recorder software. You can read our full Techsmith Camtasia Review here.
Unlike previous offer, this is quite a good one to let you save 25% from the store price.
But wait, thats not it. I like to do one important suggestion to help you save more with your next years upgrade as well.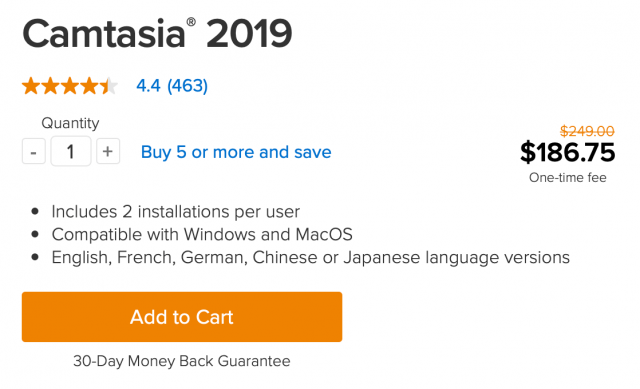 Buy Techsmith Camtasia software today with Maintenance that comes at $49 with your purchase. Trust me, i didn't buy maintenance couple of years ago and i definitely regretted it when they released more advanced version. I managed to edit and publish my videos with old version, and i truly missed those awesome lower thirds, animation effects and editing tools.
They will be very handy and useful in producing awestruck content to your audience.
When you purchase maintenance with your Techsmith Camtasia license purchase, you will get,
Guaranteed Next version of Camtasia update
Priority Tech Support Assistance – Dedicated Phone queue & expedited handling
Volume Benefits – Cumulative discount with 5+ and same key purchase
Camtasia Certification – Exclusive training to expand your skill set with Camtasia video editing
You get approximately $63 discount during this offer period and you spend additional $49 to buy next years $99 Camtasia upgrade version at half the cost. You will save your money by future proofing todays purchase.
Hurry Up! This offer is good only for a week time. If you have a requirement then proceed with your purchase immediately. Techsmith camtasia discount offer is HOT! right now. Have a productive and wonderful day.