Latest Techsmith Camtasia brings new features to an already powerful screen recording app for mac OS and Windows PC. Does (Camtasia) really work as promised? Is this the Best Video Editing App for Windows and Mac? Who is it for? Will answer all those Hot Questions in this Camtasia Review. Also, do check our Techsmith Discount Coupons page for any latest Camtasia Coupon Codes to save upto 25% with your Purchase.
Is it a Screen Recorder or Video Editor? Actually, its Both. I hope this Camtasia Review helps you decide whether it meets your requirement as screen recording or video editing application.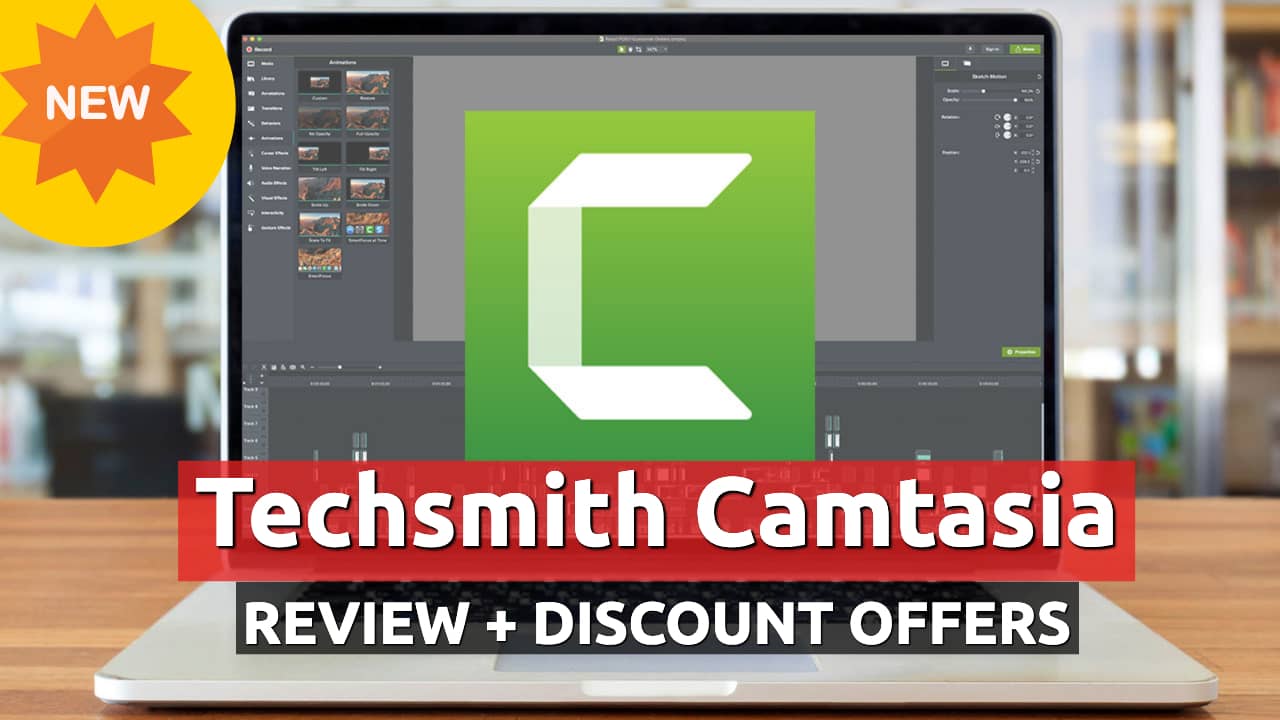 Not just the benefits, also if you are already using Camtasia old versions, then scroll to the end to read about the Camtasia Upgrade Offers.
I am using Camtasia for many years. When i was using Windows XP and then Windows 7, Camtasia was my only screen recorder app. After switching to Mac computers, i upgraded my techsmith camtasia license key to mac compatible version.
Free Download Camtasia | Buy Camtasia Software
Now they are providing one license to suit both Mac and Windows. Its wonderful and makes the switching a lot easier whenever necessary.
One reason i like to recommend you to consider Techsmith Camtasia License Key purchase is, their after sales technical support. Quick and always replying on time to assist with your questions. They have tons of useful resources on their Support portal as well.
Camtasia Review
Simply download techsmith camtasia software today and see how well it works for your Video Creation process. Not just as the best screen recording app, camtasia is always a good video editing app for mac OS and Windows computers.
You can do plenty of video editing tasks with this powerful screen recorder, also add Transitions, Audio Effects, Video Effects, Behavior adjustments and Create custom actions to make your video stand out from the crowd. You may be a Youtuber, Teacher or Software Professional who want a perfect Screen Recording and Video Editing App. Then Camtasia 2018 is your only answer.
My Story with Camtasia
I been creating video tutorials for my audience in Youtube and Students where i teach about basics of computers. I haven't used the full potential of Camtasia software yet. Till last week i was using Camtasia 9 and after upgrading to Camtasia, i noticed few important changes and feature additions. I am using Camtasia as a Video Editor on my iMac for quite sometime with my new Youtube Channel as well.
To be honest, not all of them grabbed my attention. Only couple of features i liked. Camtasia is mostly its earlier version but it is not. Let me be more specific.
Brand new Assets – I totally love the assets they added with this Camtasia. But very unfortunately, they limited it only to Camtasia and i have to pay extra $199 every year to access that huge 500,000 royalty free assets collection. When i say that number, it does looks OK to Pay $200 once a year. That many assets and i am sure they do add more Royalty free resources in coming days as well.
However, i am bit hesitant to purchase it as my tutorial videos are not yet ready for that many creative contents inside. You must check that out, as it may be useful to you, but not to me. Let's explore the features of Camtasia.
Theming – Its Free ofcourse, where we can create multiple themes to readily use with future video editing and creation. One Font Style, Color and other Preferences through out the video. It will help brands to stay unique.
Under the Hood Improvements – Performance is one thing i was worried about in Camtasia earlier versions. I am very sure that they have done some crazy improvements under the hood to boost the performance overall. Not just during the editing on my iMac 2013 model, also it renders pretty much faster utilizing the onboard GPU Card. I am really impressed.
I am not sure whether they used that GPU resources earlier, but now i am really seeing some difference with the final video rendering. You may try that with your trial version before considering the final purchase.
Alright, what about the Camtasia Discounts, Coupon Codes or any Offers?
Camtasia Offers
Well, as it is a newly launched software, Techsmith Camtasia have no offers right now. However, i inquired with their sales team and came to know that there is a super saver, huge offer running on earlier version which has most of the features that the current version has, including the UI and Design. Camtasia 9 is now available at just $20 instead of $299.
Do check our Techsmith Discount Coupons page for any latest Camtasia Coupon Codes to save upto 25% with your Purchase.
So, if you are newly trying out Camtasia, i would straight away recommend you to consider purchasing the Camtasia 9 for now and see how well it works for your Video Editing, Screen Recording on mac OS and Windows PCs.
Download Camtasia 9 for $20 HB Deal
It's an exclusive limited time only Humble Bundle Deal. So hurry up to save huge money with your Screen Recording software. We will bring more Camtasia Discounts, Coupon Codes and Offers as soon as we come to know.
Do share your views in the comments below and Feel free to share this Camtasia 2018 Quick Review and Offers post with your friends at Twitter, Facebook and Google+. Have a wonderful day.
You may also like to Read,