Weeks before HTC announced their twin mobiles HTC Salsa and HTC ChaCha dedicated to facebook Lovers. They are expected to be released in Asia and Europe by the second quarter of 2011. To say in a line about this release it's a usual HTC mobile with HTC sense UI and a dedicated Facebook Key.
With a press of this  Facebook button you can directly upload photos, videos, share music and update your Facebook Wall. When you make or receive a call from your friends you can view their status update, the music they are listening to and the photos they have uploaded recently. No doubt they can be called as facebook mobiles, developed by HTC they have full support to facebook.
You may also be interested to read:
Now you have a complete device to connect to your friends socially but, the Fuzzy Question is that you're already having a tons of smartphones, most of them are with a high end interface for your social networking purpose. Do people really love to buy these mobiles only for the integrated Facebook button. I think HTC make no sense with these releases, but for the crazy lovers of Facebook, who are about to buy a smart phone specially to stay connected with their friends may prefer any one from these two mobiles.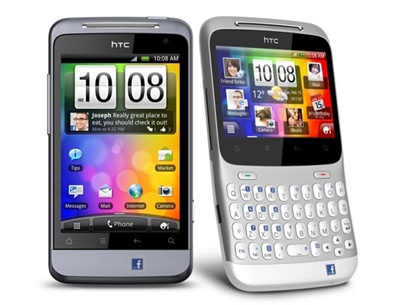 HTC Salsa is the touch variant of the HTC ChaCha. So they don't have much difference in their specs. HTC Salsa also looks like HTC Wildfire with a Facebook button in its bottom.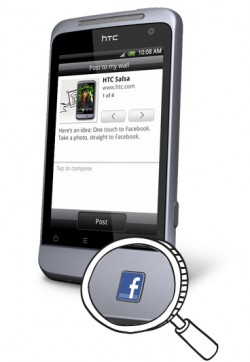 HTC  Salsa ,HTC ChaCha Specs:
320 x 480 pixels, 3.4 inches TFT Capacitive touch screen for Salsa and 2.6 inch for chacha
512MB ROM, 512MB RAM, microSD, up to 32GB
600 MHz processor
Android OS, v2.4 (Gingerbread)
5 MP, 2592 x 1944 pixels, autofocus, LED flash
3G : HSDPA, 7.2 Mbps; HSUPA, 384 Kbps
Wi-Fi : 802.11 b/g/n
To have more look here is the product website link – HTC
HTC Salsa First Look Video
The video is in greek, but you can have a good look at your new Facebook friend.
[youtube width="550″ height="344″]http://www.youtube.com/watch?v=LpYOrDa8HOs[/youtube]
HTC ChaCha First Look Video
[youtube width="550″ height="344″]http://www.youtube.com/watch?v=AAyrZiFC2V4&NR=1[/youtube]
Hands on HTC Chacha via PhoneArena
[youtube width="550″ height="344″]http://www.youtube.com/watch?v=Cn2l8BjqAY8[/youtube]
Video Credit: [ PhoneArena ]