If there is one thing that mobile manufacturers are all same and so close together, it will be Battery Technology. Even the expensive iPhone has battery juice problems and Samsung took advantage of it few months ago by coming up with Wall Hugger commercial to tease iPhone users short battery life. Business users and people who use their smartphone quite heavy, always end up with red color battery indicators before the end of the day or before evening itself. That is the reason, people prefer External Battery Power Bank to charge whenever, wherever they are without any need of searching for Wall Charging Station.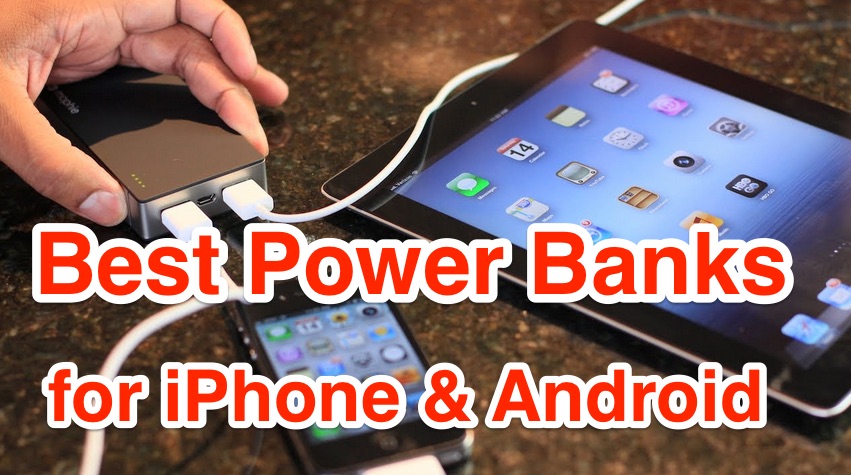 Samsung Power Banks and Sony Power Banks are pretty popular when people wanted their smartphone brand specific Power Bank to carry. They make good money by selling the power banks as well. But it appears like no big battery innovation or even an idea about giving life to battery researches anytime soon.
Personally, i feel very disappointed with top brands not going forward in battery revolution area. All are focused on selling more of their accessories. If you are a heavy user and looking for an android smartphone, then take a look at our list of Best Android Mobiles with 3000 mAh Battery Capacity to buy some of the best and popular android mobile phones that gives guaranteed 1 day battery life under heavy usage and 2 days of battery life on less or moderate use.
Why We Need a Power Bank?
Power Banks are the best portable and external batteries that comes with one or multiple USB, micro USB ports to help you charge your Mobile, Tablets and Laptops on the go. You will never be looking for any wall outlets to charge your iPhone, iPad or Macbook when you carry a portable power bank in your Backpack.
We hand picked few best and top selling power banks for you today, to make your search a lot easier. These power banks we have listed here are used by millions of users globally and some of them are from Big Brands and Start up companies which has dedicated Research and Development units for Power Banks, Batteries and Accessories for iPhone, iPad, Macbook and Android mobile phones.
Also Read, HOW TO: Improve Battery Life of an Android Mobile ?
What are the Best Power Bank Chargers?
Without any further delay, lets move on to the list of power banks that comes with different (high, low) mAh capacity and you have to choose the one based on your requirement (how many charges you want).
Mophie SpaceStation
Mophie is one of the premium Power Bank Charger manufacturer, also leading and top selling with their iPhone Charger Cases and Powerstation for long time. Mophie SpaceStation is designed specifically for Apple iPhone, iPads, Android Smartphones and Tablets. It is a combination of Power Bank + External Storage of up to 128 GB. You can store your Photos, Videos captured using your Phone or Tablet to this Spacestation built-in storage and free up space on your smartphone.
You can choose between three available storage options, 32 GB, 64 GB and 128 GB capacity. If you own an iPhone with 16 GB memory storage, then you will definitely find this Mophie Spacestation very useful. It charges your iPhone or iPad on the go and allows you capture more photos and videos using your iPhone.
Download mophie spaceapp from Google Play Store or iTunes App Store and start transferring, organizing and managing all your files wirelessly.
Battery Capacity: 6000 mAh
Price: $149.95 / 32GB model
GET IT: from Mophie Store
Mophie Powerstation Plus
Another Power Bank Charger from the Mophie team which comes in different battery capacity sizes and very compact and easy to carry. Mophie Powerstation Plus comes with integrated Charge and Sync cables with Universal compatibility which makes the charging on the go a lot easier. You can select in the ordering page with the integrated cable choice between Lightning Connector or Micro USB Connector based on the smartphone or tablet you own.
Additionally, you can choose the Battery capacity between 3000 mAh to 12000 mAh, and ofcourse the pricing differs very well. Its slim, compact and charges your iPhone, iPad, Android mobile or tablet on the go. As i mentioned earlier, mophie is one of the premium Power Bank Charger manufacturer and bit expensive than other sellers.
You can check out older version of PowerStation Power Bank from Mophie which serves the purpose of charging your iPhone or Tablet multiple times with good battery capacity like the latest one. Its just the slim factor which you may be missing with older Mophie versions.
Battery Capacity: 3000 mAh, 5000 mAh, 7000 mAh and 12000 mAh
Price: $79.95 / 2X – 3000 mAh model
GET IT: Powerstation Plus from Amazon
Enough with the Mophie brand, lets move on to other top selling power bank chargers that also has excellent ratings and reviews from existing users.
Also Read, Best 4K Display Monitors for Mac and Gaming
Vinsic 20,000 mAh Ultra Slim Power Bank
If you are looking for a bigger capacity power bank charger under $50 bucks, then we have you covered. Vinsic Power Bank Charger comes with 20,000 mAh battery capacity that is very sufficient to power up your iPhone, Android, iPad, Android Tablet for more than 6 times simultaneously. Yes, it comes with two USB ports and you can plugin two mobile phones or tablets at same time to fill up their battery juice. The LED indicator built-in to Vinsic Power Bank Charger lets you know the remaining battery capacity with one touch.
Vinsic Power Bank comes in two different colors, Dark Silver (Black) and Silver (White). Charge your Samsung Galaxy Phone, any Cell Phones, iPhone 6 Plus, iPhone 6, iPad Air 2 and more on the go.
This power bank charger is slim, with hard plastic and aluminum alloy construction, solid and portable build makes it easy to carry on your back pack.
Battery Capacity: 20,000 mAh
Store Price: $89.95
Offer Price: $49.90
GET IT: Vinsic 20000 mAh Power Bank from Amazon
EC Technology 2nd Gen Deluxe Power Bank
It is one humongous power bank charger for iPhone, Android and Tablets. You can even charge your Macbook with this big 22,400 mAh Ultra High Capacity external Power Bank Charger. All iPhone's including the latest iPhone 6 Plus, iPhone 6, 5S, 5C and earlier versions are compatible with this power bank charger. Affordable and the new 2nd generation comes with higher efficiency and fastest charging ability.
Also Read, HOW TO: Improve Tablets Battery Life ?
You can charge 3 devices simultaneously with its USB charging port. Integrated LED indicator shows how much left on your Power Bank so that you can put it in charge whenever you are near power outlet.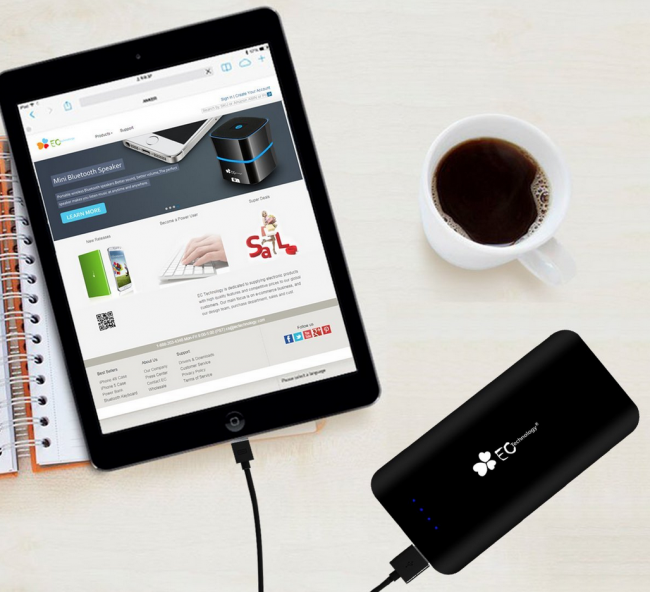 There are currently some promotional offers going on at amazon ec technology store where you can purchase this big battery capacity loaded power bank charger under $50. Comes in Black and Red color, you can carry it easily on your pocket or backpack because of its brilliant slim form factor and design.
Battery Capacity: 22,400 mAh
Store Price: $89.99
Offer Price: $40.99
GET IT: EC Technology 2nd Gen External Power Bank from Amazon
Anker Astro Pro 2 (2nd Generation)
Anker, another popular Power Bank Charger manufacturer similar to mophie. Anker follows unique design trend that may not look premium as mophie juice pack series, but it gets the job done. Anker Astro Pro 2 is the second generation aluminum power bank that comes with 20,000 mAh battery capacity, 5V DC out and Recharges in 4 to 5 hours.
Anker PowerIQ technology detects your Device and delivers fastest possible charge speed up to 3 amps and additional 9/12V port as well. You can charge your iPhone 6 ten times and Samsung galaxy S5 six times and iPad Air twice.
This energy efficient Power Bank Charger by Anker has LED Indicator to tell you the percentage of charge left on its battery and simultaneously you can charge 3 devices.
Battery Capacity: 20,000 mAh
Store Price: $159.99
Offer Price: $69.99
GET IT: Anker Astro Pro 2 from Amazon
RAVPower 3rd Generation Power Bank
RAVPower Power Bank Charger gives 15,000 mAh battery capacity and has iSmart Technology which maximizes compatibility with Android, Apple and other mobile phones and tablets with its charging speeed of up to 4 amps. You can charge your iPhone 6 Plus for 3 times and iPhone 5S for 7 times and Apple iPad for once. Comes with built-in flashlight for dark or low-light environments use. RAVPower equipped with Samsung's Lithium-Ion battery that gives 500 battery charge cycles.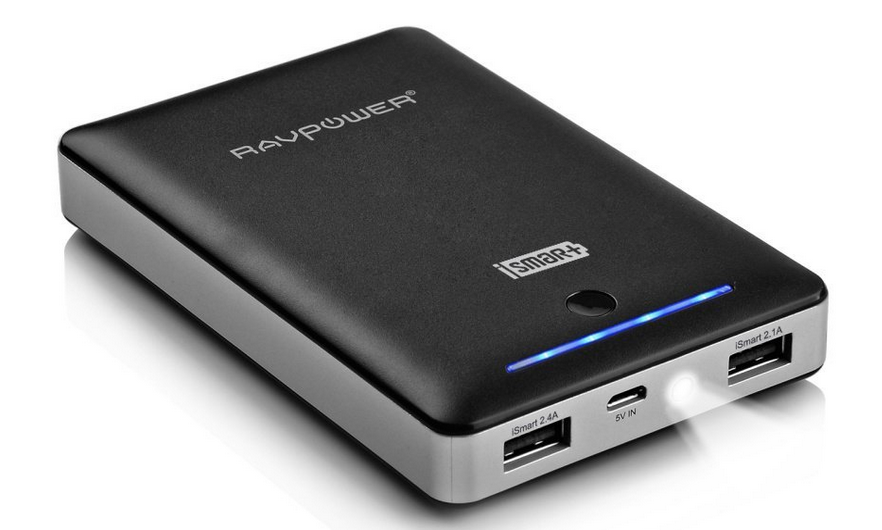 This gadget designed with solid quality and short circuit and over-current protection also included. 4 status LEDs will inform you about remaining battery juice as well.
Battery Capacity: 15,000 mAh
Store Price: $79.99
Offer Price: $39.99
GET IT: RAVPower Power Bank from Amazon
KMASHI Power Bank Charger
This 10,000 mAh External Battery Power Bank charger helps you charge your iPhone 6 Plus, 6, 5S, 5C and iPad Air on the go. It is a very compact designed power bank charger with ultra high density battery cells. The manufacturer recommend 5V charger to charge this power bank faster than regular. Dual USB ports allow two devices to be charged at the same time. You can charge your iPad and iPhone at same time.
Built-in Intelligent power manage IC with Overcharge protection prevents any problem to this accessory as it has massive battery capacity for such a small device. The package also includes a fast charger micro USB cable to connect with iPhone, Samsung Galaxy and other Android phones.
Battery Capacity: 10,000 mAh
Store Price: $49.99
Offer Price: $11.99
GET IT: KMASHI Power Bank from Amazon
JETech Portable Power Bank
This power bank charger has two USB outputs with On/Off & Stop/Resume charging buttons. You also have 4 LED indicators displaying battery percentage and charging status. JETech power bank charger is used by thousands of users already and it has best positive ratings on amazon from existing users. You can charge your iPhone, iPad, Samsung Galaxy mobiles and any other micro USB compatible smartphones.
You can choose between different colors and it comes with Premium aluminum case and solid aluminum alloy with anodized processing for comfortable and luxury touch.
JETech Power Bank comes with 6 months warranty and compatible with most of the smartphones and tablets.
Battery Capacity: 10,000 mAh
Store Price: $22.99
GET IT: JETech Power Bank Charger from Amazon
Lufei MP S6000 Solar Power Bank
If you are looking for a solar charging Power Bank, then here we have one from Lufei. You can charge its battery with its built-in Solar Panel. Lufei MP S6000 has 6000 mAh battery capacity as its version says and allows you to charge your iPhone, iPad, Android Smartphone, Windows Mobile and any Tablets as well.
The design is very well optimized for outdoor usage and inside it has got high quality Lithium Polymer battery that is reliable as power source. There are other solar power bank chargers with different battery capacity available from Lufei, and you can find them in the link.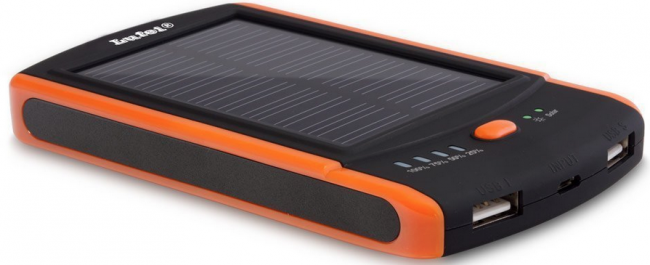 Charge your smartphones and tablets on the go, also your Power Bank's battery with this Solar Panel enabled Power Bank Charger.
Battery Capacity: 6000 mAh
Store Price: $29.99
GET IT: Lufei Power Bank from Amazon
ZILU Smart Power Basic Portable Charger
Looking for a very handy and small power bank that charges your iPhone 6 Plus one full charge and 5S one and half charge? ZILU Smart Power Basic portable power bank will help you get that. Its very compact and very easy to carry in pocket or backpack. Its smaller than your iPhone 5 and contains Texas Instrument Battery Management IC with Nine levels of Protection.
ZILU Power Bank Charger gives up to 93% energy conversion rate and very low heat generation while charging and using. This external power charger is compatible with most of the android, iphone models available today. Quickly check the battery status with LED indicators by pressing the power button.
Battery Capacity: 4400 mAh
Store Price: $49.99
Offer Price: $15.99
GET IT: ZILU Power Bank from Amazon
We hope the list of Best Power Bank Chargers for iPhone and Android Smartphones and Tablets should have helped you pick your new Power Bank today. We regularly hand pick few best Gadgets and Accessories for smartphones, tablets and laptops. Follow us at Facebook, Twitter and Google+ for more recommendations.
Thanks for reading and have a wonderful day. Also, don't forget to share this post with your friends and followers if you find it useful.