Update: You can find the complete list of Bitdefender Discount Coupon Codes 2017 with up to 50% OFF from store pricing.
Microsoft has sold more than 60 million copies of Windows 8 world wide and counting, after its official launch and security software titles are also ready from various vendors to provide best security possible from Viruses, Malwares, Spywares and Phishing attacks. By default, windows is one of the best, stable and secure operating system in the world. The problem starts when you connect to Internet, use storage drives that may contain some malicious software and finally with Third Party software that we install in our computer. These makes the computer vulnerable to various viruses and attacks. Bitdefender Windows 8 Security Review will help you decide and choose the best security software today for your PC.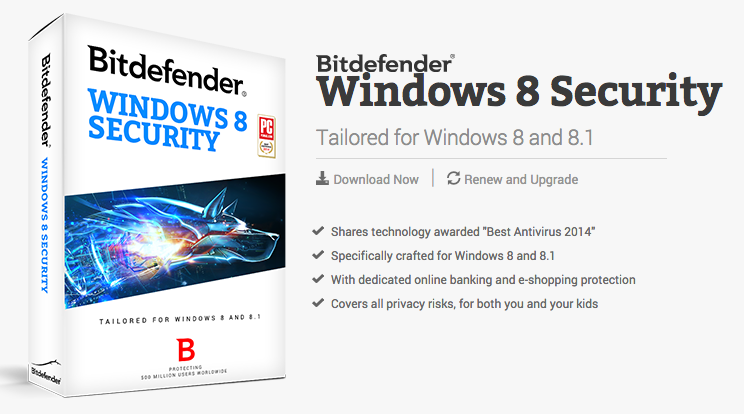 Windows 8 has got a complete redesign from Windows 7 and also in terms of features, windows 8 has got a lot better advancements in it. Still many people find little difficulty with this new User Interface and Design of Windows 8 operating system. It may take some time to get use to it.
Microsoft Windows 8 has fast boot time and applications that is so intuitive. Microsoft has recently released a video "Genius Microsoft Windows 8 TV Ad" that shows a demonstration in store to the public, by a kid to show how easy and simple to use Windows 8 OS.
***NEW*** Bitdefender Antivirus Plus 2020 Coupon Codes save upto 50% Storewide Discount.
***NEW*** Bitdefender Internet Security 2020 Coupon Codes to save up to 50% Storewide.
***NEW*** Bitdefender Total Security 2020 Coupon Codes to save upto 50% from Store Pricing.
Bitdefender Windows 8 Security
AV Comparatives have selected Bitdefender Antivirus as "Product of the Year" software and more info can be found here. Bitdefender for windows pc is one perfect combination to experience best security and protection against viruses, worms, trojans, malwares and spywares. The recent advanced features in bitdefender makes it even better to protect against various increasing security threats and troubles. Autopilot, Anti-Phishing, Anti-Theft, Parental Control, Safe Pay are some of the best features i liked in it and one of the main reason to recommend it to my friends and clients. Explore some of these features in detail with the following video.
Its not just about the design changes, also the feature additions that you will see in Bitdefender Windows 8 Security makes it more special and must have installed antivirus security software in your Windows 8 PC. Bitdefender windows 8 security tailored well in all aspects for Windows 8. The all new malware annihilating technology adds more protection to your windows 8 system and i feel the design changes are secondary that still looks amazing.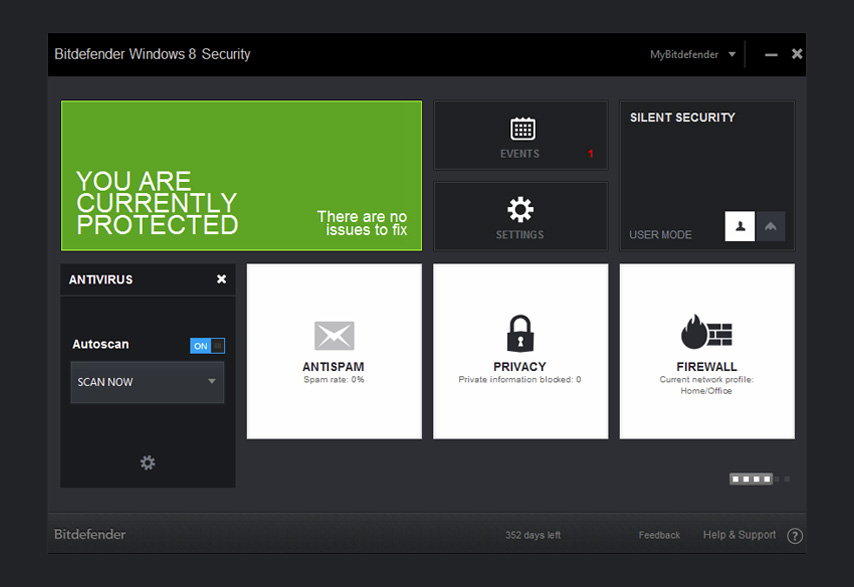 Early Start-up Scanner
Bitdefender is integrated with Windows Security Center and that brings a constant notification of system security status to your view.

Scan Boost Technology
No more slow speed scanning that hits your overall PC performance. Bitdefender scan boost technology makes sure to bring high speed scanning, top anti malware protection and a overall streamlined experience to your PC.
Pro Active App Scanner
Bitdefender Windows 8 Security analyses your Windows 8 Apps and notifies you whenever any of the security policy compromised. The advanced and intelligent protection gives you a complete peace of mind and best fight against known threats and attacks via Internet.
Security Info
This feature prevents any high risk malware from infecting your computer during Windows 8 Startup process. Bitdefender uses ELAM technology to protect your computer from virus or malware infection form the moment you turned ON the PC. Some viruses can infect during the bootup process and this is now eliminated with this advanced level of protection that comes with Bitdefender Windows 8 Security software.
Bitdefender Windows 8 Security
License Key Info: 1 PC / 1 Year
Price: $64.95
Download Bitdefender Windows 8 Security
Bitdefender Windows 8 Security
License Key Info: 3 PCs / 1 Year
Price: $84.95
Download Bitdefender Windows 8 Security
Bitdefender Windows 8 Security
License Key Info: 5 PCs / 1 Year
Price: $129.95
Download Bitdefender Windows 8 Security
If you are interested in other bitdefender antivirus, internet security and total security software, then we have a 50% bitdefender coupon code 2015 exclusively for our readers. You can purchase it right away in bitdefender coupon code page.
Increase the chances of winning by tweeting the giveaway once a day and get more entry points. Thanks for your interest and you may now share this post with your friends and followers across social networking websites. Have a wonderful day !