When you host your web site with Hostgator, you are not just getting 99.99% Uptime, 45 Days money back guarantee and excellent 24 x 7 customer support, there is something more available for shared web hosting account users. They are complete set of essential SEO Tools to make your website Rank no 1 in Search Engines. Hostgator SEO Tools are very effective in making your SEO Tasks simpler.
You dont have to hire or read plenty of seo tutorials online. When you are ready to pay for some services after trying out the quality of the tools available in Hostgator Control Panel, without doubt you will see your websites getting ranked in search engines and gets good amount of traffic as well.
Attracta in Hostgator cPanel
One of my favorite SEO Software and Automation tool with personalized SEO Expert packages are available with attracta. Still you can try out the free package of Attracta when you buy hosting from hostgator. In few clicks of your mouse button, your website will be ready and begin indexing in Google, Yahoo, Bing and Ask. The 4 primary search engines that are considered as important for website ranking.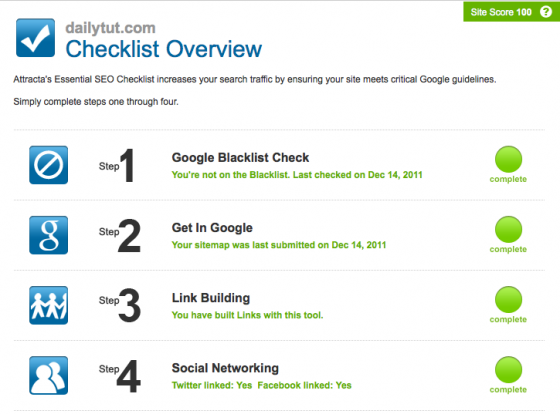 Attracta provides Directory submission feature as well. Where if you see the growth of traffic and ranking in google and other search engines after using the trial version of seo software then you may consider purchasing or upgrading your plans with concern service providers.
Hostgator SEO
The picture shows the list of tools comes along with your Hostgator Hosting package, which are quite effective and works very well with Free version itself. If you need more specific and advanced level of services, then each branded companies with several years of experience in SEO can provide some discounted plans for search engine optimization services.
There is plenty of Reason we can highlight to choose hostgator as webhosting provider. The primary thing i would recommend is, Customer Support that stays with me whenever my website go down. They provide excellent customer support all the time and i never feel like i am lost when i seek for support to solve some minor or serious issues with my website. That really makes them to stand out from the crowd of hosting providers.
Let me list of some highlights that may convince you 🙂
24 x 7 Chat Support and Knowledgebase.
Experts in various softwares and servers  to assist you anytime.
One Click Script (Joomla, WordPress, Blogger and 20+) Installation.
Unlimited Domains, Database Supported with Enough Bandwidth.
45 Days Money Back Guarantee
on any plans you choose that starts from Shared Hosting, VPS Hosting, Reseller Hosting and Dedicated Server Hosting as well. Trust me, you wont use this 45 days money back guarantee at all, as you will forget that your website hosting as it never reminds you because of its uptime and maximum availability.
Use the Coupon Code "FEBDAILY2012" on the registration form. If you are looking for a standalone software to manage all your SEO works and Monitor it effectively, then try out Advanced Web Ranking software specially built for users to manage multiple websites and produce effective results.
Thanks for reading and please do drop us a comment here. Share this post on Facebook, Twitter and Google+.