In addition to officially uncorking the latest iPhone handset and iOS operating system, Apple also announced Safari 5 today — albeit unintentionally. The new build touts improved DNS pre fetching and page caching, making it 30% quicker than Safari 4 (based on SunSpider 0.9.1, a JavaScript benchmark), 3% faster than the recently launched Chrome 5, and over two times the speed of Firefox 3.6.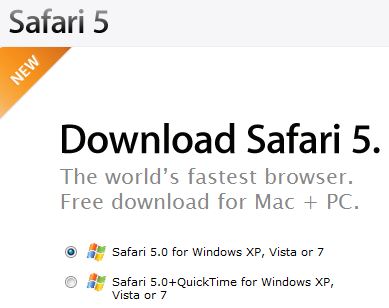 Safari 5 features over a dozen new HTML5 technologies, including full screen playback and closed captions for HTML5 video, HTML5 geolocation, HTML5 sectioning elements, HTML5 draggable attribute, HTML5 forms validation, HTML5 Ruby, HTML5 AJAX history, EventSource and WebSocket. Apple has also launched the Safari Developer Program to let developers create Safari Extensions, which are sandboxed and signed with a digital certificate from Apple for security.
Another key feature is Safari Reader, a function that lets users "read single and multipage articles on the Web by presenting them in a new, scrollable view without any additional content or clutter." When the browser detects an article, users can click an icon to display the post for "clear, uninterrupted reading." Safari Reader has a few tools, such as the ability to enlarge, print, or send via email.
When Safari 5 goes live, both Mac OS X and Windows users will be able to download it here. As the Apple site is not accessible due to heavy traffic, we here added the mirror download link of Media Fire to help you install Safari 5 for windows version.
Mirror Download [Media Fire]