Facebook to release Messenger App for iPad soon. The leaked facebook messenger for iPad shows the full screen version of iPhone. The social networking giant is continuously working on Apple products to keep their apps updated and give the best features than any other platforms. Facebook Messenger for iPhone is the start that lets you chat with your facebook friends from your iPhone and iPod Touch. Very soon, the iPad version will help us to get the chat and notifications right on our iPad.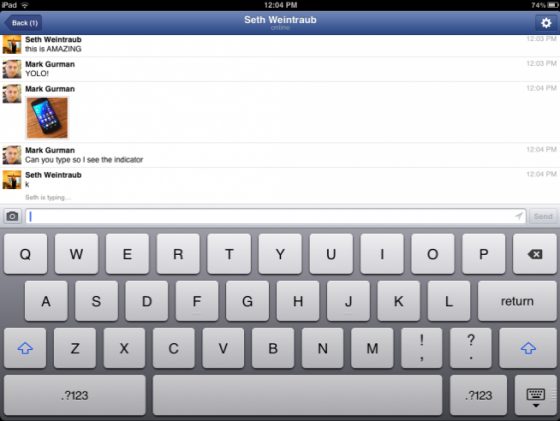 This is ofcourse one of the most expected release from Facebook as many iPad users like to chat with friends when they use their Apple Tablet for surfing and reading mails. Facebook messenger for windows downloaded by millions of users when it released under beta. Facebook also working on its messenger app for Mac OS X and we can expect it released officially after Mountain Lion release.
Facebook Messenger Video Calling
Facebook has got 900+ millions of active users and millions of users are updating their status message and pictures from their mobile phone. Facebook chat software is essential to have, as you can stay in touch with your friends all the time. Facebook and Skype brought video calling feature and very soon this service will also be ported to the Facebook Messenger and Facebook App for Android, iPhone and iPad as well. 9to5mac has also released some screenshots along with a confirmation about this news.

It was launched with huge expectation when Skype video calling feature came to facebook. But due to server errors when people tried to use facebook video calling feature, it got ignored by many. People have skype installed separately in their desk and may be the introduction of Facebook Video calling in mobile phone and iPad through this messenger app can make it to give one more try.
Facebook has no info published in its official blog or messenger download area about the iPad version. As the screenshot shows the development build is pretty much good, the beta release can come anytime soon.
Are you ready to Download and use Facebook Messenger on iPad ? You may share your views in the comment below. Thanks for reading and have a great day.