Search for your favorite Movies, Video Clips and Download them instantly from many video streaming websites. Moviesherlock Pro is an perfect app for Mac OS X to download your favorite videos and movies from Youtube, Vimeo, Dailymotion and some more free video streaming websites. No waiting time or Javascript troubles. Install Moviesherlock Pro and start downloading the videos right away.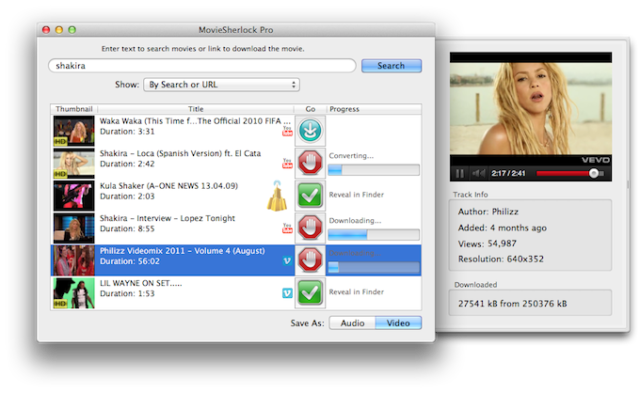 Moviesherlock Pro also allows you to preview the Youtube Videos before you start the downloading. It has lot of other features as well which i like to highlight them here.
Search and Download Videos
Moviesherlock App for Mac is very easy to use. Simply search with keywords, titles or urls and initiate the download without any lose in Video / Audio quality. The progress window shows the completed downloads, and the catch is, you can trigger multiple video downloads at same time from different video sources.
Youtube Video Preview
Currently they have added Video preview feature for Youtube videos and expected to be added for other video streaming services like vimeo, dailymotion as well.
Get this decent and features rich internet video browser today. Moviesherlock Pro is available for 39.99 USD, which has all the options listed above.
If you are looking for Lite and Standard version then do read the below picture and decide the correct one suites your needs.
Here we have an exclusive giveaway of 10 Moviesherlock Pro licenses to our readers. Participation is very simple and all you have to do is, follow the 3 easy steps to enroll yourself to the Giveaway list. We randomly select the 10 lucky winners to giveaway the software licenses.
Thanks so much for your interest and participation. You may now share this post with your friends or followers to let them try and win one license.