Facebook has rolled out a major update release today that brings super fast facebook experience to iOS device. Facebook loading very slow on iPhone, iPad and iPod Touch is really a big concern for many Apple users long time. Facebook has brought some good design change and faster loading than ever before that claims 2.5 percent speed difference than the previous facebook app.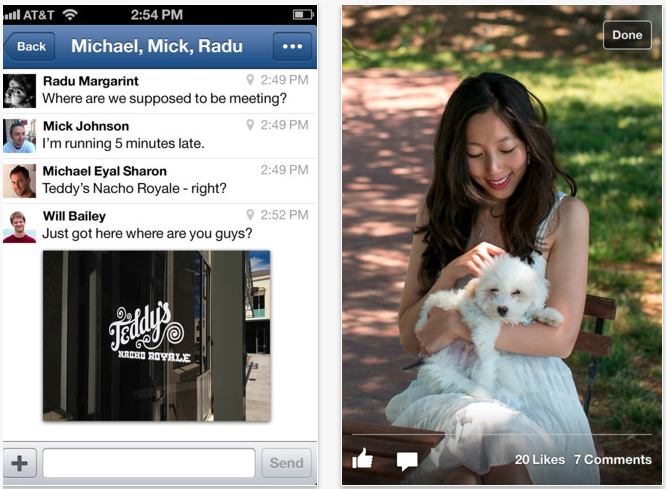 This new facebook app version 5.0 brings some slight design changes to feel the difference overall when you use facebook from your iPhone or other iOS devices. New Facebook App can be downloaded or updated right from your App Store.
Facebook Timeline on iPad
This new update also brings one of the long awaited feature for iPad. You can now access your facebook timeline when you view it from iPad. The navigation is much improved and that too pretty faster than the older version.
New in Facebook version 5.0
Here is what new in Facebook 5.0, along with all the above mentioned design changes and speed improvement.
Scrolling through news feed is faster than ever.
New Banner Lets you TAP to quickly see more latest shared stories and no more Refresh required.
Photos Open Faster and close with one downward Swipe.
Instant Access to your Notifications.
After using the new and updated version of facebook i am able to see the real difference as they promise this time. It was really slow and frustrating when i use Facebook in my iPhone. To upload a picture some time i got to wait for long time than usual. It was buggy and kind of mess at times, still unable to delete this app from my iPhone, as it is one of the important platform that helps me to stay in touch with my friends and family.
[youtube width="600″ height="344″]http://www.youtube.com/watch?v=D2r5Aa8Z1fk[/youtube]
Today, the update looks a lot more healthy facebook app on my iPhone for the first time. Not sure when they will bring another update with some more features added to it, but this one gonna be in the App Rockstars list for next few months without a doubt.
Thanks for reading, and update it right away on your iPhone. Also, dont forget to share your views with us in the comment box below. Have a great day !