Try not to become a man of success but
a man of value.
– Albert Einstein
Imagine a world with perfection in which everyone were enjoying the day. No one is hungry and everyone behaves friendly, kind and humble to each other. There is no war, there are no diseases, everybody were healthy and wealthy. A world without hunger and starvation wherever you see. A world with happiness all around in which people never work and never create slaves of themselves too. A very pleasing ambiance throughout the world with a guarantee that there is no harm and only truism.
All these things will be good to read in fantasy stories and some meditation notes. But earth is a mixture of joy and sorrow, you just can't take happiness altogether which may end in hating the happiness also. Nature have made a brilliant cycle which keep us get moving. We have a greater responsibility to lead this life and give back nature a better generation next to us. Our birth and death is been decided by nature we have a simple opportunity to play in between. Most of us never think about this were we never know many people who were blend to this fact.
You may have seen differently abled people many times but how many of you have seen a differently abled person training normal people. A guy without a leg who's motivating the people who are blessed with two legs. A differently abled guy who's addresses people by saying "Just don't fall"
Such a person is Josh Sundquist who is been betrayed by cancer and cheated by life to live  without a limb. Most of us will never ever had a thought of living such life. Living a life is simple but living a life inspiring people is extraordinary. Josh Sundquist is an extraordinary human. He lives…!!! Oh yes He lives!!!
Early life
"Don't ever think that you are going to be happy in this world, i've a surprise shock for you", God might have written this thing first for Josh Sundquist biography in his personal book. Josh was  a normal kid unless and until doctor's diagnosed that he has cancer. The battle started at the age of 3 for Josh and after 6 years from then it came to an end where cancer won his left leg and smiled at Josh Sundquist. Josh gave the smile back to cancer saying "I still live". He characterized himself as a son, brother, cancer survivor, author, Paralympic ski racer, motivator, blogger and a Youtuber.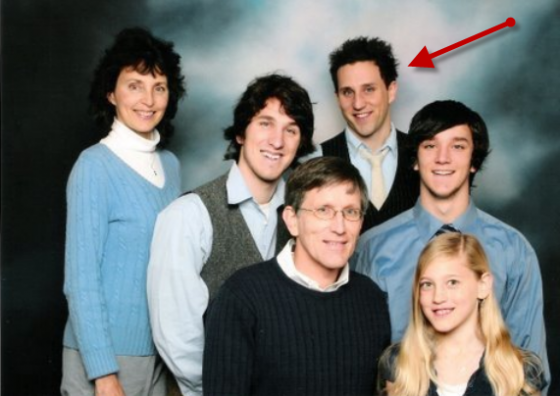 Dreams of Josh
Josh lost his leg but not his dream. He always dreamt to be a Ski racer and to win a medal for U.S.A. This dream never stopped even after losing his legs but it started growing faster than a cancer tissue could grow. At the age of 17, he made himself at Colorado to pursue Ski racing. Josh never thought of being selfish and so he involved himself to help others carry their dreams through motivation. He's not just living his life but he's making others to live their life with a cause.
A Ski Racer
After six years of intense training at Colorado, Josh Sundquist was chosen inside the Ski Team of Unites States in the year of 2006. Josh participated in his first Paralympic Games the same year but he didn't won any medals in both the events he competed on Alpine Skiing.
But his dream came true in Body for life contest where he won a medal for his Ski racing skills. The famous and inspirational slogan by Josh in Ski-Racing is "1 mt, 1 mt" which means "1 More Thing, 1 More Time".
An Author
Josh had an in-born writing skill which he invoked at 2001. He started as a guest writer for Daily Guideposts which have got a great response in mean days. So he started making in productive by writing to Daily Guideposts Magazine, which is a monthly edition and covers the narratives of faith and hope in daily life with a huge subscriber base of 2.3 million.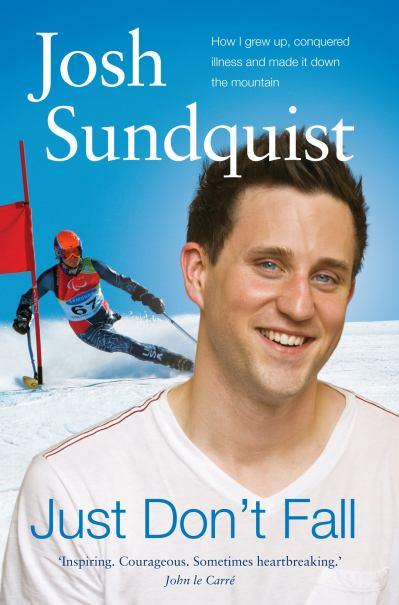 Sundquist's first work is "Just Don't Fall: How i grew up, Conquered illness, and Made it Down the Mountain" released on 21st January, 2010 and was the National Bestseller.
A Motivator
He was just Sixteen when he was asked to make a speech about life to a group. He inspired many of them in the group in his first venture itself. Josh found some inner satisfaction in motivating people and so he's continuing the work even now. Josh Sundquist at Wal-Mart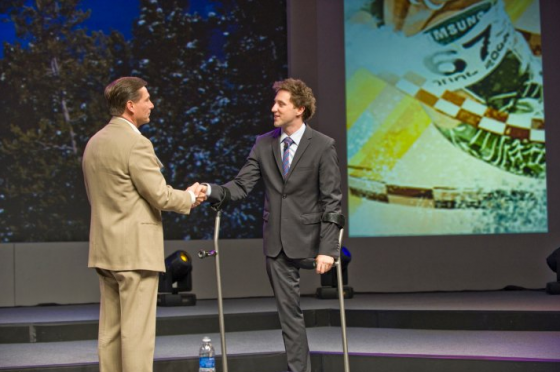 For more pictures on Wal-Mart visit here.
Josh Sundquist at National FFA
For more pictures on National FFA visit here.
He visits colleges, schools and some functions as a speaker and inspiring a million with his unique presentation skills. His prestigious audiences include Wal-Mart, The White House, The Boys Scouts of America, RE/MAX, National FFA Organization, YPO and Children's Miracle Network.
Appreciation by CNN
Josh Sundquist is been chosen as one of the CNN's Heroes 2007. This is to recognize his work with amputee community where his funding for persons with amputations through Social networking websites.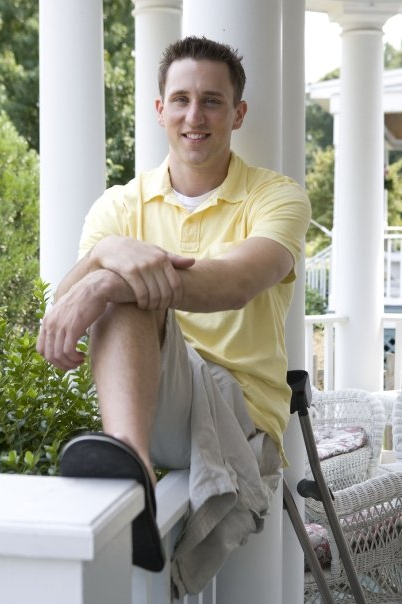 For more Pictures from CNN Interview visit here.
A Youtuber
Josh feels great in using Youtube as he thinks that he looks like a normal person in front of  a web cam. He have posted many videos in his channel on Youtube and as well he's doing some marketing through it. Interestingly Josh have won a featured spot competition on Youtube which is likely to vote for the nominees in the front page of Youtube.com On January 22, 2011.
Official Youtube Channel of Josh Sundquist
Josh Sundquist – Student Demo – Inspirational Speech
[youtube width="550″ height="344″]http://www.youtube.com/watch?v=t0-5BJFnJvY[/youtube]