Necessity is the major nightmare that haunts every one irrespective of their social status. Ever Since the broadband technology evolved and emerged as the major boon to the world of computers the necessity for the Modems and Internet Routers started. To fine channel the bandwidth and make it flexible with the number of machines and devices that use the frequency. Most of the mobile networks use DSL, SDSL and ADSL promising higher speeds than standard modems.
Internet Routers/Modems play a major role in delivering us the speed from Internet Service provider. When it comes to choosing a Router, we must ensure that we find the best adsl router by understanding the basic terms the manufacturers. Some offer less features but priced high because of brand name. Some routers promise more and comes cheaper also die sooner than we thought.
Best ADSL Routers 2014
To avoid money waste and get best performance, we thought to hand pick few best adsl routers for you. ADSL Router comes with Internet Modem and a Broadband Router built inside. If you buy just a Modem you wont get a Broadband feature and able to use it just for Dial-up internet connection. There are hundreds of them to select but we thought to give some of the best rated adsl routers by existing users in this 2014 to help you find your next Internet Router.
For easy purchase we have included amazon links at the end of each product description. You can shop instantly with discount from the official store price.
Linksys EA6900
One of the Best ADSL Router in the market and will end up your search by exciting you with most adorable features. This router has got 3 antennas which provides maximum range, smart wi-fi to give you more advanced bandwidth control, parental control, app enabled networking. Apart from these commonly observed system oriented settings Linksys is specially known for its 4 gigabits port for connecting wired devices and  Dual core 800Mhz processor for blazing speed processing.
Buy: Linksys EA6900 is available for $173.03
Netgear R6250
Prepared to experience the next generation router that enables HD streaming throughout your house, then NetGear would be the one you are looking for. With a speed range of 300 – 1300Mbps accompanying dual band technology which boosts your bandwidth this router serves you in many means by avoiding wireless interference and promising high range and reliable connections. Runs on dual core 800Mhz processor along with USB 3.0 boost the speed upto 10X.
Buy: Netgear R6250 is available for $146.40
AVM Fritz! Box 7490
Wondered about using a router as a complete telephony platform either as an analogue or VOIP ? Then there is no need to search a lot AVM Fritz!Box is the right choice. Being used as a telephony is the major attraction of this router apart from that it has triple stream 802.11ac wireless system, and runs on 600Mhz dual core processor.
Buy: AVM Fritz!Box 7490 is available for £243.35
Billion BiPac 7800NXL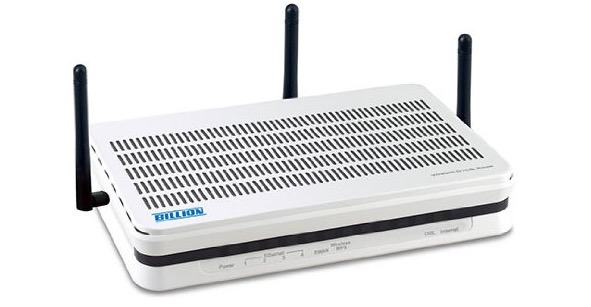 This Dual WAN device is must of attraction for its solid interface. BiPac is not majorly for tech savvy users apart from them this serves as the best choice for those who part do tweaking settings and boost the speed. Some of the key attractions are its 4 port gigabit LAN switch, 3×2 Dbi detachable antennas for wider coverage and business class firewall security.
Buy: Billion BiPac 7800NXL is available for £104.98
BT Home Hub 5
Comes under the famous BT series which promises high speed connectivity and wider range. This acts as a Hub which connects multiple nodes at the same point of time so that you could connect your XBox, SmartTV, Android phone, Chromecast, Windows 8 PC simultaneously without any lag on the connection. Moreover compared to other routers released on 2014 this seems to be the most cost effective router at affordable price.
Buy: BT Home Hub 5 is available for £71
Apple Airport Express
Apple Airport Express latest model brings improved features than its previous generation devices. If you have Apple devices at your home iPhone, iPad, iPod Touch, Mac computer then this device is the perfect router for you. You will need a ADSL Modem initially as this device is just a Wireless Router with better range. It is very easy to setup and you can manage with an App installed on your Mac or iPhone. Simultaneous Dual Band 802.11n WiFi Router. Airplay enabled, Wireless Printing configuration is pretty easy and gets router update from Apple Servers periodically. Guest Network mode is also available and you can set a different password and configure it for better security.
Buy: Apple Airport Express is available for $97
Thanks for considering our recommendation. If you have got your Best ADSL Router this 2014, dont forget to share this post with your friends and followers across social media. Have a wonderful productive day.