After quite some time, we are here with another interesting giveaway for our readers. We usually giveaway Software Licenses or Gadgets and today we like to giveaway 25$ Amazon Gift card for 5 lucky winners and if you are from India, you may choose Flipkart Gift voucher of equal value, which is Rs 1350 INR. All you have to do is, just do 3 easy steps in the box below and that is it. Your participation will be recorded and you can do tweet about this giveaway more than once to get multiple entries which can increase the chances of winning.
You can use Amazon Gift Card to purchase books, music, movies and any items from their store. We will be sending 25$ amazon gift card via Email to the Winners. We know that we have lots of readers from India as well. That is the reason we mentioned Flipkart Gift Voucher choice for winners from India. You can use this to get discount of Rs 1350 when you buy any product on Flipkart. Flipkart is one of the fastest and best online shopping website in India. You can use this flipkart gift voucher while shopping for Mobile Phones, Camera, Computers, Books and so on.
Free Amazon Gift Card 2013
Online shopping is fun and saves a lot of time. All you got to do is, read reviews before proceeding with the purchase of the product you want to buy online. Amazon has the user review section after product description block, but some times you may need to search for reviews of the item in various websites with the help of search engines like Google, Bing etc., How can i forget Youtube ? where you can watch video reviews 🙂 I always use Youtube to check for reviews of the products i was about to buy online. Specially unboxing videos in youtube are my favorites. Amazon gift card that we give here is worth of 25$ which you can use for purchasing any item on amazon.com. Similarly, if you are going to use Flipkart Gift card, then you can use it absolutely for buying any product in flipkart.com with ultimate high speed delivery time 🙂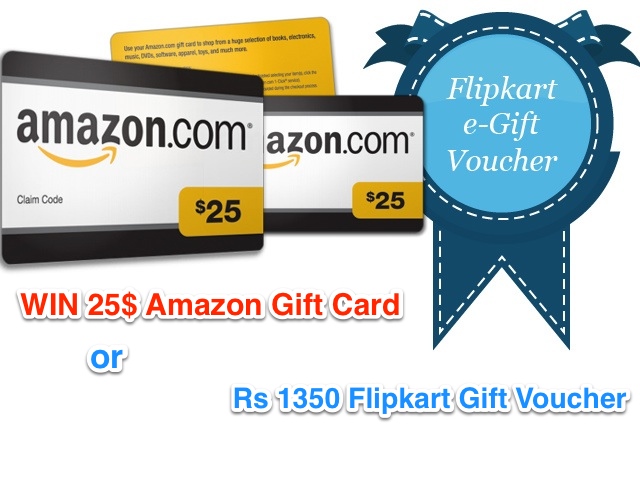 Some days ago, i wrote about "How to find best deals in online shopping" and "Online shopping tips to save money" to understand about online shopping and how you can save huge money by using the Deals option given by websites. Gift Cards, Coupon Codes, Discount Coupons, Promotional Codes, Festival Offers, Seasonal Offers are the best time and ways to save money in Online Shopping.
Terms and Conditions:
Winners will be selected randomly by Rafflecopter.
Video of selecting the winners will be published in our DailyTUT Youtube Channel.
Contest Starts on 13th, February 2013 and Ends on 26th, February 2013. (14 Days)
Winners of Amazon Gift Card will be announced on 27th, February 2013.
Confirmation email will be sent to winners to make a choice of Amazon Gift Card or Flipkart Gift Voucher.
Terms and Conditions are subject to updated or modified by DailyTUT without prior notice.
Amazon Student 5$ Free Credits
I also thought to share a tip within this giveaway post, which is about Amazon Student offer that can get you free 5$ for every referral you do. Signup for Amazon Student account here, and get your unique amazon student referral URL, then share it with your friends and followers across Twitter, Facebook and Google+. You can do any online promotions to let people find and signup for new amazon student accounts and get a free 5$ amazon credit.
Alright, scroll above and mark your entries to win an amazon gift card of 25$ worth. Participating is simple and easy. Thanks for your time and wishing you all the best to win a gift card. Have a wonderful day !