Facebook acquired the leading mobile messaging app "WhatsApp" recently. Since then, there were no major feature additions made, and soon we may expect one such announcement from WhatsApp Development Team. There may be a WhatsApp web app client "Coming Soon" and we dont know when, but based on recent reports it looks like WhatsApp may be working on a web app version and it could be released in coming days.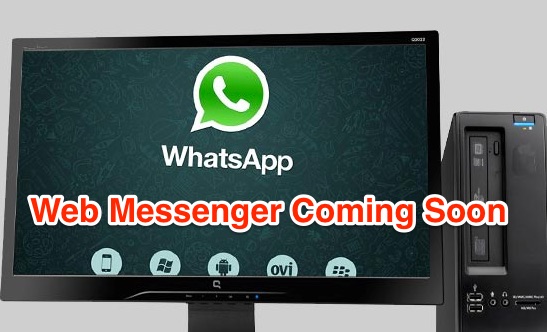 Telegram is growing every day and soon it may become a tough competitor for WhatsApp Messenger on most of the platforms. Telegram is pretty fast in bringing updates to Android, iPhone and other platforms. They made it compatible and working just fine on most of the platforms. Also they have telegram web messenger client which requires no app or software to be installed in your computer.
You may be running Linux, Windows or Mac in your computer and the new WhatsApp Web Messenger will let you use it with your web browser (Chrome, Firefox, Safari etc.,) software. So you dont have to install any third party software or do some whatsapp hack to install it into PC.
Soon, you will be able to use it just by launching your web browser. In a recent interview Telegram Messenger's founder Pavel Durov, said to media that WhatsApp has tried to poach one of his web developer, which raises doubts that WhatsApp Web Messenger may be under construction and the team is hiring talented web developers silently. Also Androidworld.nl recently audited WhatsApp 2.11.471 version and found traces for upcoming WhatsApp web messenger feature.
Telegram Web Messenger currently operates in a secure mode by issuing security tokens and web sessions are encrypted as well. WhatsApp may soon remove its mobile number restriction to operate and let users create a unique whatsapp user id and allow them to use the service. Researchers are keen to watch how WhatsApp handles authentication protocol after making a switch to WhatsApp user id than SIM mobile number for registration and usage.
Currently you can access "https://web.whatsapp.com" which is OAuth enabled web page that requires Google Account to authenticate and login. WhatsApp may implement Facebook, Google authentication methods to create new whatsapp user accounts and use the service via web completely. Anyhow, one thing i really hate about WhatsApp is "Updates". They are the worst when it comes to keeping their app updated for iOS, Android and Windows platforms. If they dont fix this up soon, then it will be slowly over taken by their rivals in many countries. Hike, Viber, Line, Kik messenger services also have decent amount of users in their database already. In a recent report Telegram claimed 50 Million monthly active users and it also attracting more groups, companies to use its service. So it is important for Whatsapp to not let its users find some best whatsapp messenger alternative apps.
So what do you think about the upcoming WhatsApp Web Messenger client feature? eager to use one in future? Share your views in the comment box below. Thanks for reading and have a wonderful day.