Google has released Google Maps 2.0 yesterday and that brings some interesting new features to make your map access and viewing much better. Google Maps 2.0 also brings iPad support that lets you use the all new Google Maps on your Apple iPad. Google Maps on bigger screen will be more useful and easy to use as well. Google Maps 2.0 has got Live Traffic and Road Incident reports as two main features.
Now you can get Indoor directions, walking directions for malls, route to airport, transit stations and much more. The navigation has improved a lot and now it has got live traffic and road incident reports as well.
How to Download Google Maps for Offline Access ?
Well this feature is not officially announced by google, still some google maps users were able to find this hidden feature after using the new google maps 2.0 on their smartphone. It is not possible to stay online all the time for some people due to network troubles or battery conditions when they go to different locations. When you can download google maps for offline use, it will help you to check the routes and directions to the place you are visiting without worrying about battery or network availability.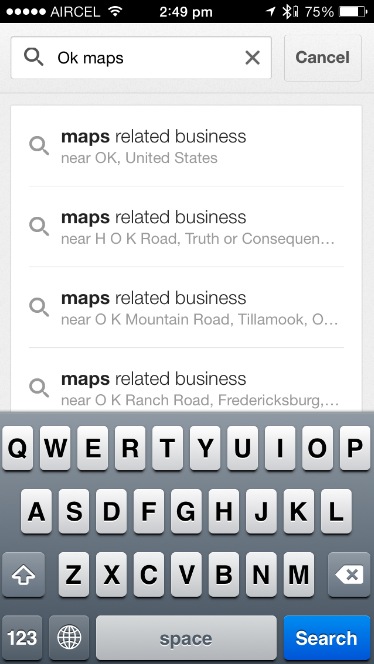 In order to download the map for specific area, visit the place and then type "ok maps" and click on "Search" button. This will display you a progress window saying "Pre-Loading Map" which caches the On-Screen map for offline use. So this simple method can help you to access google maps offline on your iPhone or iPad.
Once the loading completed, you will see a confirmation pop up at the bottom of the screen.

Google Maps team may bring this feature officially to iOS devices in next or future updates. Mean time you can use this small trick to get offline access to google maps on your iPhone or iPad. Follow our social feed for more iOS Tips and Tricks. You may also interested to read how to download youtube videos for offline viewing ?.
You may share this post with your friends and followers to let them also try this method and access google maps offline. Have a wonderful day