Advanced System Optimizer 3 Review is here for you this 2012 that brings ultimate speed and performance boost to your Windows computer. A software that is used by more than a million users got best ratings and still in use for its easy to use user interface and features, got its major upgrade this time and here we have advanced system optimizer 3 for windows pc desktop and laptops. Systweak the company behind advanced system optimizer has some more software in their stores, but this one is quite powerful and best for the price that is so affordable for any one to make sure the Microsoft windows computer performance is top notch all the time.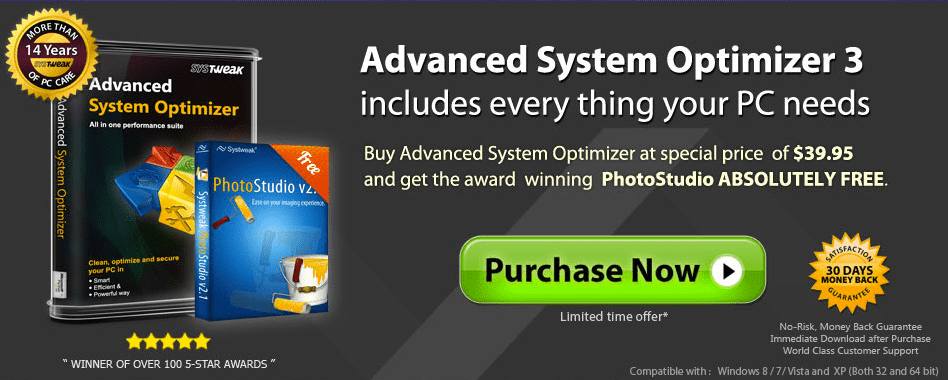 This is one of the best system optimizer software i had come across and you may download the trial version to see and feel the speed difference of your desktop or laptop windows computer right now. If you are so worried about slow speed pc desktop or laptop that is running windows operating system, then Systweak Advanced System Optimizer 3 is for you.
This software has all the essential utilities that one need to boost speed and performance of windows computer. It has most comprehensive set of utilities that will keep your PC performance and speed boosted, smooth, clean and error free always.
No more

Frequent Service calls

or

System Down Times

.
Your PC will be running so smooth and error free after you install advanced system optimizer 3 on your windows computer. You can focus on your Microsoft Word, Excel, Powerpoint, Web Browser and other software that you usually use to get your work done. Its totally going to be a good productive day everyday after you install this one amazing software in your computer.
Advanced System Optimizer 3
No doubt, that it is one of the most comprehensive set of tools loaded software to power up your windows experience and make it work just like the day you bought it from the stores. Because of any third party software and other reasons, the speed and performance may get hit. Manage all the possible problems that may slow down your computer performance from now onwards easily.
Smart PC Care
Advanced System Optimizer 3 has some great features to make it so special and stand out from other system speed booster softwares available in Internet today. Smart PC Care feature built-in with this great software aimed at carrying out multiple tasks easily at same time. This is literally a great multi tasker software to clean up your Windows PC Desktop or Laptop.
Clean Junk Files
Clean up Windows Registry
Disk Defragmentation Tool
and so much to do, just with single mouse click. It is a time saving and efficient way to power up the system performance in minutes.
Driver Updater
Windows Driver update solution is one of the most effective way to get the necessary suitable drivers without spending hours and hours in front of search engines. You may end up in not finding the exact driver you wanted for the hardware that you connect with your computer. But when you buy this great system optimizer software the built-in feature "Driver Updater" makes sure you get all the latest system driver files on time and that helps to keep the computer software up to date. This tool scans your system automatically for out dated driver files for all of your system hardware components connected and installed.
Automatically downloads and installs the necessary driver files and that reduces huge security troubles and other hardware functioning issues as well. It is one of very good and must to follow security practice. You may manually select which softwares in your system that you have installed should be automatically monitored and updated.
Disk Optimizer
This utility comes with advanced system optimizer 3, that solves the problem of data fragmentation issues that could possibly arise in the harddisk drive. This brings a renewed level of responsiveness to your installed softwares and reduces the time it takes for your computer to boot. This smart utility rearranges all the fragmented data back to sequential order on your hard disk drive and that improves data access tremendously. So there is no more business of sluggishness or slow responsive time from softwares that you have installed on your Windows computer. You can increase the response time, fix slow booting issues and overall system performance as well.
Ofcourse, this tools does everything automated once you enabled and configured it, that saves a lot of time as well.
Undelete
Remember Power Undelete software that we have recommended some time ago, similar to that here we have an ultimate utility that scans your entire system for deleted files and folders which further gives you an opportunity to recover any lost files or accidentally deleted files. You can use this software utility to recover data from Hard Drives, Partitions, External Storage Drives, CD, DVD Drives and so on. Your files can be recovered by this undelete utility that comes with Advanced System Optimizer 3.
This tool conducts deeper scan verifying signatures and every other details available in the storage drives. So its pretty effective compared to many other software that claims it can recover your deleted files and fail to do.
Registry, System Cleaner
Another must have utility for windows computer is Registry Cleaner which can clean up your System Registry records to boost the overall performance to a better level. System Cleaner brings fast and better cleaning to windows computer and you can utilize all these features using this great software.
Advanced System Optimizer has some more essential utilities in it and they are Disk explorer, Uninstall Manager, Memory Optimizer, Privacy Protector, Secure Delete, Secure Encryptor, Disk Tools, System Security Advisor, Duplicate Files Remover and Startup Manager.
All these power packed must have essential utilities with one software and that is the main reason you should buy Advanced System Optimizer 3 today after reading this great features list. We also have an exclusive discount coupon code for you today to save some cash while purchasing this ultimate system booster software to speed up your Windows Computer and see huge difference in the performance overall.
Advanced System Optimizer Coupons
We have an exclusive 30% Advanced System Optimizer Coupon Code for you today which you can use while purchasing this software. For limited time, you will get 49.95 USD worth PhotoStudio v2.0 software. Its a premium software where you can use it for
Redesigning Digital Images,
Add Visual Effect to Images,
Capture Images from Any Device,
New Interface for Faster Editing
Convert Images to almost 60 Supported file formats
So Hurry Up and get this ultimate image editing and sharing software for completely Free today.
Advanced System Optimizer 3
Original Price: 39.95 USD
Discounted Price: 27.96 USD
Advanced System Optimizer Coupon Codes
Let me also list some more software titles from Systweak, which you may find useful. I have added coupon codes for all these software titles, and you may purchase this now on the following mentioned discounted rate.
RegClean Pro
Original Price: 9.95 USD
Discounted Price: 6.96 USD
Special Disk Cleaning
Original Price: 39.95 USD
Discounted Price: 27.96 USD
Special Disk Cleaning Coupon Code
Tune Up My Mac
Original Price: 59.95 USD
Discounted  Price: 41.96 USD
Thanks for reading and we believe the above advanced system optimizer 3 review and advanced system optimizer coupon code may helped you to save huge cash while purchasing them. You may write to [email protected] if you find any issues in getting this coupon code working during your purchase. Have a great and productive days ahead.