Apple Pay accounts for 50% of tap to pay Transactions at McDonalds Restaurants in United States. Apple Pay without a doubt is a revolutionary payment solution that makes the job of making payments a lot easier for customers and merchants. Apple introduced this all new payment system along with iPhone 6 and iPhone 6 Plus release. Recently released iPad Air 2, iPad mini 3 are also compatible with Apple Pay.
We have a complete guide here for you to do the following things.
Add Credit or Debit Card to your Apple Pay Account
Remove Credit or Debit Card from your Apple Pay Account
Remove Credit or Debit Card from your Apple Pay Account via iCloud.com if your device is Stolen or Lost
It uses NFC chip that is built-in only on the latest devices and currently restricted to app developers. Apple launch of Apple Pay also gave a boost to Google Wallet for Android which is an NFC Payment solution available on Android for quite sometime. There are some No sayers to Apple Pay to promote their own Wireless Payment Solutions, but it is always better to understand and give what customers actually want and comfortable to use.
Sometime ago i wrote about removing credit card information from Facebook, if you have added your credit card to facebook.com for ad purposes or other account verification purposes, then you can follow the guide linked to remove credit card from facebook account. Well, i still feel its a temporary way to remove credit card, though facebook not going to bill you once you removed, they dont permanently remove it from your account. Here i have did some research on that and wrote an article about facebook never removes your credit card permanently last year.
How to Setup Apple Pay?
Well the setup takes less than a minute, and its a super easy process. Also remember, it will work and enabled under "Settings – Passbook & Apple Pay" only if Apple Pay is enabled for your Country.
Step 1: Go to "Settings – Passbook & Apple Pay" next to iTunes & App Store.
Step 2: If you already added a credit card to your Apple account, you will be seeing the card details and you can verify by reentering the card number and cvv code once again. If there are no credit cards already added to your account, then you can add one to use with Apple Pay by tapping on "Add Credit or Debit Card" option.
Step 3: When you try to add a new credit card you will be seeing two options "Use Card on File with iTunes" and "Use a Different Credit or Debit card". Tap on second option here to enter new credit card details.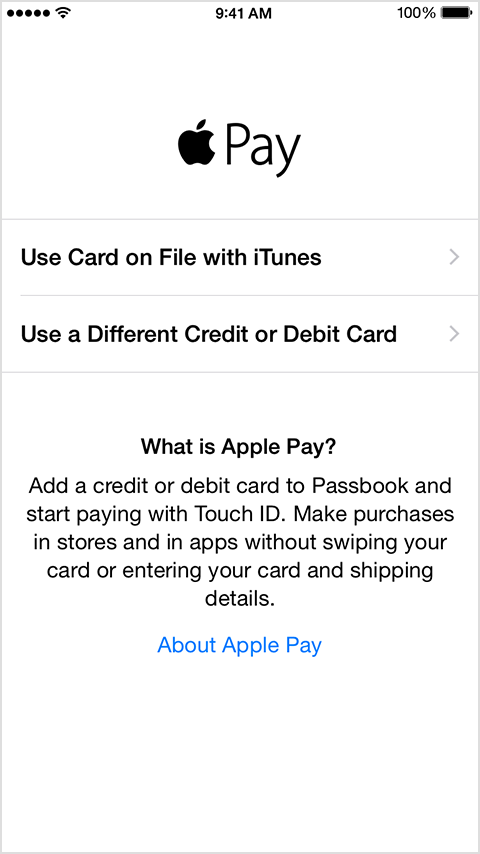 Step 4: Fill out the credit card details and proceed to next step.
Step 5: At this step you can take a photo of the credit or debit card to display on screen for your confirmation, when you try to make a payment using Apple Pay.
Step 6: Agree to the Terms and Conditions and you are at the last step of adding your credit card to your Apple Pay. At this step Apple will verify the card details with your bank and it may take few seconds (depends on internet connection speed) and you will get a Passbook Notification to confirm that your card has been successfully added to Apple Pay.
Congratulations! You have successfully added your Credit/Debit Card to Apple Pay and you are ready to make bill payments at sales points using your iPhone. You dont have to pull up your wallet anymore to swipe the card in card machine every time. Apple Pay really makes the process of making payment super easy for customers, and thousands of new users are added to the database of Apple Pay users every day.
Lets see how to remove credit or debit card from Apple Pay if it is expired or want to add another card and make it as primary.
[youtube]http://www.youtube.com/watch?v=8kNLTFAdS4A[/youtube]
How to Remove Credit Card from Apple Pay?
Removing a Credit/Debit card is again easy and you dont have to follow any complex steps. Apple has made the process of adding and removing credit cards super easy for you with Apple Pay. Follow these simple steps suggested below.
Step 1: Go to "Settings – Passbook & Apple Pay" located next to iTunes & App Store.
Step 2: You will see list of Credit/Debit Cards added to your Passbook Apple Pay accounts. Select the one you want to Remove from your account.
Step 3: Swipe down and see an option "Remove Card" to complete the card removal process.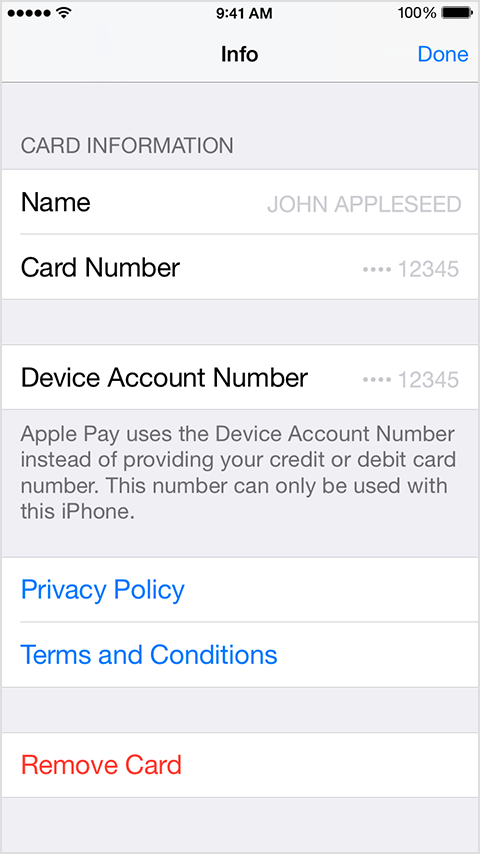 Done! You have successfully removed Credit card from your Apple Pay account. You can see the results immediately by opening your Passbook App.
What if you have lost your iPhone and want to remove credit card from Apple Pay to prevent any misuse by thief or someone who stole or got your iPhone. Well, we have you covered. Just follow the below steps to remove credit card from Apple Pay by logging into your iCloud account using computer.
How to Remove Credit Card from Apple Pay after iPhone Stolen or Lost?
Step 1: Go to icloud.com in your computers browser and sign in with your icloud username and password that you have used in your lost or stolen iPhone.
Step 2: Select "Settings" from the collection of icons you see on the browser window once you logged in to your icloud account.
Step 3: You will see list of devices associated with your Apple ID, also the iPhone 6, 6 Plus or iPad Air 2 that enabled "Apple Pay". There will be a logo next to the device name as shown in the screen below.
Step 4: Tap on that device to bring up location and other information on pop up.
Step 5: Click on "Remove" under Apple Pay field to remove the credit card connected in that phone. You will see the last 4 digits of credit card added to that device. Confirmation screen will pop up and click on "Remove" to complete the credit card removal from your Apple Pay account via iCloud.com
Image Credits: 9to5mac
You have successfully removed your credit card using iCloud.com. Now proceed with the device location and searching to track and find your iPhone.
Thanks for reading and if you find this article useful, dont forget to share a word about it in Twitter, Facebook and Google+. Have a wonderful day!