Official announcement came through an invitation from Apple Inc finally about iPad 3 release date, which is quite an excitement for people who like to own their iPad for the first time. Existing iPad users may also upgrade their iPad 2 to iPad 3, but many wont do it just for the hardware spec. iPad 2 is one of the best Tablet that apple has brought and as an user of iPad 2, i will wait for some more months or atleast couple of years to experience the next generation iPad.
iPad 2 is the best for Reading News, Gaming and Surfing the web. Still, the new iPad buyers can go for Apple iPad 3 as it is expected to have Quad Core Processor and 4G LTE Chip in it.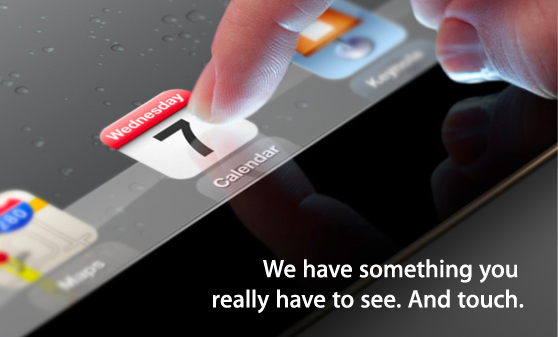 iPad 3 Release Date

: March 7th 2012

So if this is your first iPad, then its the right time to purchase one. CNBC has tweeted about this news mentioning the hardware spec expected in the iPad tablet and also says, that iPad 3 battery also got a great upgrade which can allow users to play games, watch movies and surf the web on iPad 3 for more time than in iPad 2.