Who hates faster internet downloads ? almost everybody loves high speed internet downloads and torrent download. You may have a flat 1 mbps download speed connectivity but while downloading files or torrent files, you may notice the full internet speed is not utilized by your browser or torrent client software. That must be really frustrating and disappointing. Don't jump on ISPs or think that you got faulty cable lines. Check internet speed from speed checker websites, if it shows good speed rate as per your broadband plan, then the problem must be within your computer.
It might be the browser or your operating system network policies that may restrict the internet speed during file downloads.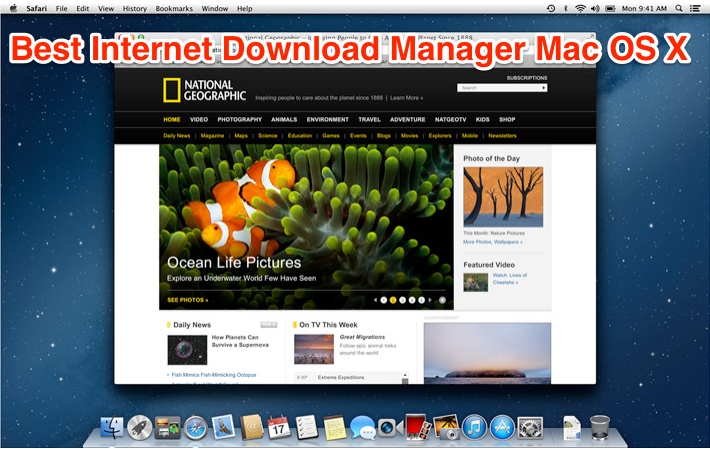 Internet Download Manager software can utilize your full broadband internet speed to download a file from internet faster without any damage to the file. I was a windows user and IDM (Internet Download Manager) was my best friend to download any files that i wanted from Internet. I download files, movies, youtube videos, real time videos and so many from internet using IDM for Windows. But after switching to Mac, i never thought about downloading an internet download manager for Mac OS X.
Recently i was searching for the best internet download manager for mac and my search ended with Folx app. It is a wonderful download manager which is free with limited features (or features i feel enough for a normal user) and you may consider the premium version to get some extra features.
Folx Internet Download Manager
Folx app for Mac is one of the best internet download manager for mac and a very simple utility from eltima solutions. Folx for Mac is not just a file downloader, it can also download your torrent files from internet. Yes, its a two in one software to do direct downloads and torrent files as well. So you can uninstall your torrent client and reduce the number of app installed on your Mac now. Tagging feature allows you to easily tag and find the downloaded files quickly. Folx Pro has some more features.
Download files attached to RSS Feeds.
Search for Torrent Files directly from Folx browser.
Scheduler in Folx lets you to schedule and download files.
Faster Downloads – Pro version can split the file into 10 threads and download the files faster than regular free version.
You can control the file download speed with smart speed adjustment feature. Limit Download and Upload speed automatically and use Internet in your browser or apps without worries.
You can download Folx Internet Downloader software for Mac from official eltima website.
iGetter Download Manager for Mac
This is another wonderful download manager software for Mac. iGetter for mac is a download accelerator that allows you to get the most out of your internet connection. No matter what type of connection you use (Wireless, Cable, Dialup, DSL or T1) you get best download speed utilizing the full download speed that your internet connection offers. It uses Segmented downloading method to download files from internet.
You can Resume on Broken file downloads, Based on various criteria you can queue the files and filter them to access easily. iGetter also allows you to auto resume the download if there is any interruption in Internet Connectivity. You can also auto hang up and automatically shutdown the computer once the file download completed. No more worries about downloading files when you are not in front of computer. iGetter can be your perfect internet download manager app for Mac OS.
You can Download iGetter from official website.
Speed Download for Mac
Speed Download from Yazsoft is an Internet Download Manager for Mac OS, which is a premium software and you can use their Trial version before deciding to purchase the software. Current version Speed Download 5 single license costs 25$ and 2 licenses costs 40$. You can get more discount on this software when you buy more licenses. Lets see the features of speed download 5 for mac.
Speed Download 5 for Mac is a combination of 5 utilities from Yazsoft. It has a fully features secure FTP client, File Sharing utility with Full Encryption, Auto Resuming Download and complete .Mac/iDisk/WEBDAV connectivity.
This easy to use application for Mac can be your best internet download manager after you try out the trial version. I tried and liked the Interface which is pretty simple and easy to use. Speed Download Lite version limited with few features but if you are looking for just a premium download manager software, then this is the one. Lite version brings just the downloader utility where you can download files from internet without any limitations but not FTP or other features mentioned above.
You can download speed downloader for mac here.
Progressive Downloader for Mac
It is a simple and free internet download manager for mac. Progressive downloader supports multi threaded downloading and mirror search as well. This simple utility is also capable to download files from most popular file hosting services. You can download the free version of progressive downloader from official website, and if you like the software and want to donate, then consider buying it from Mac App Store. You can find the link from their website.
JDownloader for Mac
If you are looking for a well designed easy to operate downloader software, then this is not for you. JDownloader for Mac has great features, but not for everyone who likes to get a simple and easy to use interface. This tool requires some time from you to understand in order to use the features it offers. Link Grabber tab in JDownloader lets you add the URL to begin download the files. You can download almost any file types without any trouble with JDownloader software. Music, Movies, Documents, Compressed Files and so on. Built-In Search feature lets you search and find the files you have downloaded quickly and easily.
JDownloader is one of the best download manager for mac, but it is not for a Beginner level user. So Consider giving it a try, and if you dont like it ? you always have options above 🙂
Download JDownloader App from official website.
You may also like to read,
Thanks for reading and i hope you found this post an interesting one. You may share a word about this with your friends and followers across social networking sites. Goahead and share this post in Facebook, Twitter and Google Plus. Have a wonderful day !