Email is the king of communication for Business people. It always keeps a record of individuals and groups conversation and helps to refer, recollect any information shared earlier. Apple Mac comes with an email client that allows you to sign in and manage all your personal and business emails at one place. Not everyone is big fan of default apple mail client in OS X. There are very few email clients available for mac and we hand picked and compiled list of best free mail apps for mac.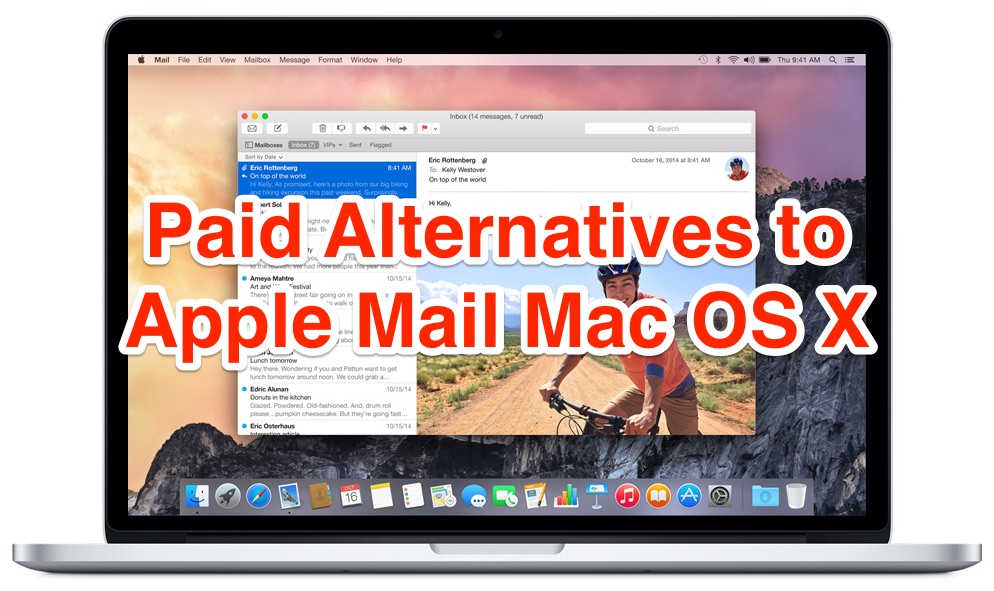 Again, not everyone becomes fan of free apps and there is always a belief with Apple users, that paid apps works better and delivers quality and support as promise. So we are here with Paid, Premium Alternatives to Mail App on Mac OS X. Each app has its unique features and
Airmail App
It is a good looking minimal-designed email client app for Mac. Airmail has got a design update after OS X Yosemite launched and now it blends with the Yosemite and looks beautiful overall. Airmail 2.0 is a super fast mail client with tons of cool, new features compared to its previous version. Quick Reply, Improved Search, iCloud Accounts Sharing and Attachments, Airmail plugins and extensions support, Google OAuth support and more included with the latest version.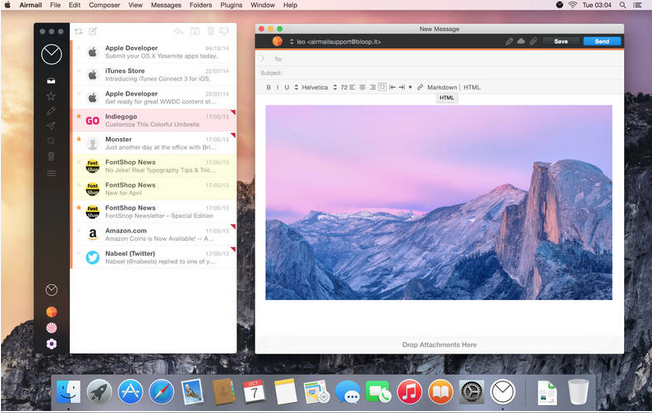 Overall, it is a light weight and super fast email client available for OS X Yosemite. So you can purchase it after exploring the features in official website. For a limited time you can find Airmail at just $9.99 at 50% discount offer from iTunes App Store.
Price: $19.99
Availability: Mac OS X
Download: Airmail 2.0 for Mac
Postbox Mail App
Popular for its "Conversation Views" feature, and the entire design looks and feels like native OS X application. Postbox Inc Mail App has better GMail Integration and Dropbox support as well. If you are more into GMail and Google Apps email for your business, then Postbox App will suit you very well. This app lets you organize your emails very well and helps you stay focused with your meetings, assignments and other conversations.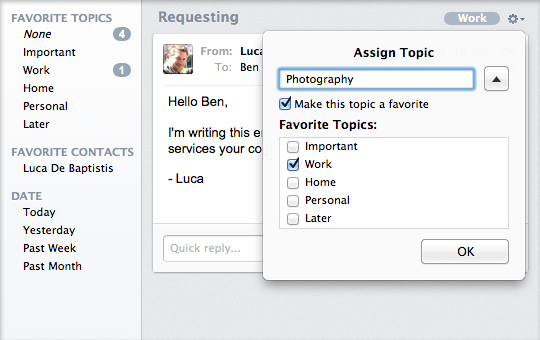 Tagging, Quick Reply, Dropbox Attachment feature, Excellent Gmail support and above all, beautiful presentation makes this app stand out from other mail apps for mac os x. You can try out the trial version of the app for 30 days and then purchase it from the official website if it meets your productivity needs.
Price: $9.99
Availability: Mac OS X, Windows
Download: Postbox Mail App
MailMate App
If you love your default mac mail app design and looking for an alternative email client for mac os, then mailmate may help you with that. Recently mailmate developer successfully launched and completed crowdfunding for developing MailMate 2.0 at Indiegogo. MailMate is an IMAP email client for Mac OS X featuring extensive keyboard control, Markdown supported email composition, advanced search conditions and drill-down search links, equally advanced smart mailboxes, automatic signature handling, cryptographic encryption/signing (OpenPGP and S/MIME), tagging, multiple notification methods, alternative message viewer layouts including a widescreen layout, and much more.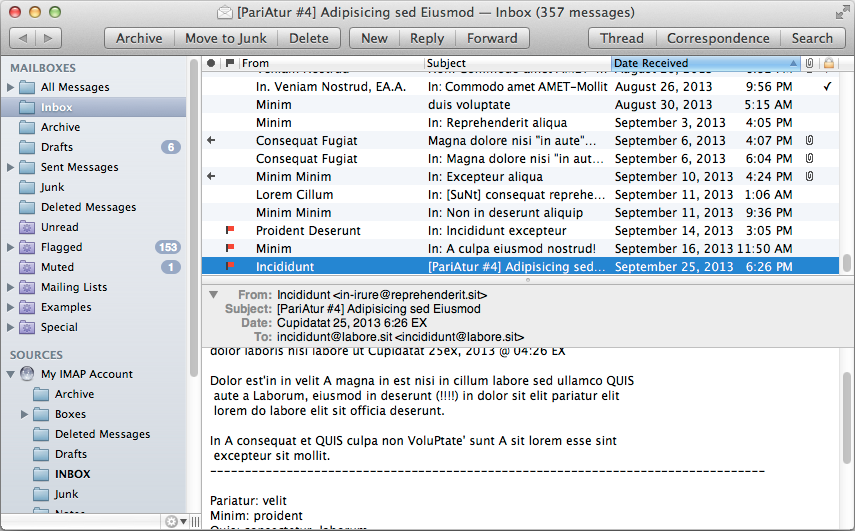 MailMate is for power users who normally do stay more with their keyboard and less with the mouse or trackpad. This app is free for 30 days and if you like it, you can purchase it for $49.99 from the official website.
Price: $49.99
Availability: Mac OS X
Download: MailMate App for Mac
Mail Pilot 2
After trying it for the first time, this app will become your favorite mac mail app. Mail Pilot has a clean design across the application and maintains one unique beautiful UI for other platforms as well. Mail Pilot for Mac is super successful and the developers are working hard to release their iOS (iPhone and iPad) version very soon. Mail Pilot email client is ranked as No #1 App in mac app store in over 50 countries. It has received Best New App Award and featured by Apple in Mac App Store under Productivity Apps.
[vimeo width="560″ height="300″]http://vimeo.com/116064663[/vimeo]
Ultimate font choices, super clean design, ability to set reminders, easy to organize mails like a to-do app and plenty of other features makes this app as one of the best paid email client for mac. This mail app got featured by many top technology blogs and rated with 5 stars by thousands users as well.
Price: $19.99
Availability: Mac OS X (iPhone and iPad version Coming Soon)
Download: Mail Pilot for Mac
Unibox Mail App
It has a slick interface and a mild, minimal design, making it look like a messenger application. Though it reminded me of the popular email client for mac "Sparrow" at first, i started to like this beautiful mail app after using it for a few minutes. Unibox Mail Client for Mac makes your emails personal by focusing on People while categorizing the received emails. Your emails will look more like a conversation in the messenger app, than a regular email client interface.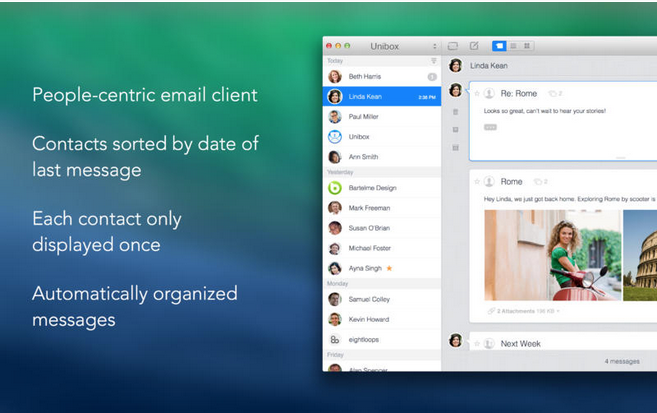 Unibox App reinvents the Attachments that you receive in your email. It has a dedicated page that creates thumbnails for Photos received in your email and gives great navigation and quick preview of all the images received in your mailbox. One window to rule them all. You can configure your Yahoo Mail, Outlook, IMAP Accounts, Gmail, and iCloud you name the service provider and it will merge well with Unibox App.
You can download the trial version from their website.
Price: $19.99
Availability: Mac OS X (iPhone and iPad version Coming Soon)
Download: Unibox App for Mac
Bought a new macbook or imac? Looking for Essential Mac Apps for your new Mac? Check out the link and install only verified apps from Apple Mac Store. For more Mac Productivity Apps and Tools, search at the top right corner of this page. If you have any questions about Mac, please ask them at DailyTUT Answers.
Thanks for reading, and don't forget to share a word about this post with your friends and followers. Have a wonderful day.