Update: We have updated all Markzware Software Coupon Codes in this webpage. You can get 25% Discount or more on your purchase.
Markzware has popular productivity tools in their store. Their Adobe InDesign plugins and Documents Converter are pretty popular among Professional Designers and People who are into Printing Businesses. We have a quick markzware review for each products they have at their store with an exclusive limited time and 25% markzware coupon code for you to save money with your purchase. Markzware offers PDF Converter Tools and Printing Utilities for printing businesses to produce high quality prints without any compromise in colors, data and quality.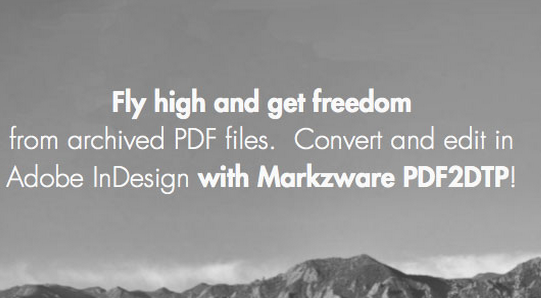 Designers and Print Businesses deal with PDF documents, Adobe InDesign, Adobe Creative Cloud and other documents. PDF is one widely used file format in companies and markzware has a dedicated solution for all your PDF to Adobe InDesign and other formats converting tools. Its all about Productivity and their Converter tools are supported for both Windows and Mac OS X platforms.
Checkout the quick review of each markzware software converters here and dont forget to use our 20% markzware coupon code.
Markzware Coupon Codes
If you are here for markzware coupon codes, we have it right here for you. Use the Search box to find the markzware software you want quickly and proceed with the purchase. Markzware Discount Coupon Code will be automatically applied and you can confirm the same at the checkout page, before making payment.
Markzware Reviews
Their licensing scheme makes the software quite affordable for any small, medium businesses to implement more accurate printing and save tons of money while converting documents. Lets start with Markzware PDF2DTP software review.
Difference between Single and Bundle License:
For an example, You can access Q2ID for InDesign Creative Cloud 2014, Creative Cloud, CS6, CS5.5 and CS5 for Mac OS X and Windows using single license.
Bundle License Subscription allows you to access Adobe InDesign CS6 or Creative Cloud 2014 without needing an upgrade. Any upcoming new version from Adobe will be supported in Bundle license. Not just that, with Bundle License you will also receive free license upgrade to Q2ID as well.
PDF2DTP Quick Review
If you are looking for a perfect PDF to Desktop Publishing software, then Markzware PDF2DTP is for you. It allows you to convert PDF files to Adobe InDesign or QuarkXpress compatible file format. You can convert any PDF Document to Adobe InDesign or QuarkXpress Editable file format in seconds. Converting documents done super fast because of its unique algorithm that also ensures there are no errors at the final output document. This makes the document retyping or recreating process to zero and with this one powerful PDF to Document converter, your job will be done.
Markzware PDF2DTP Video Tutorials are available if you need any help with the tools. We have included the marzkware pdf2dtp coupons with the purchase link below. We have included Markzware Coupon Code with each link you find below.
PDF2DTP for InDesign Bundle One Year Subscription
Compatibility: Mac OS X and Windows
Store Price: $199 USD
Discount Price: $169.15 USD
Download Markzware PDF2DTP Bundle
Markzware Q2ID Quick Review
Quark to InDesign Converter is a plugin that easily converts any QuarkXpress documents in Adobe InDesign software. This a very powerful plugin comes at an affordable price for your company. You can recreate unlimited documents from scratch with the lifetime license key. Markzware Q2ID InDesign plugin is the only QuarkXpress to InDesign Converter available today. You have two types of license keys to choose, which are bundled to run both on Windows and Mac OS X.
One Year License Key Subscription will allow you to run the software for your Printing, Document Editing in Business, Office environment without any problem. If you want to save more money and not worry about license renewal, then go for Markzware Lifetime License key option below. We have included Markzware Coupon Code with each link you find below.
Markzware Q2ID Mac/Win Bundle One Year License
(for InDesign CC, CS6, CS 5.5, CS 5)
Store Price: $199 USD
Discount Price: $169.15 USD
Download Q2ID Bundle Subscription
Markzware ID2Q Quick Review
Third powerful utility from Markzware which helps you to convert your Adobe InDesign file to QuarkXPress in seconds. ID2Q stands for Adobe InDesign to QuarkXpress, as the name says it does a wonderful job in converting InDesign Files. This is a very flexible and family software interface allows any user to easily learn and do the job. You dont have to spend hours in training your employees if you are using it in your company or printing business. Save hundreds of dollars by getting Markzware ID2Q, which is an XTension for Quark. ID2Q Converts InDesign CS files through InDesign Creative Cloud files into QuarkXPress 8.5, 9 and 10 compatible files on Mac OS X.
Important Note: Markzware ID2Q Windows Plugin does not support InDesign Creative Cloud and QuarkXpress 10 software.
You can do Page Positioning, Text Attributes, Fonts, Styles, Tables, Images, Layers, Blends, Run arounds, linked text boxes, anchor boxes and colors using this wonderful utility. We have included Markzware Coupon Code with each link you find below.
Markzware ID2Q (InDesign to QuarkXPress) for Mac OS
Store Price: $199 USD
Discount Price: $169.15 USD
Markzware FlightCheck Review
The one and only Preflight for Print software available for Mac OS X only. There is no windows version yet available. Flightcheck is a preflight print software that comes as a stand alone application for Mac. This software can check native and PDF Files for its printing quality. If you are into commercial printing, then FlightCheck will save you more money by preventing wastage and improving the quality also increases your business overall. More satisfied customers and clients will be attracted easily.
Flightcheck Discovers problems by taking preflight for digital files and direct you to digital print problems such as incorrect image resolution, missing fonts, incorrect colors, spot colors, transparency and lot more. You can then repair or correct the document and proceed with the actual printing. Markzware Flightcheck compatible with InDesign, Acrobat PDF, Illustrator, Photoshop, Pagemaker, FreeHand, QuarkXPress, Microsoft Word, Corel Draw, EPS, TIFF and more.
Download Flightcheck for Mac today and increase more printing business with quality printing and more satisfied clients. We have included Markzware Coupon Code with each link you find below.
Markzware Flightcheck 7.75 Mac Perpetual License Key

Store Price: $399 USD
Discount Price: $339.15 USD
Download Markzware Flightcheck License
Markzware Flightcheck 7.75 Mac 1 Year License Key
Store Price: $199.00 USD
Discount Price: $169.15 USD
Download Markzware Flightcheck License (1 Year)
Markzware MarkzTools Review
MarkzTools is an Adobe InDesign plugin that lets you open and modify documents created in latest version of Adobe InDesign. Which means, you can open and modify Adobe Creative Cloud documents without purchasing their subscription. This tool will be really handy and saves you a lot from purchasing Creative Cloud older and newer CC 2014 versions without subscription. MarkzTools also opens Adobe InDesign CS6, CS5 and CS 5.5 created files and documents. We have included Markzware Coupon Code with each link you find below.
This tool is currently available only for Mac OS X computers. MarkzTools has no Windows version yet.
Markztools Bundle (1 Year Subscription)
(for Indesign CS6, CS5, CS 5.5)
Store Price: $149 USD
Discount Price: $126.65 USD
Download MarkzTools License Key
Markzware PageZephyr Search Review
If you want to search any particular text of any Adobe InDesign Documents stored in your computer, then this tool will be super handy. PageZephyr is a very popular and super fast search software for Adobe InDesign that works intelligently to locate any files stored/buried deep in your computer's hard disk drive. You may have created a document using Adobe InDesign in 2011 and searched for that brochure in 2015, remembering just some texts you typed in that document. Markzware PageZephyr intelligently searches and brings all the files or that particular InDesign file front from thousands of files. We have included Markzware Coupon Code with each link you find below.
PageZephyr is currently available only for Mac OS and no Windows version.
Store Price: $49 USD/EUR
Discount Price: $44.10 USD/EUR
Download Markzware PageZephyr License Key
Markzware is in the market for several years and no doubt they are the best in providing software and services for Small, Medium Companies, Printing Companies and Enterprises to produce high quality Advertisements, In-House Documents, Designs and more. They rank very well under Productivity Apps category and focusing mainly on Mac Operating System based business environments. Customers who bought Markzware products rated it as best converter tool.
We have compiled our best markzware reviews here and included a token of thanks with a 25% markzware coupon code. Please give a retweet, Facebook share.
If you are find any difficulty in getting your software coupons, do use our Search feature at the top right corner of this page. Thanks for reading, and have a wonderful, productive day.