Comparing to all the image formats GIF has got something special because most of us has seen short funny videos in GIF Image format. Google+ is the first social network supported for GIF images. So people started sharing a lot of funny GIF images on their wall. What if you are able to create a moving image from your iPhone ? Sounds cool isn't it ? Here is an application called Flixel which also came with a unique and simple concept to create funny moving photographs. Flixel is a picture animation iPhone App that is so easy and simple to use.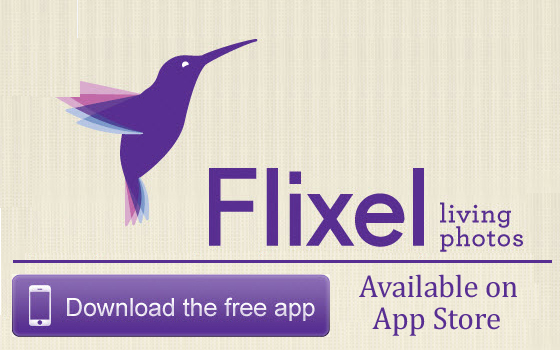 Flixel gives a new dimension for picture animations. When we think about animation we think it is complex. But Flixel made it simple really simple. It works based on the concept of Cinemagraphs. In this you will capture a short video and convert it as a moving animation picture. Lets see how to give life to your pictures using Flixel.
HOW TO: Use Flixel on iPhone, iPad and iPod Touch ?

Flixel is available for iPhone (3GS or later) , iPad (iOS 5.0 or later) and iPod Touch (above 3rd Generation). The same application can be used in all the three devices. The application is available in the app store and you can download it for free. With new iPad's iSight and iPhone's 8MP camera you can make gorgeous animated pictures using Flixel. Let's see the steps to do it.
Step 1: Download Flixel from App store and install in your iPhone (or) iPad (or) iPod Touch.
Step 2: Open the application and tap the camera button to record a short video. It will capture video from 3 to 4 seconds. After doing some stabilizing works it will give you the short video as a single picture with a transparent red mask on the screen.
Step 3: Zoom the picture and rub on the screen to clear the red mask where you need to see the movement. For example, if four of your friends were dancing and if you remove the red mask from one of your friends. So that other three are static only the person whom you have cleared the red mask will be dancing.
Step 4: Either you can forward or backward to control the loop of the animation. Also you can insert a loop delay into your animation for surprise effects.
Step 5: Flixel has got some similar features like Instagram. In Instagram you will share a static image with retro effects. In Flixel you have the same feature to add retro effects to your animated pictures. Also you can share photos, follow people, see their photos, like and comment them as you do on Instagram.
[youtube width="560″ height="350″]http://www.youtube.com/watch?v=Zp-b5oovj-E[/youtube]
It will categorize the popular Flixels as weekly and monthly basis. It uses the GPS system to find the Flixels which has shared to your nearby areas. If you need your photographs to be private, either you can change your account completely private or make the selected photographs as private. You have options to send the photos via mail or you can share them to Facebook, Twitter and Tumblr.
Now you got the best iPhone picture animation app and start to play with it. Create funny and great animated pictures right away from your iPhone, iPod Touch or iPad. Thanks for reading and you may now share this awesome post with your friends on Facebook, Twitter and Google+ and let them also give this a shot.