Frenzapp which is developed by Bitsmedia is the easiest way ever to find and share the best apps with your facebook friends. You may get tired of searching the best app for your  iphone as there are more than 400,000 apps  in Appstore. So make you feel better, Frenzapp allows you to browse, discover and share the apps that your Facebook friends use and like.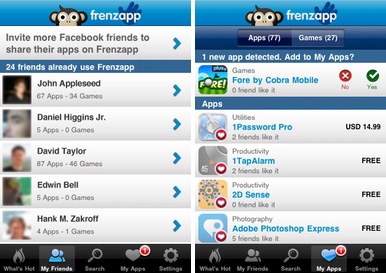 After installing Frenzapp on your iPhone, iPod touch or iPad running iOS 3.0 or later, the app automatically discovers all the apps you have used recently and lets you record your favorites. Once you have finished, a list is created that Frenzapp encourages you to share on your Facebook wall. You can share the feel you had about the app you used as a comments and likes. The latest update allows you to tweet about the apps you like as well as get notified when your friends sign up. You can also share your app via Email, SMS, Bluetooth and WiFi. You can earn and share badges by sharing your app.
New Features in Version 2.0
Revamped activity feeds to keep an eye on your friends and their favorite apps
Brand new "Find Apps" section to help you discover apps
Use our Friend Finder to find and follow existing friends as well as discover new people who may like similar apps as you (Frenzapp's Friend Finder now supports Facebook, Twitter, Game Center, Address Book and Bluetooth)
Fine tune push notifications and decide when to be alerted (Ex: a friend follows you or one of your favorite apps gets updated/on sale)
You need to have iTunes which is free to Download the Frenzapp which is compatible with iPhone, iPod touch, and iPad.