Chronic Development Team is working on iOS 7 untethered jailbreak soon. iOS 7 is currently in beta stage and the chronic dev team has found some handful of bugs that allows them to successfully do untethered jailbreak in iOS 7. They are waiting for the final beta version of iOS 7 before making any announcement about the jailbreak. So far the team confirms that it is possible to do untethered jailbreak for iOS 7.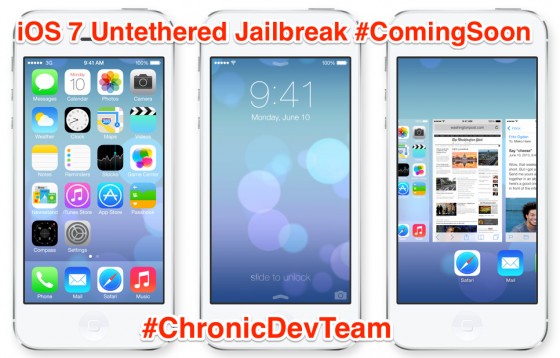 GreenPois0n, Absinthe are very successful jailbreak applications from Chronic Dev-Team. The next untethered jailbreak app for iOS 7 will be developed by P0sixninja, leader of ChronicDevTeam.
iOS 7 Untethered Jailbreak
iOS 7 is currently available for iPhone, iPod Touch and Apple TV. Apple is yet to release iOS 7 beta 1 for iPad and iPad mini. So many critics and disappointments over the new design and feature additions are still continuing. Some people do like the complete change in design and some dont. Apple is also working on some changes with the new iOS 7 icons and design, so the final beta of iOS 7 is the one we should wait before deciding how its gonna look and feel. To know more about iOS 7 features and design, do read "Everything about iOS 7" here.
Untethered Jailbreak for iOS 7 may arrive by the end of March as per the tweet from the leader of Chronic Dev-Team. There is also possibility to get jailbreak for all the other iOS devices this time and the team is working hard on that this time.
iOS 7 is beautiful if you were waiting for something new from Apple. This is the first time redesign since the birth of iOS. Apple really made a lot of change in terms of design, and i feel the features that they announced are not new and it is available for jailbreak community for long time. Cydia Tweaks are really the best way to customize your iPhone. Untethered Jailbreak for iOS 7 can open the doors of creativity for more people to customize it even better. Some may like to get the old theme or change in icon design which can be possible by jailbreaking iOS 7.
Tweets from Chronic Dev-Team confirms the arrival of jailbreak once the final release of iOS 7 beta hits the developers portal.
Also a surprise soon as we implement plans for the team domain 😀 stay tuned!! #chronicdevelopments

— Chronic Developments (@chronicdevteam) June 15, 2013
Should be some changes to the http://t.co/02PHcgVxsA blog very soon thanks to some talented webdevs.. 😀

— Chronic Developments (@chronicdevteam) June 15, 2013
As mentioned in the tweet, there is also a surprise that they will announce in coming days. Any guess what it will be ? We can expect the jailbreak tool for iOS 7 will be available for Windows and Mac users initially. What do you think about iOS 7 design and features ? You can leave a comment about it below and share this post with your friends and followers across Facebook, Twitter and Google Plus. Have a wonderful day !