This guys is kind of smart but made a mistake with his video editing 🙂 The iphone 5 rumor video uploaded today in Youtube by some anonymous user and getting more than a lakh views within few hours. Apple fans are checking out frequently to see the upcoming iPhone 5 design model and specification from any leaked news source.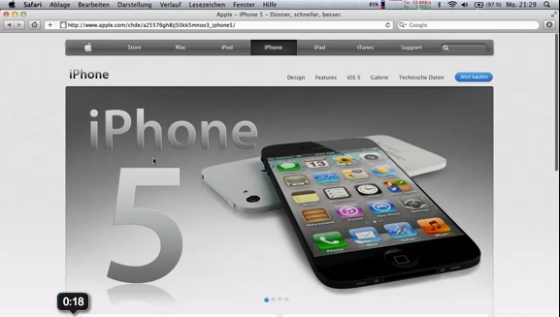 And this got interested to many who love to spread rumors in any possible ways they can. Few hours ago an youtube user uploaded his fully customized apple iphone 5 website which kind of look like official. He tried his best except the video editing mistake that let users know that this is a completely a fake iphone 5 video.
[youtube width="550″ height="344″]http://www.youtube.com/watch?v=jxYnuHX3LCI[/youtube]
Thanks for reading and please do share this article with your Facebook, Twitter and Google+ friends.