Eid Mubarak to all our Readers. Celebration starts with peace and happiness for every Islamic people around the world. Fasting is for bringing up patience, spirituality, humility and submissiveness to God. We are glad to recommend you some exclusive ramadan apps for iPhone, iPad and iPod Touch with Ramadan calender, Ramadan Wallpaper, Quran Commentary and lot more which will help you to add more happiness with your celebration on this spiritual month of Ramadan.
You may also like to read:
Ramadan Apps for iPhone
USA Ramadan calender
This application is developed for Muslims at US who can use it on a full stretch. It will help the users to know the Ramadan timings and Ramadan Duas. Ramadan calender application also guides you throughout the month for sahoor, ifar and timings for prayer for almost 30,000 cities in USA. (Go to the Application)
Ramadan kit
Ramadan kit is the complete package what you will be searching for. It comprises all essential books and sayings that a person will go search for this Ramadan. Using this you may relax at home or Masjid and know more about Quran detailed with explanations. This will be the best one if you go for Itekaf and think that your iPhone filled with Islamic content. (Go to the Application)
Full Quran commentary
Each and every Muslim would think about having this wonderful application with them. It will do read the holy Quran for iPhone. It will be spreading spiritual vibe around you once you start running in English translation one of the most authentic holy epic. (Go to the Application)
Islam Kit
A must carry through application with a full set of Islamic content and sayings on this Celebration. You will find all possible set of books like Duas of Prophet Mohammed, Life of Prophet Mohammed, excellence of Durood shareef  and 10 more to bring spirituality on your household. (Go to the Application)

Muslim Pro: Azan and holy Quran (Ramadan edition)
Muslim pro is an wonderful app that helps you in multiple ways and there by supporting you as a personal assistance on Ramadan month. It serves you in the following ways like calculating your prayer time from you current location and time, audio notifications for prayer, mosques and halal's around you and also a Muslim calender. (Go to the Application)
Saying of Prophet Mohammed
Sahih al bukhari is the original Urdu version of this application. According to the epic, Sahih bukhari is a 16 year work by Imam bukhari who wrote each and every phrase in this book after performing Rakat prayer of guidance from Allah. (Go to the Application)
Duas of Prophet
This is the Duas from authentic traditions from beloved Prophet. You will find your time filled with Baraka and this application should be a must carry through also memorize this as possible. This will provide the system of fasting and timings to be maintained. (Go to the Application)
Azan Alarm Clock
Azan Alarm clock is one of the best clock recommended for all Muslims. You will receive Athan notification and probably athan alarms. Application allows you to choose among 9 complete athans from which you can choose unique one for specific prayer time. (Go to the Application)
Sun and Moon
Sun and Moon application helps you to know the timings of sunrise and moon rise a well as Sun set and moon set too. This application calculates the exact time irrespective of your location. It comes along with an compass to show the direction of sun and moon at that time. You can connect it through GPS or Google maps and start this celebration month more enjoyable. (Go to the Application)
iPray
iPray is a tool that would help you to find prayer times on your current city. It helps you to  get alerts either push and local notifications. This application is well know for its retina HD graphics to detect the night view. Also you can avail a simple calender showing all sort islamic functions. (Go to the Application)
Ramadan Daily Dua
This application helps Muslims to browse and recite Duas specific to each day of spiritual month of Ramadan. It comes along with some authentic traditions of beloved Prophet. Brings you Sayings of Prophets Sahih Bukhari, Sahih Muslim, Malik's Muwatta. (Go to the Application)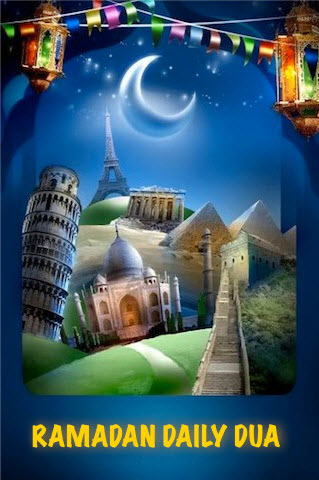 Find mecca
This is an usual business in islamic community to get correct direction for giving their prayers. Especially in the month of Ramadan they will start worship facing the direction of Mecca. You can also hear the Moazin from your iPhone and detect the direction using the static compass by just keeping it on the floor. (Go to the Application)
Ramadan guide
Ramadan guide gives you all sort of assistance in your day to day activities in the month of Ramadan. It comprises of some textual work also some beautiful artistic illustrations. Most essential thing for every Muslim to carry through on this month so that they can prepare themselves spiritually and physically for this month of Ramadan. (Go to the Application)
Ramadan 2011
Ramadan 2011 is an easy prayer time calculator and informative box. You can use this application to find direction, prayer time customize and automatic alerts, information and history of Hajj very simply and sensibly. Information in the sense like Hajj rites, Hajj steps were included in this edition using which you can relax your time have a spiritual time on your household. (Go to the Application)

Islamic Compass
A lot of features were sync into a single app which will make your time more valuable. You can look for the features like prayer time calculator, easy quibla direction, Adhan alarms, 13 Adhans, Multiple backgrounds, HD graphics and Manual prayer time adjustments. This application is simply worth to buy from iTunes and make your Ramadan celebration a bit more useful. (Go to the Application)
Thanks for reading and please do leave a comment if you like some of the ramadan apps listed here. You may also mention some more apps that you find relevant and we have missed to mention here. Now you may share this article with your friends and followers in Facebook, Twitter and Google+.