Apple Mac OS X 10.7 Lion is expected to take a major shift with its great set of features. This summer apple will release the Mac OS X 10.7 "Lion" which has so many new features added than Snow Leopard. Apple has recently released the preview form of Mac OS X Lion to Apple Developers.
Lion Server
Many apple mac home users never think about mac servers. However, this new Lion server addition in the next version will let every one to try out the mac os x server without any extra expense. Similar to windows, now you can turn your mac system into a server. This free addition will help intermediate and advanced mac users to setup their own backup storage server, using their Mac OS X Lion distribution.
Lion Server guides you through configuring your Mac as a server. And it provides local and remote administration — for users and groups, push notifications, file sharing, calendaring, mail, contacts, chat, Time Machine, VPN, web, and wiki services — all in one place.
The Mac App Store
The all new refreshed Mac App store allows you to download and install apps from app store just like the way you do in iPad. Newly purchased apps install in one step and appear right in the new Launchpad. The Mac App Store is available now on any Mac running Mac OS X Snow Leopard and will be a part of Mac OS X Lion.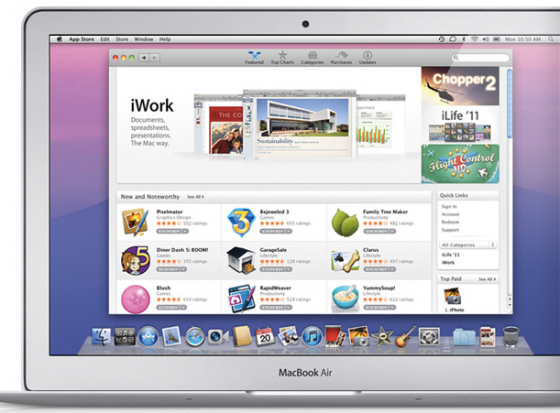 Mac OS X Lion also adds a feature called "TRIM" which will work only on SSD Drives to improve its performance. This revamps the garbage collection to prevent write speed degradation problems.
FaceTime HD
Mac OS X Lion now comes with Facetime HD support. Where you can do a video chat with iPhone, iPad 2 and iPod Touch 4G users in HD quality. This is one great feature that facetime users are expecting to experience with Mac OS X Lion. It currently supports 720p resolution which gives pretty high definition video clarity.
Mac OS X Time Machine
Time Machine in Snow Leopard requires external disk drive to take snapshot. Where we will be able to restore to the earlier time using those snapshots. Now in Mac OS X Lion the internal storage can be used for taking snapshots and this also done every one hour to make the restoration much convenient.
Full Screen Apps
Its in the same way you do with your iPad. Now you can view the apps in full screen with one click. Do a simple Swipe to switch between full screen apps and the same to view desktop as well.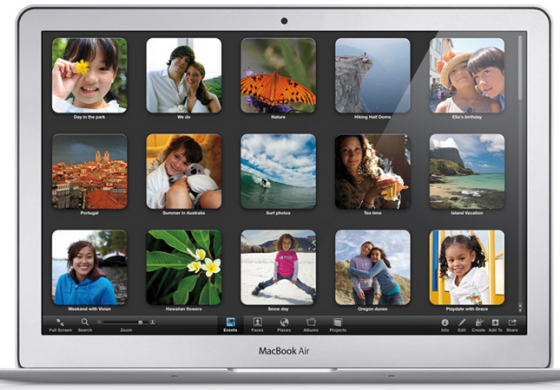 Mac Command Central
Mission Control is a powerful and handy new feature that provides you with a comprehensive look at what's running on your Mac. It gives you a bird's-eye view of everything including Dashboard and full-screen apps all in one place. With a simple swipe, your desktop zooms out to Mission Control.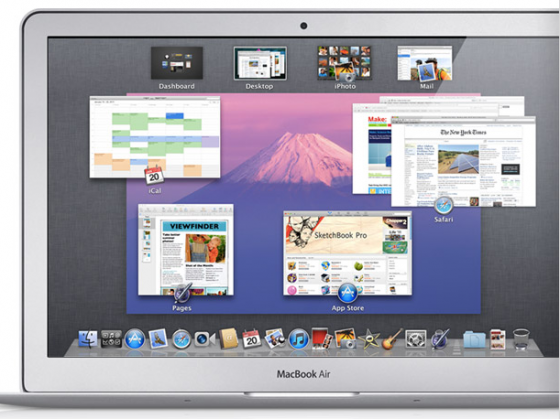 There you can see your open windows grouped by app, thumbnails of your full-screen apps, and Dashboard, arranged in a unified view. And you can get to anything you see in Mission Control with just one click. Making you the master of all you survey.
Auto Save
Say good-bye to manual saving. Auto Save in Mac OS X Lion automatically saves your work while you work so you don't have to. Lion saves changes in the working document instead of creating additional copies, making the best use of available disk space. The lock feature prevents inadvertent changes from being saved and automatically locks documents after two weeks. And the revert feature returns you to the state the document was in when you last opened it, so you can feel free to experiment with confidence.
Versions
Versions records the evolution of a document as you create it. Mac OS X Lion automatically creates a version of the document each time you open it and every hour while you're working on it. If you need to revert to an older version or retrieve part of a document, Versions shows you the current document next to a cascade of previous versions in an interface similar to that of Time Machine so you can see how your work looked at any given time.
You can revert with a click, or quickly copy and paste work from a previous version into the current version.*
Create Podcasts Instantly and Free
Podcast Producer app which is similar to Garage Band allows you to create podcasts instantly. This software comes free with Mac OS X Lion.
IChat with Yahoo IM Support
Now iChat supports your Yahoo IM accounts as well. Sign in and start chatting with your Yahoo IM friends.
Airdrop
With AirDrop in Mac OS X Lion, you can send files to anyone around you wirelessly. AirDrop doesn't require setup or special settings. Just click the AirDrop icon in the Finder sidebar, and your Mac automatically discovers other people nearby who are using AirDrop. You'll even see contact photos for those who are already in your Address Book. To share a file, simply drag it to someone's name. Once accepted, the file transfers directly to the person's Downloads folder. When you're done with AirDrop, close the Finder and your Mac is no longer visible to others.
Mail 5
Just like Mail on iPad, Mail 5 in Mac OS X Lion features a new layout that takes advantage of the widescreen display on your Mac. You see the messages in your inbox as well as a full-height preview of the selected message.
The new Mailbox bar gives you one-click access to your favorite folders. Mail 5 also includes a powerful new way to search that makes finding what you're looking for quick and easy, even in the largest of inboxes.
There are some more interesting features expected in the final release of Mac OS X 10.7 "Lion". We must wait till this summer 2011, to experience them.