Mac OS X 10.6.8 update has been released on 23rd of this June 2011. You have to launch the software update on your iMac, Macbook, Macbook Pro or Macbook Air.There will be an update on the list for 478 MB which prepares your Mac OS X Snow Leopard to meet the Lion. Mac OS X lion is expected to release by July 2011 and by installing this new update your Mac App Store will be modified slightly to get ready for Mac OS X Lion.
Mac OS X 10.6.8 update release
After selecting "Software update" you have to wait for some minutes as the system will check with the Apple update server and verifies whether there is any new updates available for your Mac OS X.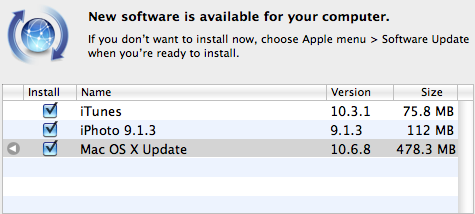 The 10.6.8 update is recommended for all users running Mac OS X Snow Leopard and includes general operating system fixes that enhance the stability, compatibility, and security of your Mac, including fixes that:
Mac OS X 10.6.8 Features
Enhancements to the Mac App Store to get your Mac ready to upgrade to Mac OS X Lion.
Resolves an issue that may cause Preview to unexpectedly quit.
Improves support for IPv6.
Improves VPN reliability.
Identifes and removes known variants of MacDefender malware.
Corrects timezone data in iCal for Lisbon-Portugal.
Adds the ability to use Kerberos authentication to a web proxy server.
Fixes an issue when saving documents from Xcode or TextEdit when using an NFS home directory.
Fixes an issue when importing certain media files into Final Cut Pro.
Includes RAW image compatibility for additional digital cameras.
Mac OS X v10.6.8 also includes fixes provided in the Mac OS X v10.6.7 Snow Leopard Font Update:
Addresses an issue in which some OpenType fonts don't display correctly in certain applications.
Resolves issues printing from Preview.
Addresses an issue with PDF files not opening in third-party PDF viewing applications.
Resolves invalid font errors when printing to PostScript printers.
You may follow us on Twitter or like us at Facebook to get more interesting Mac News and updates.