Android is one of my favorite mobile OS. Recently i wrote about Best live wallpapers for android mobile and How to improve battery life of an android mobile to decorate your android phone and get best battery life. Now I'm going to suggest a cool app to read your favorite news in an unique way. Pulse is one such app which brings all your favorite websites before you with a thumbnail + title view. Its one of the trending RSS reader for Android, iPhone and iPad today. It also categorizes the contents and serves in Real time.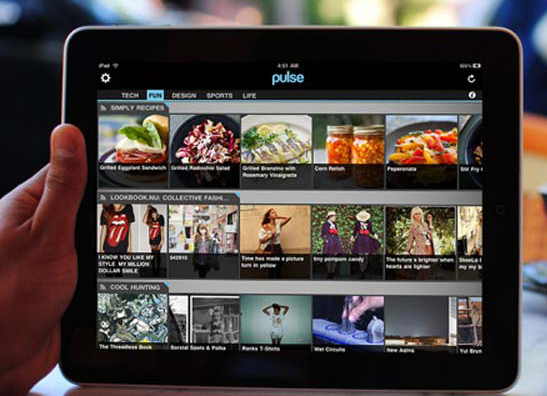 Single tap on the screen will open the content double tap on the content will share that in your Facebook friends or Twitter followers. You may now add your social network accounts to this app and receive live updates from your friends. Initially when you start up with this you have the content of top sites assigned by default in each category.
After you enter into the app you can change the contents related to each category according to your favorite ones. Every Friday the app is being updated automatically with the new stuffs from the sites available on each category. Also you can manually update the sites available. You can add up to the maximum of 60 websites in five customizable pages.
This app is designed to fit in both mobiles and tablets. It is more easy for the page navigation and searching for your favorite content. One of the other cool feature of pulse is that it saves the updates from the sites you have added and allows you to read when you are offline. So i can say, this is another best offline reader for android or ios platform.
[youtube width="550″ height="350″]http://www.youtube.com/watch?v=ErK8BZFqo4g[/youtube]
So pulse is an ultimate app for those persons who loves to stay updated. It is an excellent app for readers by providing all their favorite stuffs in an interactive environment.
Are you using pulse in your Android or iOS platform ? If yes, how much do you like it ? Share your views in the comments below.
You may follow us on Twitter or like us at Facebook to get more Android App, iPhone App news right on your desk.