Joomla! is a free and open source content management system for publishing content on the World Wide Web and intranets and a model–view–controller (MVC) Web application framework. It is written in PHP, stores data in MySQL and includes features such as page caching, RSS feeds, printable versions of pages, news flashes, blogs, polls, search, and support for language internationalization.
Within its first year of release, Joomla was downloaded 2.5 million times. Over 5,000 free and commercial plug-ins are available for Joomla. We have an article on content management system which also makes you understand about joomla if you are new to CMS.
Here Some of the Top Free Joomla Templates
1. Populus (ultimate community portal site)
Description:
The exciting new Populus template features a module-driven design with loads of module positions, making it one of the most flexible templates we have ever offered. Harness the power and flexibility of Populus to create the ultimate community portal site.
Populus also features our popular integrated tabbed module system, providing a powerful way to display your content. Also making its return is the stylish RokSlideShow module, as well as many more features you've come to expect from RocketTheme templates including RokMooMenu, an incredible 22 module positions with subtle module variations, RokZoom integration, and so much more..
Demo Click Here
2. ManiFolio (for personal portfolio, blog, company Site)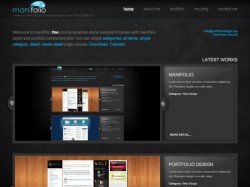 Description:
ManiFolio Joomla 1.5 template is my third template for Joomla Community. You can use this template at widely joomla based site type, for personal portfolio, blog, company etc. Fast, Simple, Professional, Joomla 1.5 compatible, Adobe Fireworks source included, PortfolioDesign component skin and ManiFolio slider module, 4 Different Styles and much more…
You can download portfolio component v2 at Source.
Demo Click Here
3. JW Clean Pro (small weight template)
Demo Click Here
Description:
Looking for fast joomla non-image template? With its small weight template JW Clean Pro will deliver fastest loading for your joomla site
JW Clean Pro already tested with latest major browser. Build your joomla site now.
Features:
Tableless layout
Fast
Suckerfish menu
Fixed width, fluid width, custom width
JJoomla 1.5.x compatible
15 module position
Cutom font size
Tested with IE 6 , IE 7.0,Firefox 2,Opera 9.02
4. myBusiness (for business site)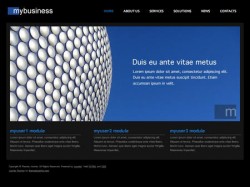 Description:
Looking to build a fast business site that looks pretty great and customized. myBusiness fits your needs to design such website. It has a background color of black and the grey, white texts make the site typography looks very well attractive to read. Customizable image where you can change it ofcourse to suite your company vision, mission and goals.
This is totally a simple and realistic template for joomla website.
Demo Click Here
5. JS Jamba (for professional Joomla site)
Simple and clean looking greenish joomla template for building a professional website for your client or even for your professional website. This templates suites well to give info about a product or list of products you like to explain to your site visitors.
Description:
The Jamba template comes with a lot of the features you'll find in our professional Joomla templates such as:
5 theme styles
integrated typography styles
4 module colors in 9 module positions.
Features:
* Tableless layout
* Fast
* Suckerfish menu
* Fixed width, fluid width, custom width
* Joomla 1.5.x compatible
* 15 module position
* Cutom font size
* tested with IE 6 , IE 7.0,Firefox 2,Opera 9.02