Joomla is a very popular Content Management System and millions of websites already using this open source cms software. Similar to Blogger.com and WordPress.com we now have Joomla.com which will let you create free joomla website in seconds. You can choose your website name something like example.joomla.com and select the Free Joomla Template from list of Responsive Free Joomla Templates available.
One of the best and reliable free joomla hosting is finally here with essential tools and easy to setup interface.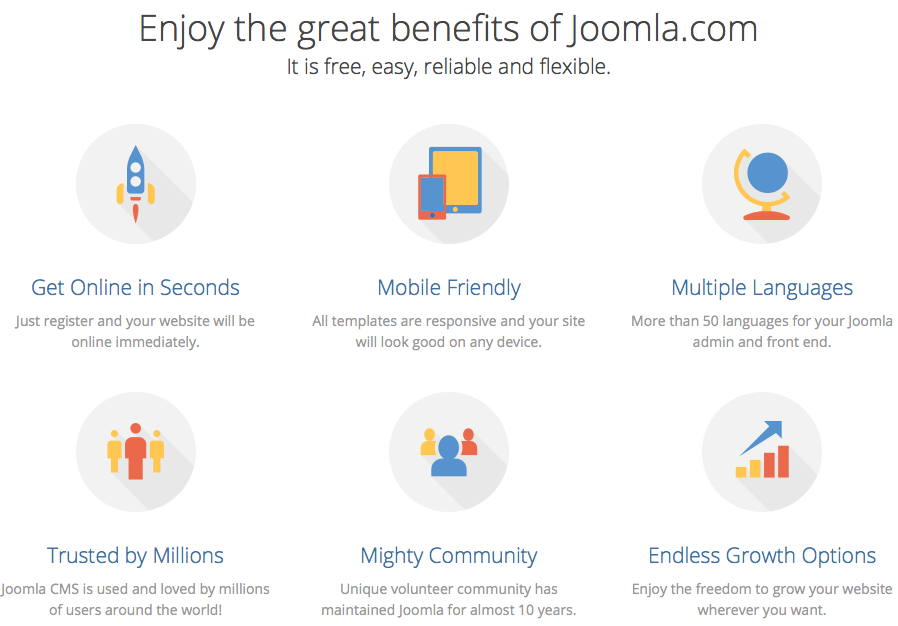 Check your email for confirmation and your website is up and running. Start posting articles and share it with your friends at social networking sites. Joomla partnered with Siteground hosting company to offer this excellent service to let more people create Joomla based websites without much effort.
Joomla have come a long away and people who have idea about Web Hosting, Domain Registration and Script installation already using Self Hosted packages available at joomla.org to create websites. This hosted solution will definitely be helpful for beginners to create websites just like they do with Blogs at wordpress and blogger.
Create Joomla Website for Free
There are millions of joomla based websites running currently and serving various purposes. E-Commerce websites, Blogs, Portfolio Sites, Corporate and Organization Websites and so on. Being open source joomla is very flexible for developers and extensions, components, themes transform the website to be more powerful than other platforms.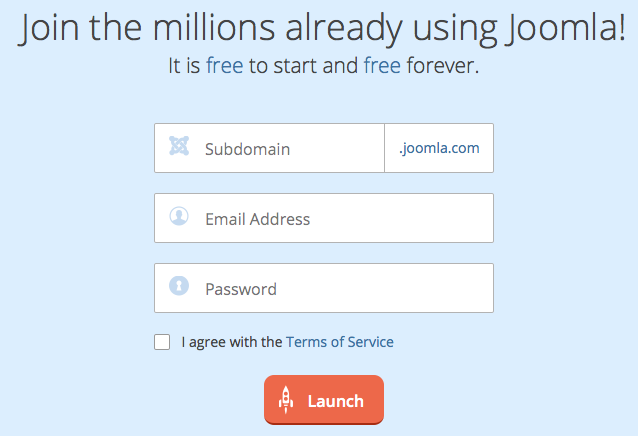 SEO and Responsive Joomla Templates
Get more visitors by making your website SEO and Mobile Friendly. Joomla by default has all the necessary SEO functions built-in to make sure you attract more visitors with your content. The free joomla website created by you owns all the benefits that self hosted joomla websites get. Joomla templates included in joomla.com are fully responsive which will make your website look good on any screen sizes. Your visitors will enjoy the content better on their Android, iPhone, iPad and any other Windows Tablets as well.
Social Share, Maps and Analytics
You can easily enable social sharing to let your visitor share your exclusive contents to their friends and followers across popular social networking websites like Facebook, Google+, Twitter and so on. One click enable, lets you activate and attract more visitors to your website without any need for you to write codes.
Web Hosting Space – By default each free joomla website created gets 200 MB of free disk space. So if you want more space in future, you should consider upgrading to premium hosting. Thats the catch and i think they should increase it to atleast 500MB. If you want to create a blog, then consider going for blogger.com and wordpress.com
Google Maps integration allows you to enable Google Maps on your Contact and other pages. Show a route map to your office or organization easily with this feature.
Google Analytics integration lets you monitor complete details about your website visitors. What browser they use, from where they visit your website, which pages they visit and a complete analytics reports can be enabled and accessed.
Disqus Comments integration enables more professional, excellent looking comment system to your free joomla website with joomla.com. Disqus is a popular comment system for WordPress, Joomla, Drupal and others. You can enable disqus in few clicks and start interacting with your website visitors in minutes. Disqus blends really well with any website design and it is a super fast comment system available right now.
Siteground & Joomla partnership brings all the latest and essential tools to create your joomla website for free without much effort and money. But the storage limit of 200 MB is what they should reconsider. Rest looks good and to create a CMS website for your company or organization, go for Joomla.com. When your website grows with more content and visitors, always consider upgrading to a premium hosting solution.
This is really a good move for siteground to drive more premium customers by promoting the popular Open Source CMS Software Joomla. So what do you think? Share your views in the comment box below. Thanks for reading and have a productive day.