About to start a blog ? Looking for a Magazine style wordpress theme with a modern, elegant design and fully responsive layouts ? Theme Junkie has just released a fresh looking new wordpress magazine theme to make your blog look clean and excellent in design. Theme Junkie themes are very popular for its simplicity and easy to modify features. If you know some PHP and CSS then you can play with the themes to customize them and make it attractive for your visitors.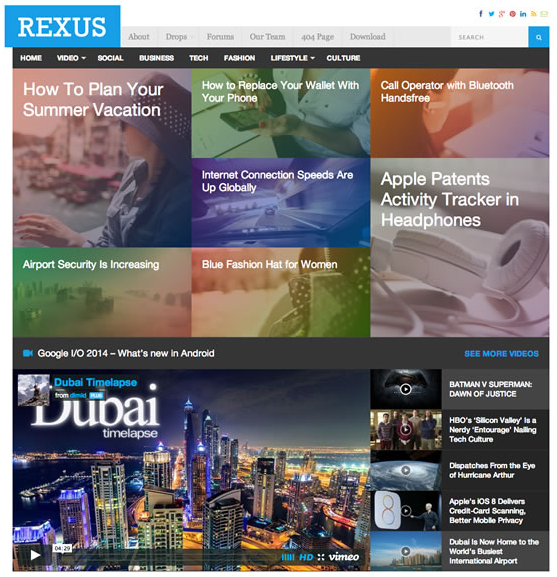 Theme Junkie's latest Rexus wordpress magazine theme is a simple, powerful and a very beautifully crafted design with fully responsive layout. Reading your website on iPad, iPhone, Android smartphones on any screen sizes will be more friendly when you use this theme on your blog. You don't have to spend hours on coding or hire a coder, if you are looking for the verge wordpress theme clone. Your search ends here.
Verge WordPress Theme Clone
Verge is a famous technology blog and many likes the design and wanted it in their tech blog as well. Good projection to the logo, navigation bar, featured slider with attractive color choices and post title, youtube video section, breaking news section, and a clean footer to brand your blog very well. Overall this theme is very well thought and designed carefully to present your contents at best to your readers.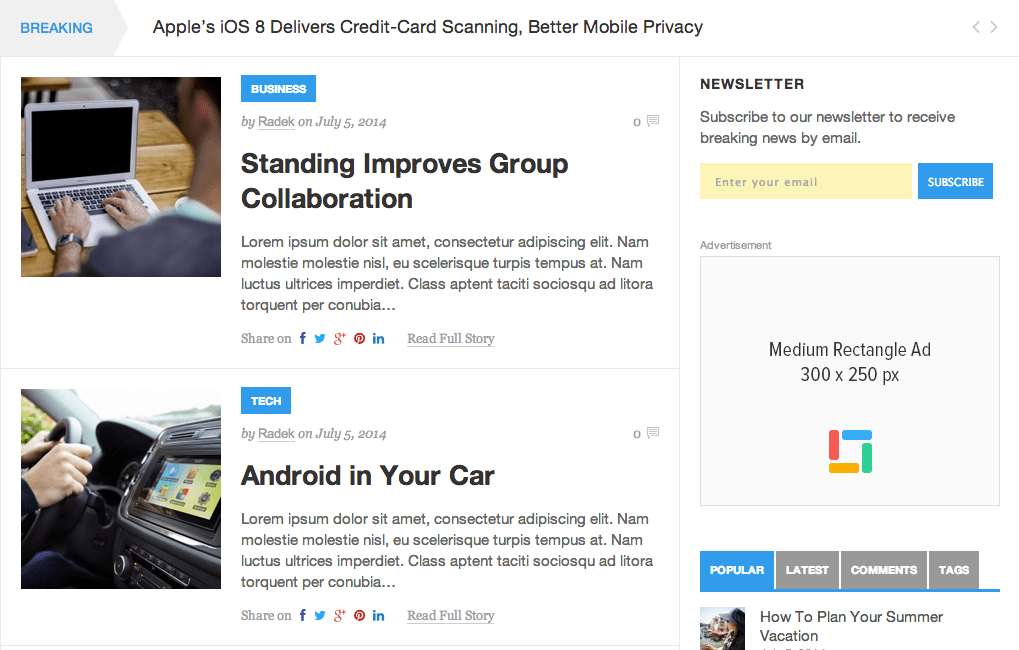 Social Sharing is an important feature that every blogger wants to integrate in his / her blog. Theme Junkie themes always focus in that area and makes sure to integrate social sharing feature as a default in their themes. Rexus Verge WordPress Clone is well integrated with social networking sites facebook, twitter, google+, linked in and pinterest. Perfect widgets placement. Also the side bar lets you place a beautiful 300 x 250 size adsense ads or any custom advertisement that you want to sell and place in your blog.
Rexus and bbPress
Theme Junkie Rexus theme is very well compatible with bbPress. If you wanted to run a forum along with WordPress blog you should really consider giving Rexus a try. Clear integration with bbPress Forum system gives you clutter free design and best navigation and branding for your business website.
If you are convinced and ready to buy this theme to wear it for your wordpress blog then goahead and purchase it from theme junkie store. Theme Junkie has two subscription plans that will save you a lot of money. Yearly Subscription ($39) and Lifetime Subscription ($79). You can access 42+ (upcoming theme junkie themes) for next one year or life time by purchasing the subscription. Theme Junkie has 14,000 and more happy customers so far, and feel free to join the club today. Life time support, Advanced Control Panel, Search Engine Optimized wordpress themes and much more comes as a package.
Download: Rexus by Theme Junkie
We believe you have found our recommendation useful and ready to select the Rexus as your wordpress blog theme. Thanks for reading and do share this post with your friends across Facebook, Twitter and Google+. Have a wonderful productive day.