Are you a regular online shopper ? Ready to save some Dollars with a simple extension for your Google Chrome browser ? Continue reading to know how easy it is to shop online and save money. Impulse builds a private shopping cart in your computer. It takes control of your shopping to provide you the best experience you ever had. You can save products from any shopping website in your browser. The impulse will maintain a personal shopping cart in your browser which keeps track of all the products you have saved from different sites.
Also, dont forget to check our DailyTUT Coupons for latest and updated Deals on Gadgets, Softwares and Apps.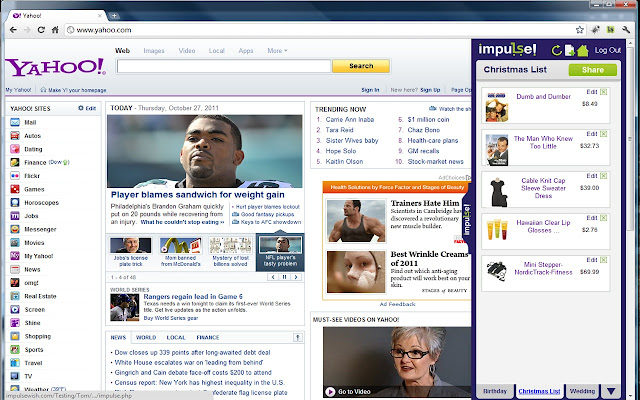 Impulse gives you a lot of options to find a best deal for that particular product. Lets have a look at the features and usage of Impulse below. We have recently suggested you 6 effective tips to save money when you shop online.
Impulse Shopping
You can save any number of products from a single website. In order to add a product to your personal shopping cart just drag the image and drop it in the impulse widget. It will add the product into your wishlist. In impulse you can create a list to categorize the products you save. In the right bottom corner you have an inverted triangle icon. Click that icon and create a new list to categorize your products. When you save a product, the impulse will save the price, title, image and link back to the product's webpage.
Impulse didn't end with saving your products. You can easily share them to your friends via mail. To share the products in email click share button and select the products you want to share with your friends. After you select the products the list will be emailed to your friends. Also you can take a printout of the products you have saved in your personal shopping cart. This will help when you make some bulk purchases in online.
Another important feature of Impulse is you can add products from your Facebook Timeline and News Feeds. If one of your Facebook friends shared a best deal for the product you are searching then you can easily add it your impulse account. Also you can add products from news feeds accounts like Google Reader, etc. This will help you to get your favorite products in best price. So wherever you go, find your favorite products, add it to impulse and compare it with the other websites.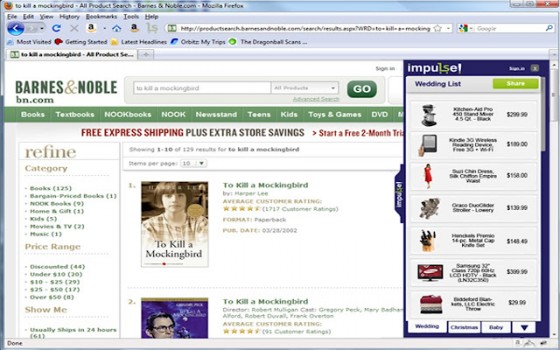 The interface of impulse is very simple and clean. Even a layman can use it. You can create and edit your shopping list easily. You can rename the list and move the products from one list to another. The impulse is now in beta stage. They are working on adding your friends to impulse network. Like you add your friends on Facebook. It will help you to share the products between you people and get feedback about them. Even now you can get feedback about the product from your Facebook friends. You can share the products from impulse to Facebook easily. Impulse team is working on sharing the products to other social networks like Twitter, Google+, etc. Use impulse on your browser and share your experience with us.
Have a great time shopping online and you may now share this post with your friends to let them give this great extension a shot.