Udemy is a very popular portal for online courses. There are many programmers, website developers, language learners out there using Udemy every day to get trained by professionals on various fields. Udemy helped millions of users world wide till date with their careers. If you are looking for convenient online learning portal to learn and get specialized in certain fields, then your first stop must be at Udemy. Check for available online courses in their website to get trained and certified.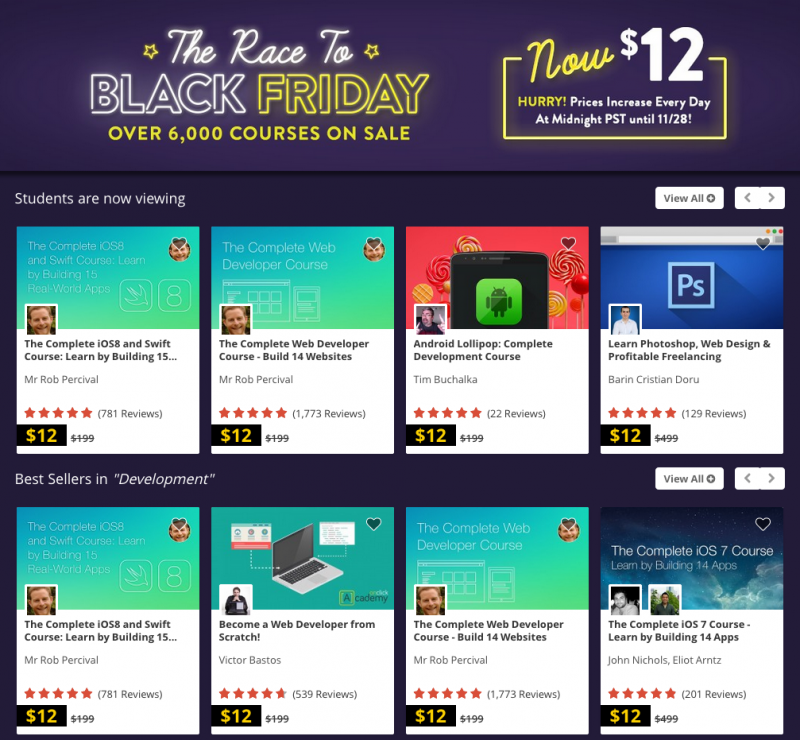 Black Friday Deals and Offers started to arrive from various online vendors. Udemy also joined the race by announcing up to 90% off for their 6,000 online courses in their store. There are $499 worth course programmes that you can get for just $12 via udemy. Check out existing student ratings and purchase the course package. Each course you purchase will be added to your udemy account and you can start and finish learning the course at your convenient timings.
Once you completed the course, you will be given a certificate by most of the course providers and trainers. It can be very useful for you to printout and add it to your Resume.
Udemy Black Friday Deals
During their last 90% udemy discount offers, they had around some few hundreds course in the basket that were eligible for offers. But this Black Friday 2014 deals you will get huge benefits definitely. Time to fill up your Udemy account with some true valuable courses to learn later.
If you wanted to learn website development, then there are hundreds of courses for you to take a look at and buy it for just $12. If you thought about learning Swift Programming Course online then dont forget to take a look at their collection of courses. You can learn almost anything from Udemy Online Course portal, and this is the right time to take advantage of huge savings as well.
Thanks for reading, and i hope you saved big bucks today and invested well for your career. You may now share this post with friends and followers across Twitter, Facebook and Google+. Have a wonderful day.