A very common notion and the theory of life says be a visionary and look things forward. And if this is the case let me through a bet one can look forward or come down to reincarnate the older version. Yes, the most occurring problem of all android users with their current version (2.2) is unable to attend the calls if once taking the phone from the pocket as the phone freezes. So most of the users switched from FroYo to Ginger-Bread and some other higher released versions – "Upgrade Android Firmware".
But for those who were unable to switch upgrading due to their phone's hardware compatibility here comes a solution following the second law – "Downgrade Android 2.2 to 2.1".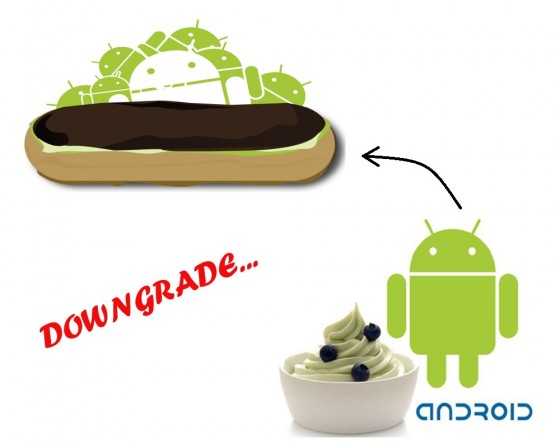 How to Downgrade Android Firmware
Step 1: Download Android earlier version that you like to Downgrade.
Do a Google search with the android version that you want to download.
Step 2: Follow the regular Setup procedure for your phone manufacturer to install Android, you will find the application extracted and there is a file ends/with extension "nb0"
This is the Android ROM Image File, Once you have it you can follow the below steps, if not please manage to get the desired Android ROM Image of your Android Mobile. It differs between manufacturers hence you must get the correct android firmware version to begin with downgrade process.
Step 3: Download RUT  (ROM Update Tool) click here.
Step 4: Start the RUT application (Do not forget to reboot after installing RUT )
Usually you can skip the reboot, if you managed to have successful connections over USB to your Android Mobile Phone.
Steps to Downgrade Android Firmware
Browse to the ROM Image and Click Next.
Now Power off your Google Android Mobile Phone.
Remove the Battery, that ensures the boot sequence desired to start the ROM Upgrade and ensures your ability to Downgrade your Android Phone and in mean while that makes you able to install the Android Image EVEN if your Mobile Operator upgrade software do not have it or allows it.
Replace the Battery again.
Click Call + DEL button on the Android Mobile Phone.
Connect your USB Cable to the Mobile and PC.
Click Next on RUT application, it should sense that your mobile phone is connected over USB the Android ROM Image will be installed on your Mobile Phone easily.
I am sure you have understood how to downgrade android firmware 2.2 to 2.1 by now. Thanks for reading and please do share this post to let your friends also know about it.
You may follow us on Twitter or like us at Facebook to get more Android News and Updates.