UZBL (Uzibull) Shockwave iPad Case is one of the best, affordable and strong iPad case for protecting your iPad from Drop and Shock Resistant. UZBL is well known for their rubber iPad cases, and the recently launched Shockwave iPad case is one of their best product without any doubt. This case is really tough and people who are searching for an iPad case to get best Drop and Shock protection, look no further and get this ultimate iPad case and protect your iPad.
[youtube]http://www.youtube.com/watch?v=9D95PvCEW-U[/youtube]
When you like to let your kids to use your iPad, then chances of dropping and shattering the glass of iPad are pretty high. Atleast some scratches or dents to the aluminum rear case which looks beautiful. It is must to have some strong protection and UZBL promises that Shockwave iPad Case can protect your iPad even if you drop it from 6 ft height.
I have tested it in the above video with 1 feet distance as i was not ready to take risk and i need this iPad for future product reviews 😉 Throwing and short distance dropping did nothing to the iPad 4 inside this case. iPad is 100% safe and working perfectly.
UZBL Shockwave iPad Case Review
This iPad case is very well compatible with iPad 2, iPad 3 and iPad 4 with Retina Display. After fixing the case, i found there is zero difference to the responsiveness that iPad usually delivers without any case or screen protector on it.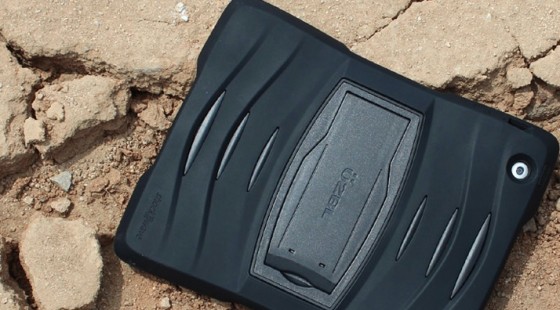 I am impressed and a big thumbs up for this awesome product. You have to apply little more strength while wearing this case to your iPad, but once done you will notice all the buttons, speaker position and microphone jack position are perfectly accessible. UZBL Team has designed this case very well without any doubt and i like the comfort it gives while holding the iPad in hand.
Perfect Grip and Holding
The rubber on the sides give perfect grip and holding of iPad in hand. The 4 corners have some extra strong rubbers to protect iPad against accidental drop and other shock incidents. That is totally cool and no more worries about where i keep the iPad 🙂 now i can be sure wherever i throw it, iPad will be safe and well fit for rough handling.
Strong iPad Case for Kids
This 60$ worth Rugged iPad case is worth every penny and you will find the same if you are not happy with your previous iPad case or searching for a strong iPad case for Kids. UZBL is well known for producing Rubber cases for tablets not just for iPad, also for Nexus and Lenova tablets, which offers best protection and safety when you give it to kids.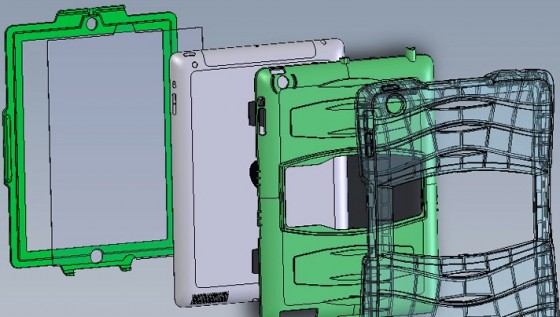 People work in construction areas and other tough jobs where they have iPad for work purpose, do drop the iPad, so lets just not say the only Kids need protection when they have iPad. I have friends who frequently drop their smartphones and other gadgets. Tablets like iPad are not an exception for such people, so it is the owner responsibility to have a stronger case to protect their expensive iPad or other tablet against drop incidents.
UZBL Discount
There is no need for UZBL Coupon code to get a discount. Right now their amazon store has a 10$ discount where you can buy this 69$ product for just 59$. You save some cash and get best protection case for your iPad as well. Double bonanza deal and take advantage of it right now.
Original Price: 69 USD
Discounted Price: 59.95 USD (limited time)
Get 10$ Discount UZBL Shockwave iPad Case
We always recommend the best products for our Readers and ensure maximum satisfaction. Feel free to share your views and suggestions in the comment box below. Thanks for taking time to read our UZBL Shockwave iPad Case Review. We believe this helped you to choose the best and strong ipad case for you today. Have a wonderful day and share this review with your friends and followers across social networking websites.