Aimersoft Video Converter software is really an easy to use and one of the best software to convert video and audio files to any format. After using it to convert a movie for my iPhone 4S i really found this as one of the best tool i have tried so far. The interface is very simple and any one can understand easily. Convert any video and audio file format to the one you want for your mobile phone, smartphone, tablet or other gadgets.
[youtube width="600″ height="344″]http://www.youtube.com/watch?v=0bVMZP0MvBk[/youtube]
All you have to worry about is the storage you have on your gadget and in your home. You will really start to like this great video converter software and start to convert lots of your favorite videos, music and make it compatible with your mobile phone and devices.
Best Video Converter Software for Windows and Mac
Without a doubt, Aimersoft video converter ultimate is one of the best software available in the market today. I have tried using few software that promises to convert but many times i end up in wasting money and time. When i downloaded aimersoft i thought this is just another software that i will be putting in that queue.
Ofcourse, there are software available to convert the common video file formats we use. But what about some video file formats that we get from our Digital Camera ? It is not possible for all of us to have the same brand of camera to use just one software. The needs do change all the time . I use Sony Digital camera to capture some videos i usually prepare for my tutorials. Each video i get out from memory card makes me really worried about the size that i have to upload to youtube and sometimes ftp.
File Size Really Matters
Internet Bandwidth is really expensive in my area and i got to save some bandwidth every day to see an average Internet bill at the month end. So i was hunting for one best video converter software for Microsoft Windows and Mac OS X platform to do my video converting tasks effectively and without wasting much time too.
Aimersoft does exactly what i wanted. I tried with few file formats that some of the software failed to convert and aimersoft just did it great. I am so happy with the file output video and audio quality as well.
90 Days Money Back Guarantee

!

I purchased aimersoft without any delay after trying out the trial version. It even comes with 90 days money back guarantee where i dont have to worry about the quality of the product.
Supported File Formats
Aimersoft Video Converter ultimate supports 50+ video file formats and each time you get an update, there are many new additions added to the number of file formats that it can convert. Some of the well known formats that it can convert are TS, HD AVI, HD WMV, HD MOV, HD AVI, MTS, M2TS, AVI, MP4, WMV, MPEG, MOV, FLV, MKV, 3GP and much more.
There are some ready profiles available to let you convert your favorite video and audio file without any waiting time and no compromise to the quality of the video as well. This really makes the selection of the output video format, frames per second and other compatibility related configuration easier than many software available in market today.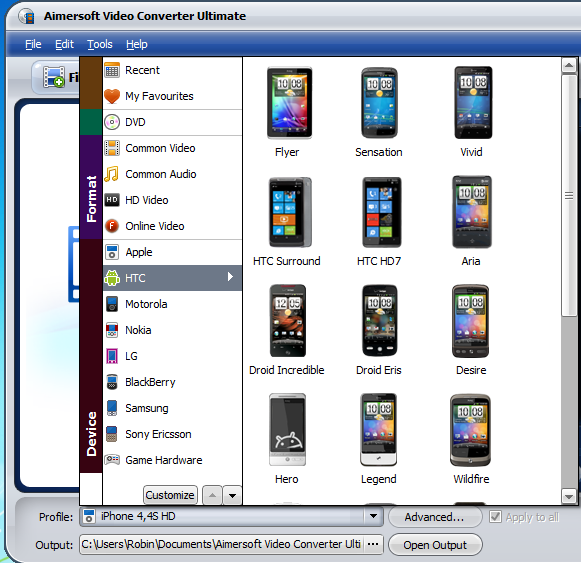 The interface is the catch, which will make you to purchase it immediately after you try it for the first time. The profile lists you many mobiles, smartphones, tablets and gaming devices to let you convert the video with best audio output instantly.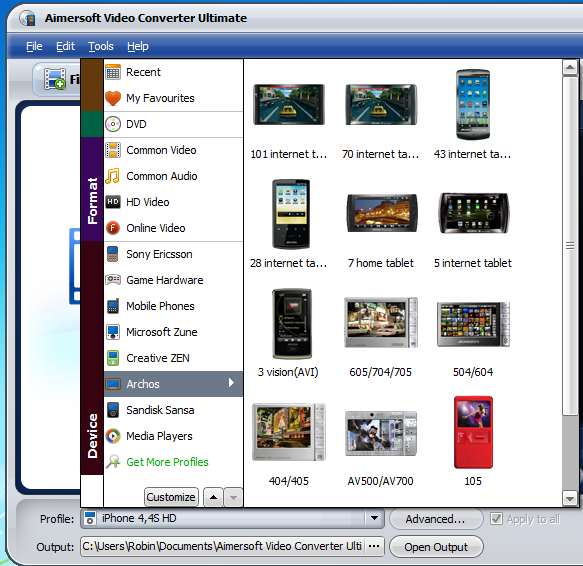 Each profile you see are perfectly tuned to deliver the best video output that you will see when you playback on your mobile devices.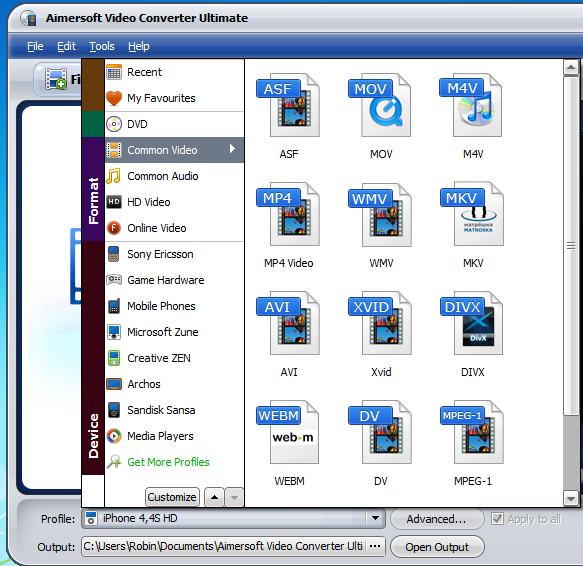 The common audio and common video format selection allows you to choose any file format and define the values all by yourself if you are not ready to choose any of the available profile options. Incase of uploading a video to Youtube, Vimeo, Metacafe, Dailymotion or any of your own website, then this option can let you choose some of the best available common audio, video file formats.
Remove DRM Protection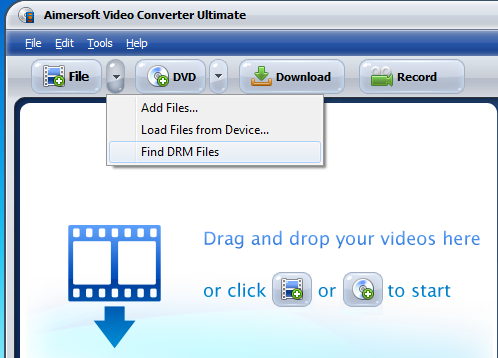 Aimersoft DRM Removal feature lets you remove any DRM protected DVD disc and play it on your computer. Further you can convert to play it on your gadgets and devices.
Create 3D Movies
One of the best 2D to 3D movie converter software for both windows and mac os x platform available.
Additionally Aimersoft Video Converter Ultimate has screen recording utility built-in to record your screen and get it in any file format you need. Best feature for people who prepare video tutorials and want it to burn it on a disc or upload to Youtube and other video streaming websites.
Thanks for reading Aimersoft Review and you may now share your comments below and share this post with your friends and followers across social networking sites as well.