Update: Get 50% Bitdefender Coupon Codes Discount 2017 store wide on Bitdefender Antivirus Plus 2015, Internet Security 2015 and Total Security 2015 software titles.
***NEW*** Bitdefender Antivirus Plus 2020 Coupon Codes save upto 50% Storewide Discount.
***NEW*** Bitdefender Internet Security 2020 Coupon Codes to save up to 50% Storewide.
***NEW*** Bitdefender Total Security 2020 Coupon Codes to save upto 50% from Store Pricing.
Bitdefender Internet Security 2013 is an ultimate solution for your Windows computer to get best security. They are the leader when it comes to security software and Bitdefender is Trusted and used by millions of users every day. Bit Defender 2013 brings great feature additions to the already great and famous antivirus software for Microsoft Windows OS.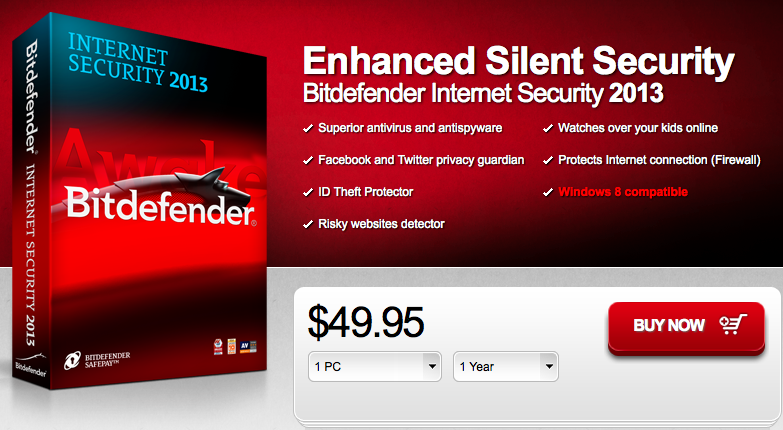 The moment you connect to Internet, the chances of getting monitored by some malicious hackers are pretty high these days. Strange malware, spyware and trojan programs are easily targeting users without antivirus or internet security software in place. It is must to have an Antivirus software installed in your computer. Even mac users are not an exception these days when it comes to security troubles.
Bitdefender has an antivirus for mac which helps you to protect your Mac computer from new virus threats also protects the windows computers in same network by cleaning up the windows viruses as well.
Windows viruses wont affect Mac computers, still it can be transferred to windows computers in the same network or to the one your family members or friends using via USB Drives or other secondary storage devices. So it is must to have an antivirus or internet security software for Mac computer these days to prevent and protect from all known and new Internet threats.
Features and Pricing
Bitdefender 2013 is not just another antivirus software. Above all the features of an antivirus programs (Anti Malware, Anti Phishing, Firewall, Scanner, Best Quarantine system) bitdefender internet security 2013 brings some extra additions to provide better security overall. Let me list out some of the new features and the reason why you should buy Bitdefender right away for your computer to get the best security.
Safepay – This feature automatically opens all your online banking pages in a separate secure web browser that comes with Bitdefender software.
Dashboard – Improved dashboard to see all the components status and actions in one place. Also licensing information that helps you to make the renewal and activation totally easy.
Parental Control – Blocks inappropriate content and restricts web access between certain hours (as you mention) also helps you to remotely monitor your kids online activity, even from Facebook. Yes, Bitdefender Parental Control brings an excellent monitoring system that works right from Facebook.
USB Immunizer – The moment any USB Drives connected to your computer, bitdefender automatically immunizes and clean them up if any virus or suspicious codes found.
Scheduled Scanning – Bitdefender scanning happens only when your computer is in idle state. This way of scanning lets you use the resources only by you and not by the antivirus scanner software.
There are many other features that Bitdefender Internet Security 2013 has, and you may check all of them in the official page.
Free Bitdefender 2013 Licenses
We are happy to announce Bitdefender Internet Security 2013 licenses giveaway. The contest starts 29th August 2012 and ends on 05th September 2012. We will be selecting 5 lucky winners to giveaway the best security software licenses. Participate right away and to earn more entries and increase the winning chances, do tweet about the giveaway once or twice a day and complete all the given steps below.
Dont Want to Miss our Giveaways ?
You may consider signing up for our Exclusive Giveaway Newsletter today to not miss any future giveaways from DailyTUT. Gadgets, Mobiles, Software Licenses and much more.
In cooperation with Bitdefender Antivirus, sponsor of this giveaway, we can offer 5 licenses of Bitdefender Internet Security 2013, valid for 1 year !